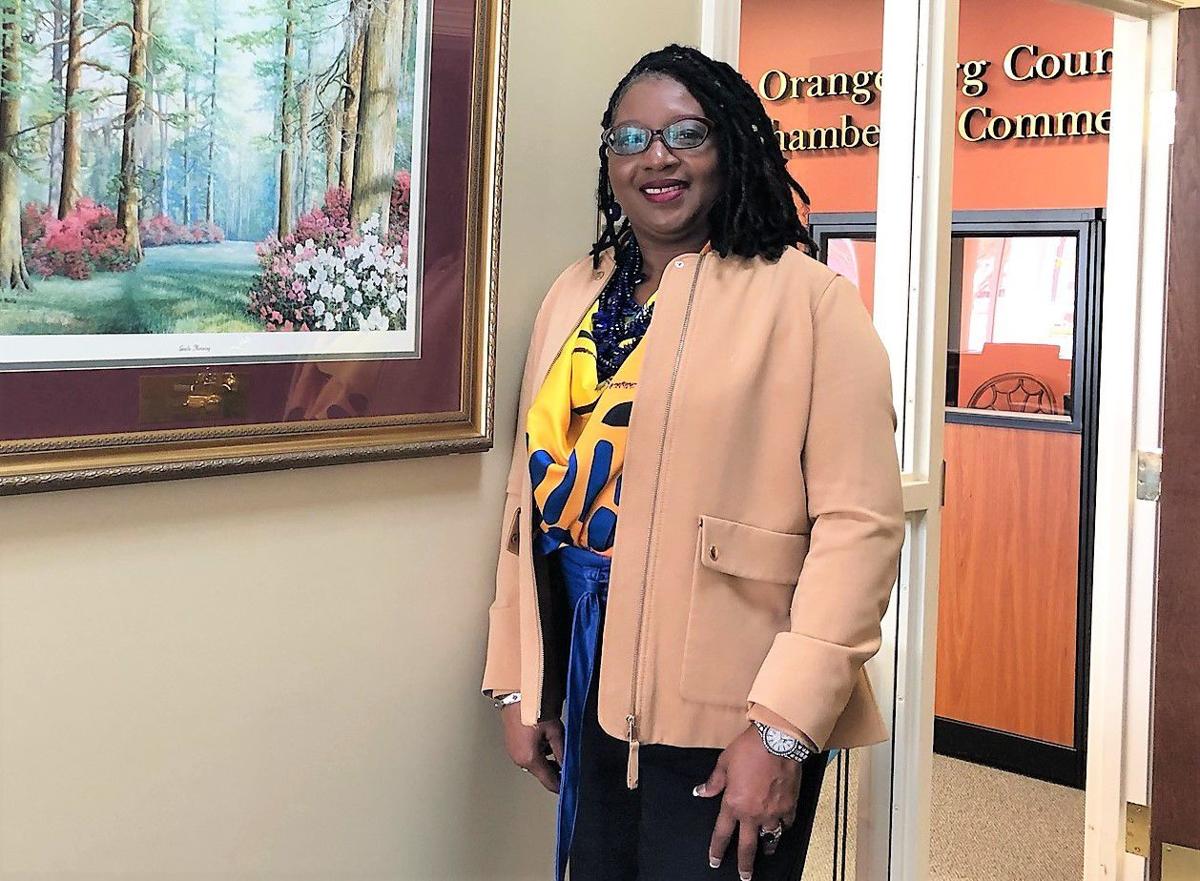 Brenda Austin has a charming personality that has endeared her to many in her community with whom she has worked in a variety of capacities.
The successful businesswoman also engages in community outreach activities, whether it be working with the American Cancer Society's signature fundraising event in Orangeburg, or promoting youth development with Claflin University's Saturday Academy.
She does it all with a pride and confidence that stems from a mother who instilled it in her early, but also with a concern for others needing help.
It is her commitment to behaving with honor and dignity with all who come across her path that compelled the Orangeburg Community of Character to honor her for self-respect.
It was an honor that took Austin, a business relationship manager at CPM Credit Union in Orangeburg, by surprise.
"I was just blown away. I had no idea, but you always think about how somebody's always watching. So when you do things, you should do things the right way for the good of everybody," she said.
The Orangeburg resident said her self-respect spills over into how she treats others.
"I have to deal with so many people. My job is to be able to offer credit union benefits to employees of different companies that have put their trust in us to be able to deliver financial services to their employees," Austin said.
"So in order for me to have their trust and for them to know that CPM is a place where they should put their money, I have to be trustworthy. I have to show that in every way," she said.
Austin continued, "When I show up at those companies, when I talk to the employees, whenever I do financial presentations, I've got to be able to do what I have to do to show the respect. It's by the way I show up and how I handle the particular task at hand at that time."
The Bowman native said displaying self-respect is not hard.
"Again, it's about showing up, respecting myself in the way I dress, the way I carry myself, the way I talk to people. That's it. I treat people the way I want to be treated. Why not give that same respect to somebody else?" she said.
Austin has often become a resource for people who call her for advice beyond financial matters. 
"A lot of people call me for things that I know nothing about. They say, 'You might not know anything about this, but I know you know somebody who does.' To me, that is respect. If not, they would not be calling me. They would not trust that I would give them information that would lead them in the wrong direction.
"That goes a long way. I'm like, 'I think I need to be a consultant and start getting paid for all this!'" she said, laughing.
She has built many relationships within her community, including with her membership on the Orangeburg County Chamber of Commerce's executive board and women's ambassador group.
"You never know who's watching you, and that's how I ended up on the chamber board. I enjoyed it and learned a lot. From building those relationships with people, I got to sit at tables with people that I probably wouldn't have ever thought of being at a table with," Austin said.
She is the current president of Rotary Club of Orangeburg Morning. 
"You can't be a Rotarian if you don't want to be generous with your time. All of this is community service, service above self. Just like with the Rotary Four-Way Test. Is it the truth? Is it fair to all concerned? Will it build goodwill and build better friendships? All of that is basically how I see that I am. That kind of really stuck with me, that this is how you need to live your life," Austin said.
She credits her mother with teaching her self-respect and the value of hard work, along with several mentors she has come across in her professional career. 
"I would say that it was a mix. My mom was a single mom of six, very hard worker. She would do anything for anybody. She did not ask for anything in return. ... She loved to cook. She had a specialty of chicken salad and her barbecue sauce," Austin said.
"Even though she was a housewife, she did odd jobs and stuff and took care of all six of us. So I think it started there first, that independence of being a woman, where if nobody don't do it for you, you can do it," she said.
Austin continued, "I started in a credit union, Navy Federal Credit Union back in 1987. Just to know what the credit union was about, they were about helping people. It kind of molded me into this person of saying, 'This is where I want to be.' I had a great mentor, with whom I'm still in contact with today.
"She was a boss of mine at Navy Federal. I've had other mentors since I moved back here. They have taught me a lot -- how to handle myself, when to speak and when not to speak. All of that has been combined."
Austin's other affiliations include the Midlands Society of Human Resource Management and the Regional Medical Center's Safe Kids initiative. She is also a member of the Orangeburg Consolidated School District Technology Center advisory board and the EmpowerHer Orangeburg Chapter of the American Business Women's Association, where she has served in various capacities and was named the 2020 Woman of the Year.
She has also volunteered with the Orangeburg County Relay for Life for more than a decade.
"I've been the team captain for the Orangeburg location, helping to raise money, and then recently they asked me to join the relay team committee … to try to help with team retention and to gather new teams. That's been awesome," said Austin, who is also a recipient of CPM's Gwen Miller Service Award.
"Gwen Miller was a former board member, probably the longest-serving board member, and she was huge on community service. So CPM decided to do an award in her honor, and I was the first person to receive it," she said.
Austin added, "Anytime somebody calls me with something that has to do with community, I try to make time for it and bring CPM out to be able to help support them. I just try to inspire and motivate other people."
A graduate of Bowman High School, Austin is also a 1984 graduate of Claflin University. She is the mother of two daughters, Stephanie and Shelby, and the grandmother of two, with a third one due in May.
She touted the OCCOC for its efforts to spread good character throughout the community.
"The Community of Character brings a lot to the community to be able to highlight a person that they see doing good in the community and for the community. I hope that with them highlighting these people, that good information will be spread among the community of Orangeburg. I think if you see one person doing good, it should inspire someone else to do good as well," she said.