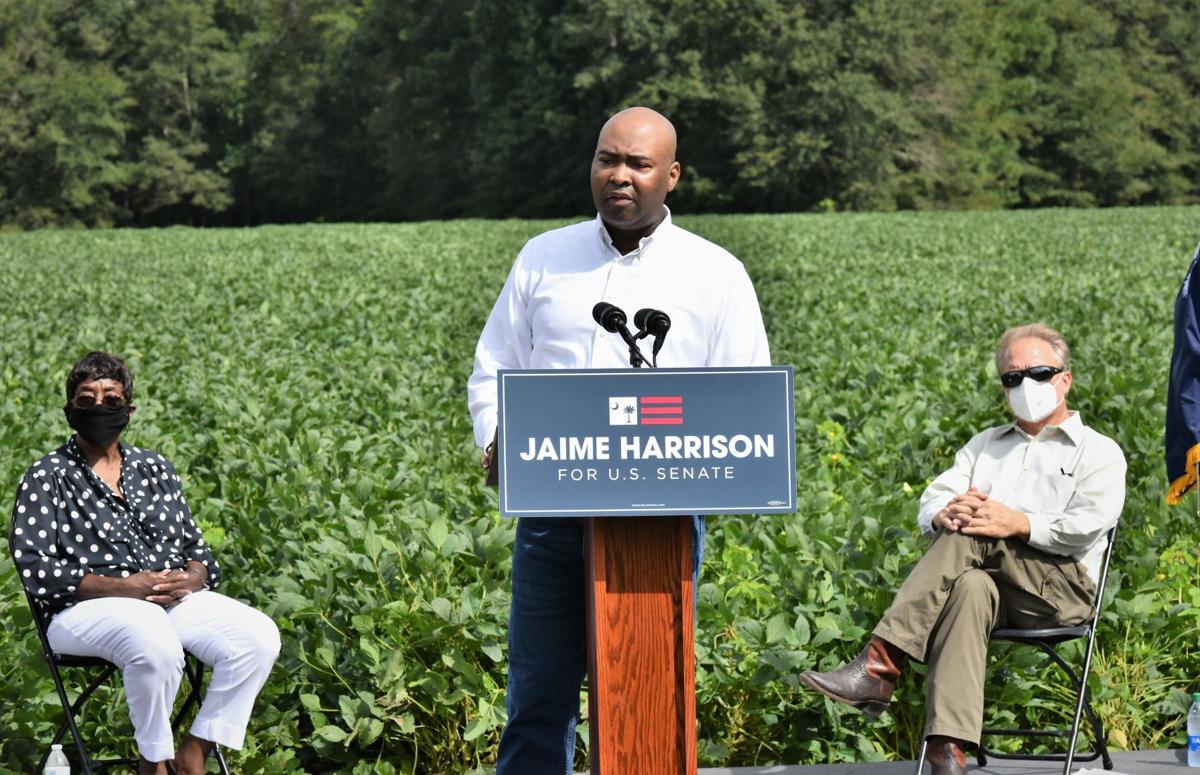 ROWESVILLE -- Orangeburg native and Democratic candidate for U.S. Senate Jaime Harrison says he understands the needs and struggles of people in rural South Carolina.
"I understand what many folks from cities just don't get," Harrison said during a Friday morning press conference held in the middle of a soybean field in rural Orangeburg County. "The food on their tables does not just get there by magic. It gets there thanks to the backbreaking work of folks in rural towns just like this one."
The 44-year-old Harrison reflected on growing up on a farm in poverty to a single teenage mother and being raised by his grandparents while attending an underfunded school and lacking affordable health care.
"I know how difficult it is to learn when your school is crumbling around you," he said.
Harrison said his grandfather, who paved roads for a living, would not get medical care because of the cost and was later diagnosed with diabetes. He ended up losing his leg.
"That is why during this campaign I have taken the time to listen and uplift rural voices," he said.
Harrison said rural voices have been ignored by incumbent Republican Sen. Lindsey Graham, who Harrison painted as a Washington insider too busy being a "showhorse" in D.C. and not a "workhorse" for the people of South Carolina.
"It is time to elect leaders who will fix the chronic problems facing our small towns and rural communities not ignore them," Harrison said. "Lindsey Graham has failed to prioritize rural communities."
Graham has held the seat since 2003 with no competitive general election foes.
South Carolina's two U.S. Senate seats have remained Republican since 2005, after Sen. Fritz Hollings, a Democrat, decided not to run for re-election and the seat was won by Jim DeMint.
Several recent polls have shown Harrison narrowing the gap with Graham from 17 points down to a dead heat. Some polls even show the two men tied.
Harrison on Friday unveiled his "Rural Hope Agenda,: listing five pillars: health care, education, economy, infrastructure and a farmer bill of rights.
Health care: Harrison said he would seek to expand investments in telehealth and mobile clinics and expand Medicaid coverage.
Harrison said Graham has promised to repeal the Affordable Care Act "and its protections with people with pre-existing conditions."
"A man who represents a state as rural as South Carolina says that it was courageous to refuse to expand Medicaid," Harrison said, noting there are only 12 states in the country that have not done so.
Invest in education and rural economy: "My plan starts with education," Harrison said. "Today our rural schools cannot even meet baseline standards in academic achievement and student proficiency. We need to rush resources to struggling schools and pay teachers what they are worth. A good education is a cornerstone of a strong economy."
Harrison said he will establish rural centers of excellence as partnerships between local governments and historically Black colleges and universities and state colleges to "spur entrepreneurship in our small towns."
Rebuild rural infrastructure: Harrison said he will seek to expand broadband into rural areas as well as to make sure rural areas have decent roads and homes have adequate plumbing.
He also said 20% of the state's septic systems are unsafe. He said he would provide local governments resources they need to match federal grants.
Assist farmers by providing them access to capital so they can repair their own equipment.
In a question-and-answer session with the press, Harrison defended his lobbying efforts with the Podesta Group. A Graham campaign ad points out his lobbying experience.
From 2008 until 2016, Harrison worked for group, representing major corporations such as Lockheed Martin, Walmart, the S.C. Ports Authority, the American Coalition for Clean Coal Electricity and the University of South Carolina.
"I was doing what was needed in order to protect the jobs here in South Carolina," he said. "I am proud of that work and that effort."
Harrison said his focus has ''always been on South Carolina."
"South Carolina is in my heart and it is a part of my DNA and I will always work hard for the state I call home," he said.
Graham has called on Harrison to renounce support from MoveOn.org because of the group's stance on police reform and to give back monies he has received from the group. The group has advocated support of defunding police.
"I have always been against that and have never been for it and won't be for it," Harrison said about his stance on defunding law enforcement. "I believe we do need to enact some real reforms in terms of policing in this country because we see what is happening on a daily basis across this country. It is wrong and it needs to change. I will work on making those changes."
Harrison was joined Friday by Orangeburg Democratic Sen. Brad Hutto and Bowman Mayor Patsy Rhett.
Hutto said Harrison understands rural challenges.
"We need bold leadership that will tackle the problems facing Americans in rural South Carolina head on," Hutto said. "Jaime knows what it is like to live in a community with too many dirt roads, with too many aging water systems, with not enough quality health care options or with schools that don't receive the funding they need to educate our children."
"Jaime's rural agenda is bold," Hutto said. "It is far past time for the senator in this seat to make rural development a priority and not just a talking point when he runs for re-election every six years."
Rhett, who has served as mayor for eight months, says small towns like Bowman are struggling with COVID-19, job loss and health care out of their reach.
"He (Harrison) understands our struggles because he has faced them himself," Rhett said. "He served South Carolina his entire life. Now he is running for Senate to restore hope to the people of the Palmetto State no matter where they live."
Get local news delivered to your inbox!
Subscribe to our Daily Headlines newsletter.