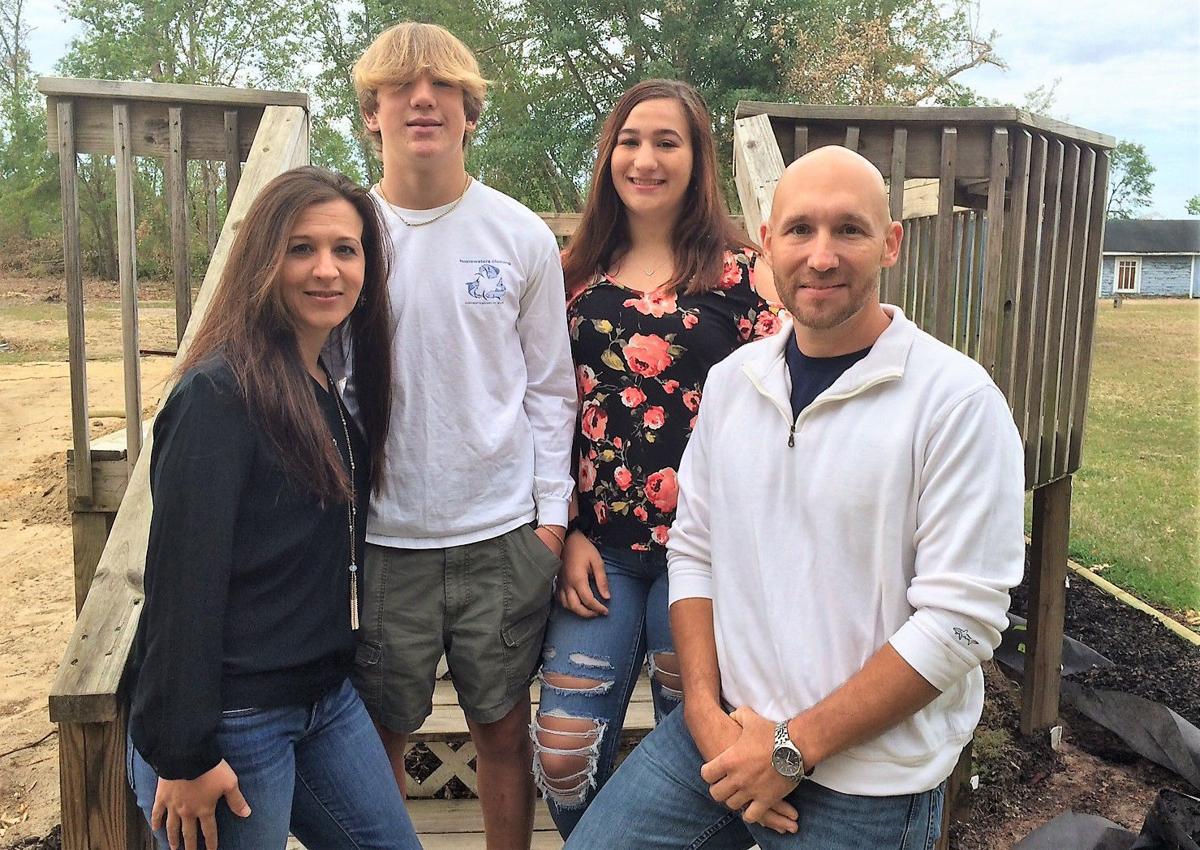 NORTH -- The Thompson family pulled up to 449 Sharpe Road in a golf cart, riding past a pile of trees, limbs and branches.
In an adjacent pile, a door, a refrigerator and other remains of what used to be the family home are visible.
The two piles are a reminder to the Thompsons that life forever changed on the morning of April 13.
Early that morning, an EF3 tornado with winds of about 140 mph lifted their home off its foundation and rolled it end over end for several feet. The house also fell on their vehicles, destroying both.
"We are moving forward," Amanda Thompson said. "It has been a long road, but we are closing this chapter and opening a new chapter."
Amanda, Devin and their two teenage children, 17-year-old Summerlyn and 13-year-old Johnathan, have all embarked on the physical, emotional and spiritual healing process which they know will take time.
The entire family is trying to make it through the loss of their home and security.
They're living with Amanda's parents during their recovery.
"It is hard because we don't have a place as we are in someone else's house," Amanda said. "We don't have our own space."
"We are managing," she continued. "We have a roof, we have food and we have each other. That is all that matters."
Devin said the storm has changed them.
"When something like this happens, you have to come out different," he said. "You never know. You've got to be ready."
Amanda suffered a severe concussion with bleeding on the brain and continues to struggle with headaches and memory loss. She needs to be with someone all the time.
Amanda, who is a nurse, will be out six months to a year.
"I am going to get back to work," she said. "I love being a nurse. I think that is the hardest part. I am used to taking care of people and now people have to take care of me."
"Recovery for me has been slow," she said. "Cognitively-wise it is going to be a long recovery because I still forget things. I don't remember anything about the tornado."
Devin, who is on short-term disability, suffered a fractured vertebrae, six fractured ribs and a collapsed lung. The collapsed lung has healed well.
Summerlyn suffered a broken nose and bruised lip as well as a concussion and Johnathan got impaled by some nails in his back and arms.
"It is going good," Summerlyn said. "I went to the doctor and they said it was just cosmetic now. There is nothing you can do about a broken nose except to live with it."
Johnathan had some tissue damage in his knee and shoulder issues, but he has been healing well.
"It is hard," Summerlyn said. "I remember everything that happened and it is hard. It is in the back of your head all the time. It has been rough."
Johnathan said the entire situation has been frightening.
"I just think about the things that happened and maybe another one like this will happen to somebody else," he said. "I would not want this to happen to anyone else. It is scary to think that stuff like this happens all the time."
One of the silver linings was that the family's little Yorkie, Harley, was found after the storm hiding -- scared but safe.
The Thompsons say the recovery process would be more difficult if it wasn't for the support of family, friends and complete strangers
"People have been so amazing," Devin said. "It has made it that much easier for us."
Amanda said community members she did not even know came out and sifted through the family's belongings. They were able to locate her and Summerlyn's class rings. Wedding rings have still not been found.
"They cycled through everything," Amanda said. "Everyone acted like it was their home. They did not even know me. They took extra caution and acted like it was their own."
They have even received love from beyond their community with cards arriving from as far away as Ohio, Missouri and Florida.
Members of their church -- Cornerstone Community Church in Orangeburg -- have set up an Amazon wish list account to help the family with basic needs.
"We didn't have anything and a box would come in with some basketball shorts," Devin said. "I don't know who it was, but thank you. It is good to see there are still amazing people in this world with all that we are going through."
North Middle High School, where the children attend school, has provided new computers and plan to help furnish each child's bedroom when a new home is built.
A GoFund me account was set up by Thompson's sister immediately following the storm. Through May 8, about $22,040 has been raised from about 314 donors. The goal is $75,000.
"We don't know how to repay everybody," Devin said. "Individually, I want to thank everybody."
The family says they have seen the face of God throughout the entire ordeal and credit God with saving them.
"We shouldn't be alive," Amanda said.
The family entered into an interior bathroom just as the storm hit.
"I feel like the Lord just let us get to the safe destination at the exact precise time," Devin said.
The Thompsons are now looking forward.
"We have to completely start from scratch," Devin said. "That will make for a lot of changes for the better."
One of these changes will be to build a stick or site-built home. They are planning to rebuild on the same property.
"We have been here 22 years and we are not moving now," Devin said.
If you would like to help the Thompson family, there are a number of ways:
• paypal.me/amandathompsonrn
Countywide storm recovery
The Thompsons are just one of many families in Orangeburg County trying to get their lives back to normal after the historic weather event.
Three tornadoes struck the county. One, with winds reaching 140 mph, killed two people in the Neeses area.
In Orangeburg County, a total of 45 single-family homes were damaged during the storms.
A total of 29 mobile homes were damaged and 10 business/business properties were damaged.
The total amount of damage from the storms was $3,235,890.
Orangeburg County has been declared a natural disaster area, meaning residents who suffered storm damage are eligible for disaster assistance.
Federal Emergency Management Agency representatives visited the area to assess the damage in April.
"We are working on a plan now to see how we can help serve them and help them with access to the platform they need to get it," Orangeburg County Emergency Services Director Billy Staley said.
The county has also been working as part of a task force with the United Way of the Midlands, Aiken Electric Cooperative and the Central Carolina Community Foundation to help assist those impacted by the storms.
Aiken Electric, which serves the Livingston area, has provided approximately $30,000 through its Operations Round Up program.
Additionally, federal aid is available to help supplement state and local agency recovery efforts in the county.
The county is seeking about $660,000 from FEMA, with about $225,000 for county services and $460,000 for utilities.
The county has also used resources in cleaning up after the storms. Storm cleanup began a few days after the storms hit.
Through May 5, Orangeburg County is about 80 percent complete with storm damage cleanup. County officials expect cleanup to end sometime next week.
"We will do all that and submit the reimbursement for what we spent on the disaster," Orangeburg County Administrator Harold Young said. "We will submit the time and the landfill cost of what we picked up and the PPE equipment we bought because this is a COVID environment."
American Red Cross of South Carolina spokesman Ben Williamson said the agency has helped 51 individuals in Orangeburg County and one in Bamberg County.
"Assistance was comprised of various combinations of financial assistance to help with immediate needs such as lodging, clothes, food and medications, as well as mental health counseling and referrals to partner organizations," he said.
Additionally, the Red Cross placed about 24 individuals in a hotel from April 13-18.
"During that time, we served a total of 230 meals at the hotel," Williamson said.
He said the outreach has not ended.
"We are still continuing to follow up weekly via phone with all of the cases ... to advise them on recovery planning and determine if they might be eligible for additional types of assistance," Williamson said.
Get local news delivered to your inbox!
Subscribe to our Daily Headlines newsletter.