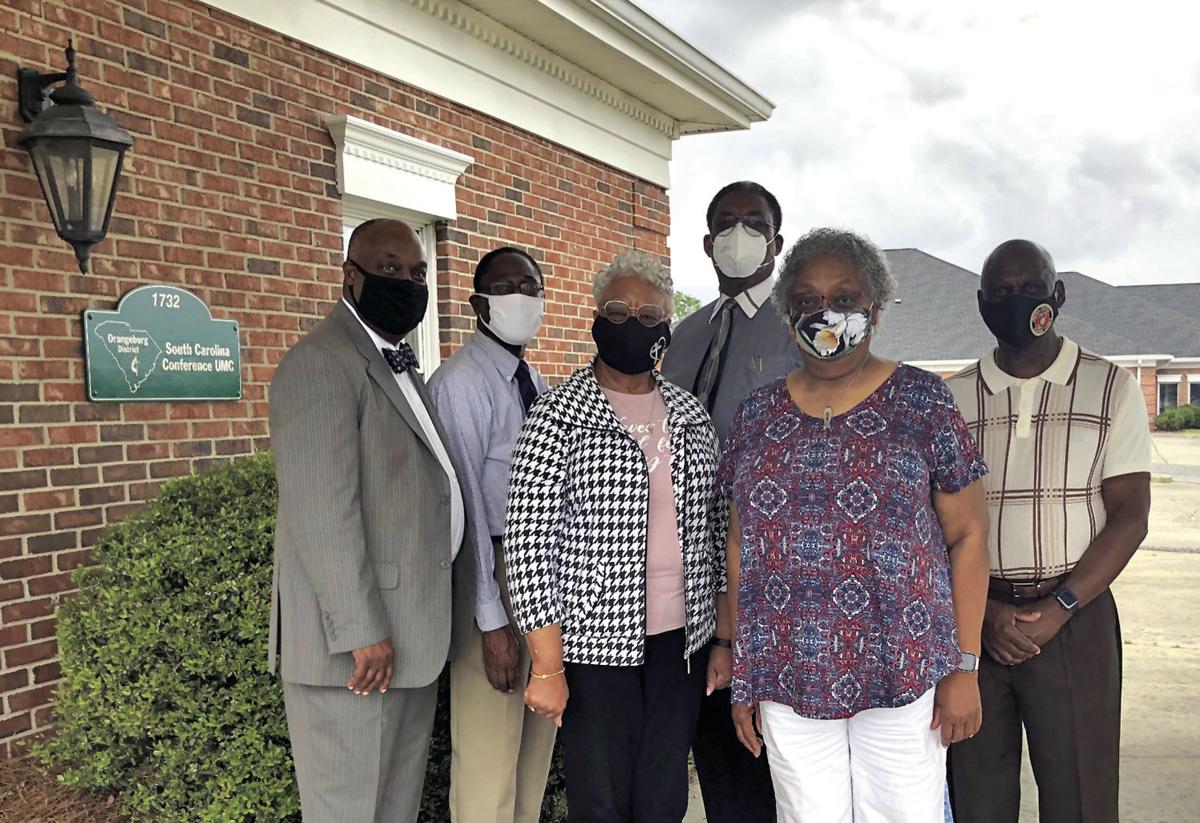 Local faith leaders are working to combat the misinformation and mistrust surrounding the COVID-19 vaccines among some minorities, particularly African Americans.
They say efforts to put a quick end to the pandemic are hampered by a vaccine hesitancy that could potentially put lives at risk.
The Rev. Thomas Sims, pastor of New Beginning United Methodist Church in Norway, noted "Tuskegee and other incidents are where African Americans have been used as experiments.
"That is widely known in our community, which causes some hesitancy in regard to whether we should take this test, or whether we should take this vaccine or not."
He said there is also a cultural issue with people not wanting to get stuck with a needle.
"People just don't like it and say, 'Hey, I haven't gotten sick. So I'm not going to get sick and just keep doing what I'm doing,' " he said.
Sims was among the pastors in the Orangeburg District of the South Carolina Conference of the United Methodist Church who converged at the district office at 1732 Village Park Drive in Orangeburg to discuss the issue.
The Rev. Lisa Hawkins, pastor of St. Stephens and Pineville UMC churches in Bowman, said misinformation is being spread about the vaccines, particularly across social media.
"I had one young lady tell me that she heard it gives you Bell's palsy, but that generation looks to social media. I started just going to see what's on there, and there's a whole bunch of misinformation on there," Hawkins said.
"As I try to explain to my daughter and some of her friends, anybody could put anything on there. There's no checks and balances. Nobody asks, 'Where were you educated?' You don't have to put that. It's your thought, and you put it out there as if it's the truth," Hawkins said.
Orangeburg District Superintendent the Rev. Ken Nelson said there are also gaps in access to health care, particularly for minorities.
"We've not had access to medical communities, particularly if you live in rural communities that are on the outskirts and you don't have transportation and the means to be able to get into where the vaccination is actually being offered. So I think the efforts that are being made now to push the vaccines out into the local communities are significant, but the resistance has been that people didn't know whether or not they'd be able to afford it and whether or not they had insurance to be able to do that. So I think those left some additional gaps for some folks," Nelson said.
The S.C. Department of Health and Environmental Control says COVID-19 vaccines are safe, effective and free. People won't pay deductibles, co-insurance or co-payments and should not receive a bill.
DHEC provides demographic information about individuals receiving vaccines in the state.
As of Tuesday, April 13, there were 946,385 whites in the state who had taken at least one COVID-19 vaccine shot compared to 263,141 Blacks.
On the county level, 11,792 Blacks in Orangeburg County received at least one COVID-19 vaccine shot compared to 8,546 whites.
In Bamberg County, there were 1,724 Blacks who had received at least one shot compared to 1,364 whites.
In Calhoun County, there were 1,363 Blacks who had received at least one vaccine shot compared to 1,448 whites.
DHEC Public Information Officer Laura Renwick said the agency has been partnering with churches and faith-based groups to distribute information since the pandemic began.
It is also working with the nonprofit Hold Out The Lifeline to help educate and inform communities about the COVID-19 vaccines.
"Because faith-based organizations and church leaders are trusted and respected within their communities, DHEC is working with partners like HOTL to support grassroots statewide efforts directed toward African American and Latino churches and community groups on behalf of DHEC," Renwick said.
She continued, "HOTL is conducting virtual briefings, distributing DHEC materials, distributing PPE such as face masks, hand sanitizer, gloves, etc. and distributing messages via social media. DHEC experts participate in these sessions which are separate and apart from other public speaking engagements."
HOTL also provides faith leaders with a tool kit to help them plan activities to educate their members, with information provided in both English and Spanish, Renwick said.
She said DHEC continues to connect with leaders of churches of all denominations at the regional level to plan potential vaccination clinic locations.
"DHEC has held dozens of clinics at various churches around the state to date and as more vaccines become available, we plan to hold more of these community-centric vaccine clinics at churches, rec centers, parks and other sites that make it easy and convenient for residents to attend," Renwick said.
The Rev. Eddie Williams, pastor of Trinity UMC in Orangeburg, said making the process easy and convenient is key, particularly when residents don't have to set up appointments.
He said many minorities did not have the resources, for example, to set up online appointments.
"I see a difference starting to happen in our community. There's a difference when it's being offered at St. Mark (UMC in North), being offered at the fairgrounds. There's a different momentum now in the community, where we don't have to have those appointments. So there's a shift," Williams said.
The Rev. Anna Miller, pastor of North Orangeburg UMC, said, "It has gone through 20 or more of my congregation, either they have had it or family members have had it."
She discusses the advantages of being vaccinated, including its protection against potential death.
While some people are lining up to get the shot, others still aren't taking it seriously enough, she said.
Sims, who has lost family members and parishioners to the virus, said his wife also had a harrowing experience with COVID-19. He sometimes shares her story.
"I have seen what they say a mild version of it is. If it's any worse than what my wife went through, I never want to see this thing again. I'm just trying to tell the story," he said.
The Rev. Bobby Gordon, pastor of Orange Grove UMC in Bamberg, said it is time he and other faith leaders take a stand against vaccine hesitancy.
He also heard outlandish theories from individuals regarding the vaccine, including vaccine patients being injected with a microchip.
"I'm saying, 'Where did you get that from?' The educational part is important. I think it's just mainly a lot of misinformation, and as leaders I just felt like we needed to take a stand. Just like Rev. Sims lost a family member, I lost a brother-in-law. Most of us have been affected in our families one way or another," Gordon said.
Miller said it is important to work across denominational lines because "COVID has no denomination written on it."
"We're also working to line up a series of town halls across the state that will help us further provide information directly to South Carolinians on a local level," Renwick said.
Nelson said he is confident that the United Methodist Church will continue to fulfill its mission to not only make disciples for Christ, but create stronger communities.
"I'm confident of that because I see (faith) leaders like the ones sitting in this room engaging their communities and asking, 'How can we network and resource?' I'm seeing medical leaders step up to the forefront to talk about what their role has been in the vaccination process," Nelson said.
"I'm seeing leaders from local communities, those who communities trust, taking the lead. That makes a profound difference. I'm confident and not just hopeful because I'm beginning to see actions match words," he said.