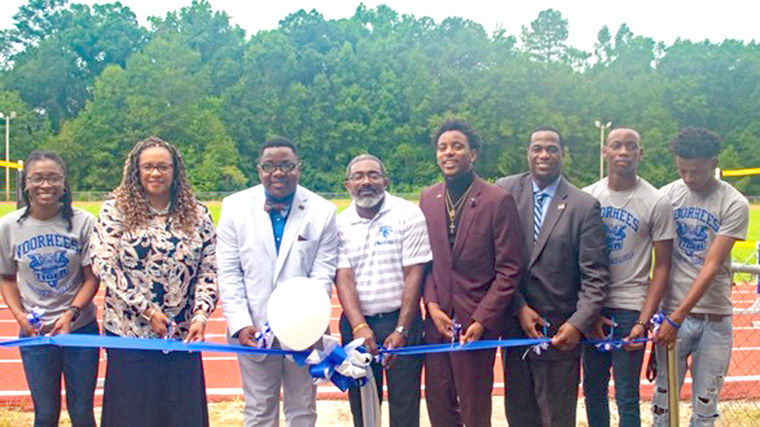 DENMARK -- Voorhees College has unveiled the new surface at its track and field complex. 
Director of Athletics Charlene Johnson said the new track highlights President Dr. W. Franklin Evans' vision and adds an extra element for the health and wellness for students, faculty and staff.
"The track not only provides an opportunity to the track and field/cross country teams, but for Voorhees athletics overall," she said.
Student Government Association President Jaalen Williams-Butler said the occasion marks the opportunity for the track and field/cross country student athletes to exhibit their physical prowess.
"Our new state-of-the-art facility is something we as students have been waiting for. Now the time has come and Voorhees can shine even more," Williams-Butler said.
Evans said as president, it is important leave behind a legacy.
You have free articles remaining.
"I consider our founder Elizabeth Evelyn Wright a cross-country specialist. She walked miles across the state to receive donations of a dime to support her efforts in establishing what is now Voorhees College," he said.
"Now we have a multi-resource foundation for our student athletes to be the best they can be."
Track and field student-athlete Dontavious Patrick finished No. 8 in the country in the triple jump in the 2017 Indoor National Championship.
Patrick said the team is blessed to have a new surface to practice on.
"The new track only inspires my teammates and I to give 110% to our goals. The effort really speaks volumes about the institution and its supporters," Patrick said.
Head track and field/cross country coach Jeffrey Hughes said he appreciates the hard work, dedication and contributions supporters have made to make the new track possible.
"Thank you for investing in the team. The installation of the track ensures we have the equipment needed to reach greater heights. Whenever we are practicing and competing, we proudly wear Voorhees across our chests. Now we have even more reason to be proud," Hughes said.
Following the ceremony and the blessing of the complex by Chaplain and Vicar Father James T. Yarsiah, the track and field team took an inaugural jog and then joined Evans, the faculty, staff and community members in attendance for a reception.