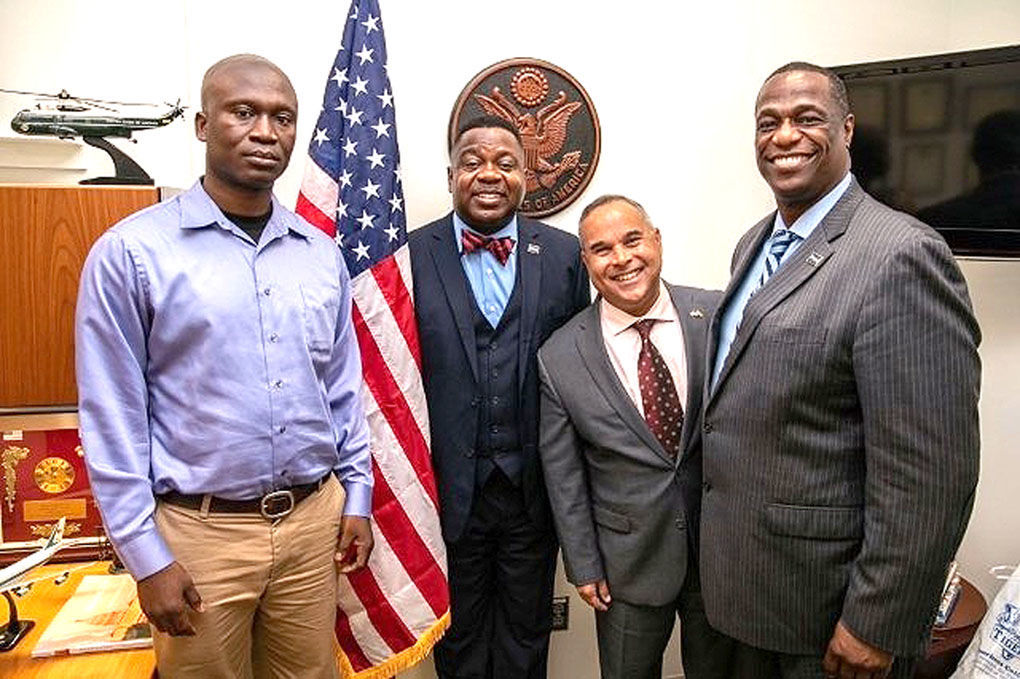 Voorhees College President W. Franklin Evans recently accompanied four students and members of the faculty and staff to Ghana to participate in the 2019 Cultural and Career International Study.
The purpose of the international experience was to provide students with cultural and career exposure to supplement their classroom learning that will ultimately heighten their placement in high-demand employment and in graduate/professional studies.
The CCIS participants were Christina Donovan,a senior mass communication major from Brooklyn, N.Y.; Henriadam Brower, a junior sports management major and presidential scholar from Raeford, N.C.; and psychology majors Kaleb Breggs, a senior from Bowie, Md., and Philita Wang, a sophomore from Beaufort.
In addition to the students, psychology major mentor Dr. Tywana Chenault, assistant professor of psychology and chairperson for the Department of Humanities, Education and Social Science; D'metrius Dew, office manager in the Office of Admissions and coordinator of international studies and programs; Dr. Ronnie Hopkins, provost and vice president for Academic Affairs and CCIS director, traveled to Ghana.
Evans said international engagement is very important for the institution's development.
"Not only was the goal to provide global exposure and international opportunities for Voorhees College students, but we equally focused on recruitment," Evans said.
While in Ghana, the team visited the United States Embassy to begin establishing a seamless recruitment effort to enroll Ghanaian students as full-time students at Voorhees. This was achieved through an official articulation agreement between Voorhees and the Ngorli Organization, Inc.
The agreement is designed to maximize recruitment efforts of continental African students, increase enrollment of African students at Voorhees, develop detailed student success and engagement plans, and expand guided career pathways support for the matriculating students enrolled in a bachelor's degree and or/certificate program.
Hopkins said while Historically Black Colleges and Universities have a strong heritage of educating generations of highly qualified professionals in a wide range of disciplines, many HBCUS lag behind predominantly white institutions in international and global engagement.
"HBCUs, who award nearly 25 percent of bachelor's degrees to African-American students, must ensure that college graduates are competitive and possess the requisite skills and experiences to participate in a global marketplace. Unfortunately, HBCUs tend to enroll few international students and send even fewer abroad," Hopkins said.
According to a 2011 survey by the Association of Public and Land-Grant Universities, fewer than 1 percent of students at their historically black member institutions had studied abroad, and just 2 percent of their students were from another country.
Hopkins added, "With its rich heritage and direct lineage to South Carolina, Ghana is a wonderful country and an excellent opportunity for global engagement for our students; however, future CCIS experiences are being planned to include other countries, including but not limited to Barbados, Egypt and South Africa."
The 2019 Cultural and Career International Study in Ghana was a partnership with Benedict College; Dr. Gwenda Greene, executive program director and the University of Ghana's Institute for African Studies with Dr. Samuel Ntewusu as director. CCIS is funded by the South Carolina Commission on Higher Education--Carolina Career Cluster Grant.
Get local news delivered to your inbox!
Subscribe to our Daily Headlines newsletter.