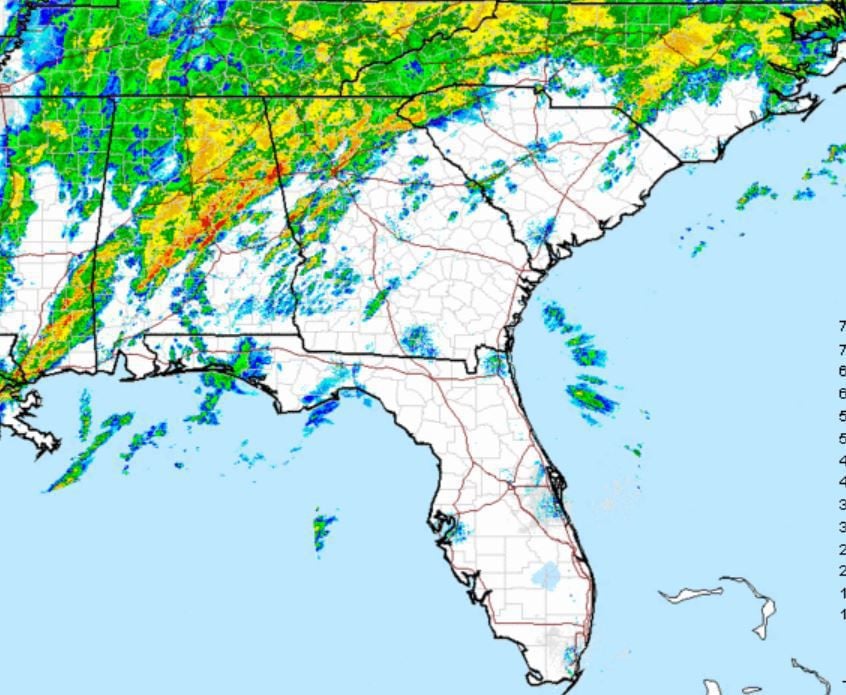 The T&D Region is under a tornado watch until 8 p.m. Thursday.
A tornado watch means conditions are favorable for tornadoes.
The American Red Cross provides some tips in the event of a tornado.
Individuals should seek a shelter in a basement, shelter or sturdy building. If one's house does not have a basement one should seek an interior windowless room of the house on the lowest level.
If one is outdoors, get in a vehicle and drive to a sturdy shelter. Stay away from bridges and overpasses.
If strong winds and flying debris occurs while driving, individuals should pull over and park with engine running. Put your head down below the windows, covering your head with hands and blanket.
Schools close early
The Orangeburg County School District announced early dismissal Thursday because of the threat of inclement weather this afternoon.
Elementary schools dismissed at 11 a.m. and middle and high schools at 11:30 a.m. All after-school activities, including athletic events, have also been cancelled. 
Calhoun County and Bamberg County public schools also announced they would close early Thursday.
Calhoun County's middle schools were dismissed at noon and the high school at 12:30 p.m., according to the district's Facebook page.
Bamberg School District 2 also dismissed early today on the advice of the County Emergency Preparedness director.
Dismissal began at 11:45 a.m. at Richard Carroll Elementary School, 11:55 a.m. at Bamberg-Ehrhardt Middle School and 12:05 p.m. at Bamberg-Ehrhardt High School.
Bamberg School District 2 dismissed at 11:15 a.m.
Colleges close for day
Orangeburg-Calhoun Technical College canceled all classes after 12:30 p.m. The college closed at 4 p.m.
The college also postponed the ribbon-cutting and grand opening ceremonies of its Nursing and Health Science Building to another date. The new date will be determined at a later time.
Claflin University was closing at 1 p.m. Thursday due to the weather threat. All evening classes and activities are also canceled.
The University Dining Center will serve dinner (5-7:30 p.m.). There will be no late-night dining this evening. Jazzman's Café and Pizza Hut will close at 3 p.m.
The 1869 Club will serve lunch Thursday from 12-2 p.m.
The Honda Campus All-Star Challenge National Qualifying Tournament set for Friday, Feb. 7, will be held as scheduled.
Denmark Technical College will close Thursday at 4 p.m. All evening classes are canceled. The college announced it will resume normal business hours on Friday. 
South Carolina State University canceled classes from 2 p.m. through the remainder of the day. All campus events and activities scheduled for Thursday were canceled after 2 p.m. Classes will resume on Friday, Feb. 7, at 8 a.m.
While students will not attend classes after 2 p.m. on Thursday, Feb. 6, faculty and staff are expected to remain at work until further notice. Employees are encouraged to take every precaution to remain safe. If impending weather conditions prevent employees from reporting to, or remaining at work, they should notify their supervisor immediately.
Weather forecast
The National Weather Service forecast calls for the possibility of severe thunderstorms this afternoon and tonight. Wind gusts of up to 36 mph are possible.
Severe weather watches and warnings could be issued in the region throughout the afternoon as the system inches closer.
The T&D Region was under a Lake Wind Advisory through 7 p.m. Friday, meaning winds will create hazardous conditions for water craft.
Flood warnings were also in place for the North Fork of the Edisto River; the Congaree River at Carolina Eastman and the Congaree River at Congaree National Park.
Rainfall amounts of 2 inches to 5 inches are forecast.
This story will be updated as we learn of additional closures.
Get local news delivered to your inbox!
Subscribe to our Daily Headlines newsletter.