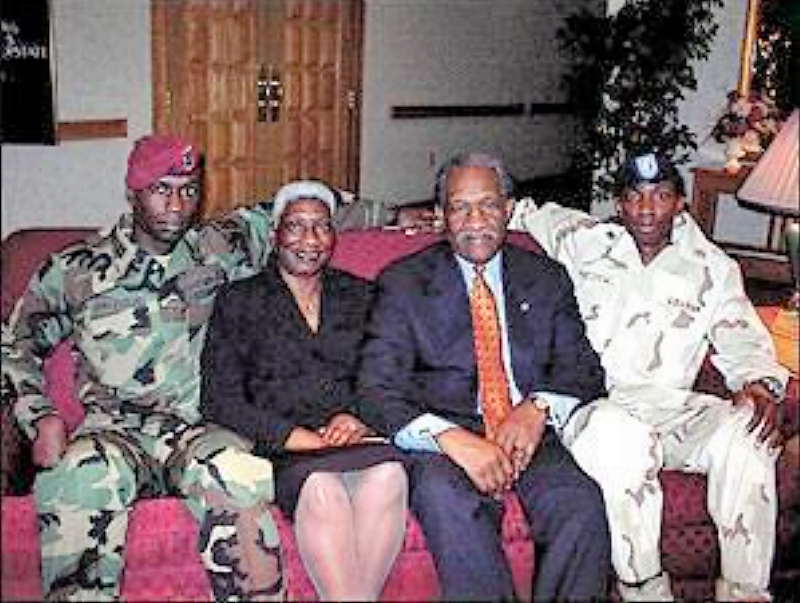 BOWMAN — With three sons actively pursuing military careers, the war in Iraq — like any U.S. military involvement around the world during the last decade — is of keen personal interest to Sen. John Matthews Jr. and his wife, Geraldine.
Iraq, Kuwait, Afghanistan, Somalia — just about any recent global hot spot you name, a Matthews son has been there.
"I call it Desert Storm I and Desert Storm II," the veteran Democratic lawmaker said.
The youngest Matthews, 30-year-old Brian, is an Army captain who returned from a year-long tour of duty in Iraq in late November.
"It was the Saturday before Thanksgiving," his mother recalls.
Brian is currently stationed in Fort Bragg, N.C., attached to a division that's in Iraq. There is a slight possibility he could be sent back.
"Brian spent over a year there. Originally, it was for six months and it was extended twice during the conflict," the senator said. "He's a captain, and he was a company commander in Iraq for ordinance transportation. He handled logistics and supplies."
Of his three sons and the various military assignments they've had over the years, Matthews says, it was Brian "who had the most dangerous" role.
"His unit was attacked several times," the senator said. "He told us he survived by two things — practice and prayer."
For his dedication and leadership skills in Operation Iraqi Freedom, he was awarded the Bronze Star.
Middle son John III is a 37-year old Army major stationed at Fort McPherson near Atlanta. During the year he served in Kuwait, he also performed advance missions throughout the entire Middle East. He also has served in Somalia, Afghanistan, Kuwait, Saudi Arabia, Jordan, Qatar, Uzbekistan, Korea and Japan.
"He's been every where, a lot of conflicts," Mrs. Matthews said. "He says you can't die but one time. That's just John."
Agreeing, the senator said, "John has been everywhere — Somalia, Desert Storm and he went back for a year, just before the war started to Kuwait. He went a lot of places while he was in Kuwait. He was on an advance team for preparation and layout. … He stayed until the war got started and he was brought back and sent to the Third Army Headquarters in Atlanta.
"He's a major in the quartermaster corps. He did the preliminary preparations, got the equipment over there and got it all in place, just before President Bush ordered the invasion of Iraq this time. … He's been about enough now; it's about time (to stay home)."
Finally, Michael, at 42, the eldest son, is scheduled for promotion next month to lieutenant colonel in the Army Reserves. Recently released from active duty, he is employed by the Department of Defense at the Pentagon in homeland security. He lives outside of Baltimore. In addition to Iraq, he's also served in Egypt and Korea.
"He was called back up when we went to Iraq," the senior Matthews said. "He was called up because his specialty was chemical warfare. He went to Iraq in Desert Storm originally."
All three Matthews brothers were involved with ROTC while attending South Carolina State University. Michael, who is working on his master's degree in public administration, graduated from SCSU in 1984. John III, who also has a master's degree in business management from Troy State University, earned his SCSU degree in marketing in 1990 while Brian graduated with a degree in education in 1995.
"My oldest son, after college, got an ROTC commission," Matthews said, and the other two followed his example.
As a parent, the senator says, he can't think of a better career choice than the military.
"It gives organizational and leadership skills and that's what the world is looking for — people who can give orders and follow orders," he said.
However, Matthews confesses that he has several concerns about the decisions leading to the ongoing war in Iraq. One, he feels that decision-makers have "really underestimated the enemy." Two, he says, the president either had "bad information in making the decision or the decision was made prematurely." And, three, he says, "America went to war without an exit plan or strategy."
"Because of those three factors, we'll have a hard time in completing the process," Matthews said. "But now that he's there, he's going to have to win it. … As Americans, we'll pay the price for those decisions. … Once the president declared war and we were in Iraq, we have no choice but to win the war. Even though I disagree with the reasons that got us there … we must stay the course and win."
The first Desert Storm of 1991 was a different war, the senator says.
"There were clearly compelling reasons. Iraq had invaded Kuwait. That's why there was international support. This time we don't have that support; and, after what happened in Spain, that support will begin to wane. (The terrorist bombing in Spain) is a defining moment in the history of this whole process."
His three sons, Matthews says, don't discuss the politics of war.
"They follow the military code," he said. "They don't talk about that."
In addition to the Matthews sons, there are also two daughters — Stephanie, a mechanical engineer at Johnson Space Center in Houston, Texas, and Cynthia, who works for the Department of Social Services in Orangeburg.