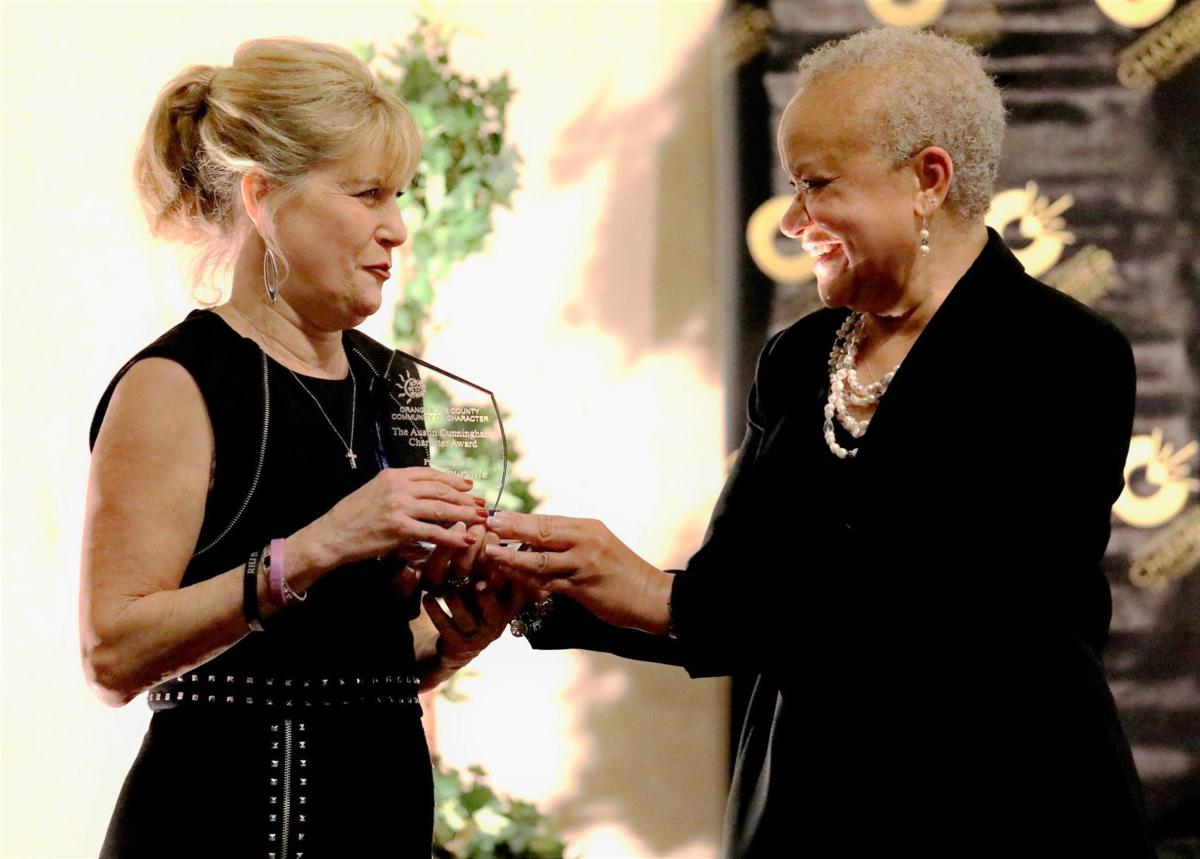 Orangeburg resident Karen Tourville does not look for the accolades that come with being a community servant.
So when she was told she was the 2019 winner of the Austin Cunningham Character Award specifically given to a resident who exemplifies character traits that make the county a better place to live, work and thrive, it was a surprise.
"I am so honored," she said. "I can't believe they chose me. I just feel like this is an amazing award for special and incredible people."
To a standing ovation, Evelyn Disher of Orangeburg Community of Character presented Tourville "The Austin" award Thursday night at the Orangeburg County Chamber of Commerce banquet.
The award is named after the late Austin Cunningham, who was a community advocate, businessman and civic servant.
The recipients of the award demonstrate and promote character achievement and a lifelong commitment of high standards in their actions. They have earned a high level of respect within the community through consistent service and extraordinary demonstration of inspiring character traits. 
"I have always wanted to help people out," Tourville said. "I love being with people and reaching out to people. That has always been my motto. I just think everyone in the community needs to work together. I think that is very important."
Upon receiving the award, Tourville encouraged those in attendance to go beyond themselves.
"Think about other people and touch other people's lives, reach out to people," she said. "Most of all let us work together in our community to helping that happen."
Disher said the comments made in Tourville's nomination were on point touting her compassion, thoughtfulness, kindness, integrity, empathy and respect.
Disher noted Tourville's humility was evident in the invite to Thursday's banquet.
"I can vouch for her humility, as it was a challenge getting her here," Disher said.
A native of Cleveland, Ohio, Tourville was raised in New Jersey, where she graduated from high school and then went on to Lock Haven University in Pennsylvania, where she earned a degree in early childhood education. She taught for five years in nursery school and pre-school level. 
She moved to Orangeburg in 1989.
Tourville's spirit of service began as a room mother at Orangeburg Prep.
Her devotion to the school grew and allowed her to serve in many different roles: substitute teacher and constant volunteer. She also served as an officer on both the ATP Board and the Booster Club Board.
Over the past two decades, Tourville has shared her talents, enthusiasm and energy with many local organizations, including Healing Species; the Salvation Army; Mellichamp Elementary, where she mentored students; the American Cancer Society; the Regional Medical Center Foundation Board and Pink Ribbon Committee, where she served as co-chair in 2015 and as chair in 2016.
While at Mellichamp, she along with Heather Bernardo and Angela Burroughs, began making snack bags for a handful of children they learned were going hungry over the weekends. And in 2010, they started "Into the Mouths of Babes," an initiative that kept growing to address that growing need. 
She also currently serves on the Samaritan House Board.
Tourville has also served on the planning committee for Orangeburg County Relay for Life and has chaired the Development Committee and is currently the special events chair.
Tourville's service was recognized in 2018 when she was named the Kiwanis Club of Orangeburg's Citizen of the Year. Tourville was also recognized for her generosity in December 2006 as part of the Orangeburg County Community of Character initiative.
The oldest of four children, Tourville said her parents always taught her and her siblings to give of themselves.
She has two children, Travis, 30, and Jordyn, 27, and is engaged to Al Hay, who is a teacher and coach at Orangeburg Preparatory school.
Get local news delivered to your inbox!
Subscribe to our Daily Headlines newsletter.