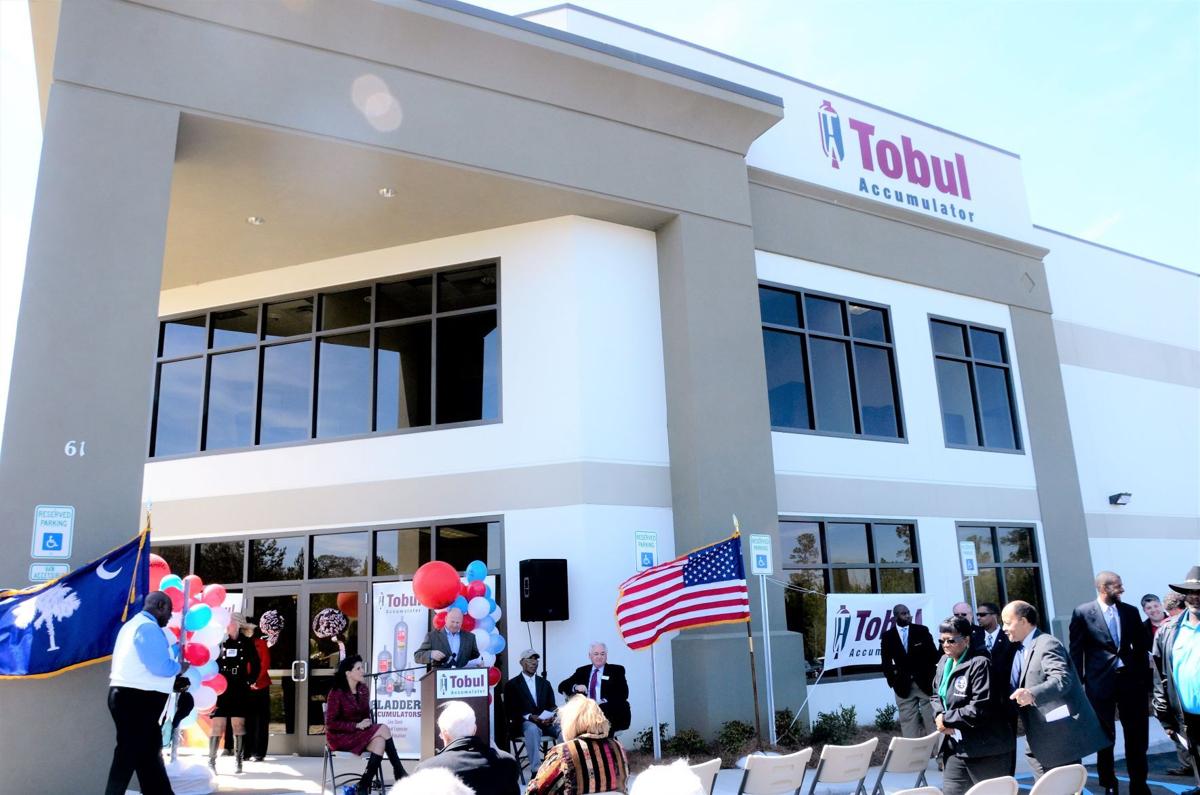 BAMBERG -- A German company will close the doors of its Bamberg plant by the end of the year.
The closure will result in the loss of 40 jobs at Bamberg's Tobul Accumulators, according to Freudenberg Sealing Technologies Director of Corporate Communications Cheryl Eberwein.
"We did a very in-depth analysis of that facility as we do with all our facilities," Eberwein said. "We have more capacity than we can use in the accumulator industry at this point in time."
"It was a question of balancing our customer demand capacity with our production capacity," she said. "We had more capacity than we could justify given the current market for accumulators in that region."
The company will consolidate the accumulator business in facilities in Houston, Texas and Remagen, Germany.
"The proximity to major transportation hubs, other Freudenberg Group businesses and company austerity measures have also played a role in reaching this decision," Eberwein said.
"We are working with these employees from an HR perspective," she said. "This news saddens everybody."
The company told employees about the closure Wednesday and met with them to answer questions.
"We have a lot of different employees in that facility who are working in different capacities under different arrangements," Eberwein said. "HR has been working with individual employees to go over what options they have."
Eberwein said when Freudenberg purchased Tobul six years ago, "the outlook in that region was quite good."
"Unfortunately, that has not materialized," she said. "That is the primary driver for us in making this decision: a difficult, difficult decision."
Bamberg's Tobul plant reached peak employment of more than 100 employees prior to Freudenberg's acquisition of the plant.
Despite investments Freudenberg made in the facility, including a new production line in 2016 and SAP installation in 2019, the accumulator market has declined in North America as key industries, such as oil and gas, have softened, Eberwein said.
"Employment reductions were required, and one way we achieved this was by not filling plant vacancies as they occurred," Eberwein said.
The SouthernCarolina Alliance has asked Freudenberg to allow the building to be marketed to prospective companies as soon as possible, said Kay Maxwell, vice president of marketing for the alliance.
Tobul manufactures piston and bladder accumulators for industrial applications, including hydraulic piston accumulators for blowout preventers that prevent an uncontrolled release of drilling fluid, crude oil or natural gas during the raw material extraction process.
Tobul was established in 1980 by Jim Tobul. He chose Bamberg as a plant location back in 1987 due to the availability of an airport and the fact that he was impressed with Bamberg County's professional proposal.
Former South Carolina Gov. Nikki Haley visited her hometown in March 2013 to celebrate the plant's expansion to the CrossRhodes Industrial Park off of U.S. Highway 301 from its previous location on Accumulator Street.
Bamberg County development
Bamberg County's largest employer, Rockland Industries, announced in February it was closing its doors after 57 years, resulting in the loss of 133 jobs.
The company is a maker of coated blackout window fabric.
Last month, the company said it had never completely closed but had completed the first phase of its reorganization and was looking to secure new investment or financing, or to sell the company.
The company says it has been operating with about 30 employees at the plant and hopes to ramp up employment, depending on market changes.
Bamberg's bourbon barrel maker Black Water Barrels LLC announced plans to temporarily close its 3914 Main Highway office in November 2019. The closure was part of a restructuring effort and federal litigation with manufacturing equipment providers related to equipment performance and production.
Maxwell said, "Black Water Barrels will make decisions about the future of the operation once the case has been resolved. They are optimistic about the future. They are not publicly discussing their plans at this time."
Also, Masonite International Corporation, one of the county's largest manufacturers, closed its doors in the summer of 2019, resulting in the loss of 110 jobs. Masonite made doors at the facility.
Pegasus Home Fashions announced last November it would locate in the Masonite facility with plans to invest $1.1 million and eventually bring in 113 new jobs. The New Jersey company makes bedding and home products.
There was a delay in efforts to ramp up operations due to the coronavirus, but company HR assistant Denise Robinson said Thursday it has been operating since Aug. 5 and currently has 30 employees.
It is also in the process of hiring sewers, baggers, packers and employees for its shipping and receiving departments.
Maxwell noted that, "Until the pandemic hit in March 2020, Bamberg County actually had its lowest unemployment rate in 20 years, with the unemployment rate at 4.4% in April 2019 and 4.6% as late as November (it was 3.9% in November 2000)."
Phoenix Specialty in Bamberg and Innovative Poultry in Olar have recently announced expansion projects, she said.
"Project activity is good, with prospective companies now looking at Bamberg County for location in the near future, and a quick look online this afternoon also shows that there are more than 1,000 jobs available within a 25-minute drive of Bamberg County right now," Maxwell said. "The key is for our communities to work together to create the best business environment possible while improving education and workforce training to offer the most attractive conditions to grow or expand industries."
"For SCA, we will stay focused on recruiting new industries and assisting our existing industries with expansions where we can," she said.
Get local news delivered to your inbox!
Subscribe to our Daily Headlines newsletter.