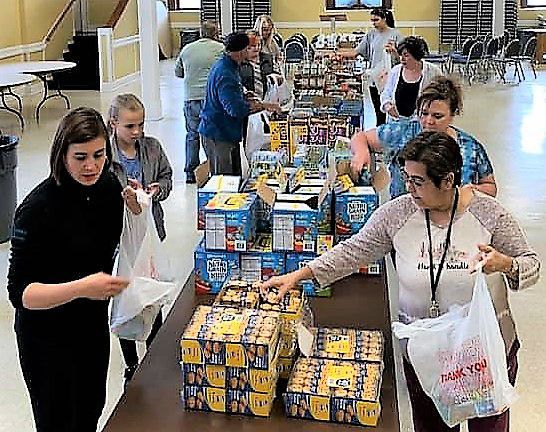 While the nation is encouraged to stay away from crowds due to the coronavirus, First Baptist Church of Orangeburg is using a bit of creativity to meet community needs.
This Friday and next week, the church will be distributing free food bags to local families.
The church's youth pastor, the Rev. Zeke Stephenson, and his wife, children's minister the Rev. Anna Kate Stephenson, helped coordinate efforts to provide bags of food for the next two weeks to local families.
He said the mission is to, "help supplement the nutrient-rich items the school district is already providing to local students."
"The bags include breakfast items, cans of Spaghettios, applesauce, beef jerky, trail mix and fruit snacks," he said.
On Monday, church volunteers packaged 300 bags of food in 30 minutes.
Distribution of the food bags takes place twice weekly.
The church already had its first distribution of 150 bags on Tuesday, but will do it again on Friday, March 20 from noon to 2 p.m.
Next week, the food bag mission will continue, again on Tuesday, March 24 from 2 p.m. to 4 p.m. and on Friday, March 27 from 2 p.m. to 4 p.m.
Stephenson said 150 food bags will be distributed each time.
Supplies may run out before 4 p.m., Stephenson said, noting that there's a one-bag limit per household.
Stephenson said that there have been several people who've asked about how they can help with this mission.
People have volunteered to bag items. Stephenson explained that he's had to turn people away due to social distancing and healthy practices they're maintaining at the church.
The value of each bag is about $3. He's encouraged those who wish to help the mission to contribute financially.
Any donation will be greatly appreciated.
Personal checks may be mailed to P.O. Box 637, 1240 Russell Street, Orangeburg, S.C. 29115. In the memo line, write "food packs."
To receive a free food bag, visit the breezeway at the Middleton Street entrance.
Church staff and volunteers will be there ready to assist.
For further information, call First Baptist Church of Orangeburg at 803-536-1545.
The church office will remain open during regular business hours.
This article has been changed to reflect a change in the time of distribution.
Concerned about COVID-19?
Sign up now to get the most recent coronavirus headlines and other important local and national news sent to your email inbox daily.