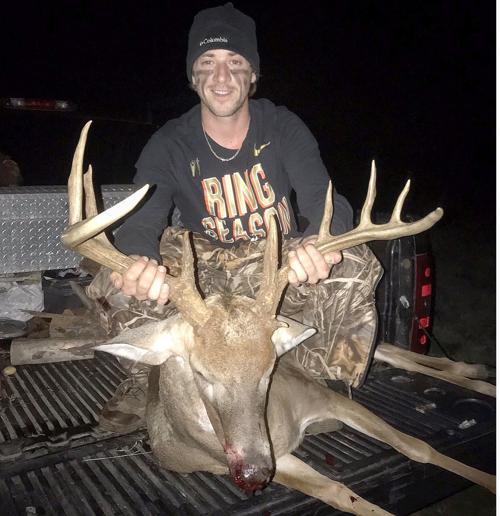 Andy Till of Orangeburg got the deer of his dreams on the third day of the 2019 season.
His story of One-Eyed Jack was told back in August after he harvested the biggest buck of his life on private land in Orangeburg County. The 12-point weighed 173 pounds with a 19-1/2-inch spread. His unofficial green score was 153.
The deer was familiar to Till. He had named it One-Eyed Jack after tracking the buck on trail cameras for some time. One of the buck's eyes never reflected light in any of the photos, thus the name One-Eyed Jack.
The 2019 season has gotten even better for Till.
"There are thousands of deer in this state, but when the 2019 season began, I only had two bucks on my mind, One-Eyed Jack and Captain Hook. The Good Lord sent me Jack on the third day of the season (still can't believe that!) and he sent me Captain Hook last night (Nov. 3)!
"My wife and I bought 11 acres five years ago and finally saved up enough to build on it more recently. Got a little woods on it, so naturally I started baiting and watching.
"This past summer, one of the biggest deer I've ever caught on cam started frequenting the food plot about 300 yards off our back porch. As the months went by, I was surprised to see him hanging around.
"I haven't had any daytime pictures of him since summertime but last night I reluctantly decided to ease up the deer stand in the back yard. It's a field stand and I just hate hunting fields this time of year.
"Hadn't seen anything all afternoon and was getting a bit discouraged to be honest,but right about 5:35 p.m.,he popped out just as broadside as can be. I had to watch him for a few minutes because a doe was standing dead between us. But when she moved just enough to clear my view, I took the shot.
"He took off like a bat out of hell, so wasn't sure about the shot. I felt good about it, but the deer wasn't down, so I was nervous! Got my buddy and we started looking. After some time in the woods,we found Captain Hook at the end of a 150-yard blood trail. What a freaking animal!
"Captain Hook got his name from the kicker off the back of his right side G2 which looked every bit of a fish hook, that is until he broke it off about two weeks ago."
Captain Hook had 11 points, 23-inch spread, and weighed 185 pounds.
Get local news delivered to your inbox!
Subscribe to our Daily Headlines newsletter.