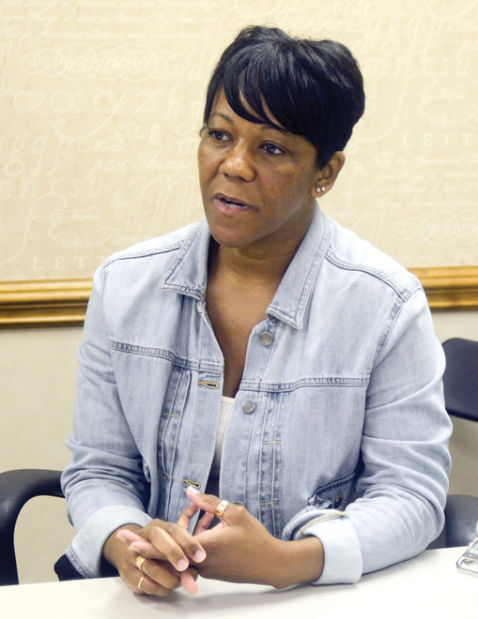 North native and Orangeburg-Wilkinson High School math teacher Melissa Huffman has been an educator in Orangeburg Consolidated School District 5 for the past 17 years.
"I enjoy teaching," Huffman said. "I love the interaction with the students."
Over the years, Huffman has taught geometry, algebra and probability and statistics. She finds her joy in teaching mathematics.
"I enjoy that math is exact. There is no room for interpretation," she said. "That really made me stray away from things like English and literature, which are left to interpretation."
The 47-year-old Huffman's expertise and experience about the subject helped place her with four other South Carolina teachers as part of the national LearnZillion's TeachFest conference.
The four-day conference, held in New Orleans earlier this month, brought together 200 math and English teachers to deepen their understanding of Common Core state standards. LearnZillion is an online video library that provides students with lessons.
Huffman was selected from an international pool of 4,000 educators to participate in the event. The teachers represented 42 states, three countries and more than 2,300 years of teaching experience.
She said the experience was rather intimidating considering the knowledge and experience that was present at the conference.
"There are very rigorous expectations for these lesson plans because people on a national level will be using them," she said.
Huffman said she visited the LearnZillion website when she saw the program was accepting applications from teachers to be a part of a "Dream Team" of teachers to participate in the program.
"I followed through not really expecting anything," Huffman said. "As it turned out, I did make it. I was really excited about it."
"I had a desire for professional development that was much more global," Huffman continued. "I wanted to do something that far exceeded regional or statewide boundaries. From time to time, I wanted to know what people outside of South Carolina were doing."
While Huffman has trained for Common Core, the standards have not been without controversy.
South Carolina has chosen to not use Common Core standards beginning in 2015, joining Oklahoma and Indiana as states specifically rejecting the standards. Common Core was initially embraced by 44 states and the District of Columbia.
Some fear the standards are an effort to grow government while others fear the growth of Common Core was from funding received from private sources such as Bill & Melinda Gates Foundation, NewSchools Venture Fund and the Achievement Network.
Huffman said she was disheartened when South Carolina decided to not continue with Common Core.
"I am working on it and working with Common Core so in-depth and I was thinking of it as such a wonderful resource not only for myself but for the teachers I work with," she said. "We just monitor and adjust.
"I definitely don't regret being a part of it even though we will not be using it in South Carolina. It has given me an opportunity to be a part of something larger than myself."
Huffman said Common Core has been a success.
"The expectation is that you do more at a lower grade level in essence," she said. "When we first started Common Core, it was developed so when students finish their high school education, they are more prepared for college or career."
OCSD 5 spokesman Bill Clark said the district has been preparing and using Common Core for the past three years and, if the South Carolina General Assembly chooses to change the standards, the district will do so as well.
"That is the law right now and that is what we will teach to," Clark said. "If it changes or gets amended or tweaked in some ways down the road, we will be prepared to do that as well."
Clark said he does not foresee the entire Common Core being replaced with entirely new standards, but he expects there will be significant overlap.
"Our teachers are flexible enough to use whatever criteria they are given and be able to adapt to that," he said. "The kids will be just fine."