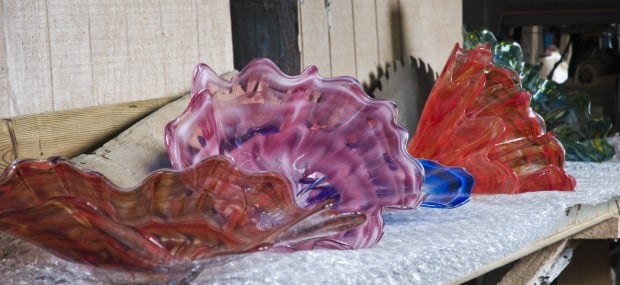 Like King Midas, Branchville's "swamp artist" has a magical touch. But where Midas' gift turned everything he touched into cold, lifeless gold, Herman Leonhardt's touch creates multi-faceted works of art ranging from his brilliantly colored, blown glassware to his metal work to the rustic home he designed and built in the Edisto River swamp.
Leonhardt is an outdoorsman who lives a simple life with his cat and two Chesapeake retrievers. He calls his work "swamp art" after the beauties of the environment around him. Though he has a gas heater, he mainly warms his home with a free-standing heater that he stuffs with wood foraged from the forest. He even has a wood stove that he uses when he's in the mood - but he usually cooks the modern way, he says.
"I'm still using firewood from the tornado that hit Branchville three years ago," he said. "I was looking out the window, and the trees were going down - boom, boom, boom - but not one hit the house."
Leonhardt is best known for the brilliant blues and golds and reds and yellows and greens and intricate shapes of his blown glass artwork. It ranges from Christmas globes - one of which graced the White House Christmas tree in 1997 - to vases and bowls and lamp shades that are supported by metal bases he fashions in the shape of the tangled vines that grow along the river.
Leonhardt sold one of his lamps for $17,000 to Florence-Darlington Technical College and recently turned down $6,500 for one he wants to sell for at least $10,000.
"I designed it (the lamp) to be beautiful," he said. "It doesn't have to say anything or represent anything specific. It's just got to be wonderful, awesome, beautiful, fantastic - but not perfect. I don't do perfect."
He says the cost of blowing glass is astronomical, and the work is beyond exhausting. Even though Leonhardt claims he's the fastest glassblower in the country, he can produce only four pieces a day because of the drain on his body.
It costs $5,000 to $10,000 to fire up the furnace, plus the cost of the glass and coloring, he says.
"I spend about a thousand dollars a week on propane," he said. "It takes many days to blow all that glass, and twisting that iron was an ungodly task."
Glass is heavy, and sometimes he has to have help supporting the glass on the pipe as he blows and shapes it into beautiful pieces. He "dances" as he waves the pipe to create his art. If you wave the pipe one way, you get a long, cylindrical piece, and if you wave it another way, you get a rounder, flatter object, he says.
Leonhardt says he appreciates some of his contemporary glassblowers. He says Dale Chihuly, one of the world's most renowned glasswork artists, makes it possible for him to make a living.
"If I charge a thousand, he charges $40,000," Leonhardt said. "People fall to the ground quivering when they hear his prices, and then they buy from me. What can I say?"
Because of the economy and because he was in an accident earlier this year, Leonhardt isn't running the glassworks this winter. But normally, he and a couple of helpers spend five months during the coldest time of year working on almost 300 pounds of glass a day. The furnaces reach temperatures 2,500 to 3,000 degrees, and that doesn't go well with hot weather, he says.
"I've had to give my whole life to it," he said. "I run it 24 hours a day, and I can't leave it more than a few hours at a time, so I sleep in the shop and get up every two hours to shovel in more glass."
By the time he gets up in the morning, a new batch of glass is ready to work on, he says.
The blown glass is no more a part of Leonhardt's creativity than his house that sits in the stillness of the swamp, where not a sound from the nearest highway - nor the sound of another human voice - disturbs the quiet.
Built from aged cypress logs Leonhardt pulled from the river, it blends in so well with the peaceful, woodsy atmosphere that it might have grown from the forest's floor like the plants and trees that surround it. It was created for comfort and beauty, but perhaps most of all, to provide the owner with an unimpeded panorama of swamp life. The sunlight filters through the leaves as the deer, otters, beavers and other wildlife pass beneath the windows to drink from an oxbow link of the river that runs within feet of the back door.
Comfortable chairs are positioned beside the windows and on the glassed-in porch to provide Leonhardt and his guests a place to observe the wonders of the outdoors. The doors are framed with rough-hewn, weathered cypress logs. Cypress stumps and tables showcase dozens of vividly hued vases and bowls that spill over onto every free surface and in every room - even into the bathtub.
Leonhardt says some of his art will always be on display in his home.
"I don't want to sell it all," he said. "I assure you, I will keep a house full till the day I die, and my daughter will inherit it."
A circular staircase of weathered cypress leads to the master bedroom that covers the entire top floor. Windows line each wall, bringing in the light and offering another view of the surrounding forest. Even in the wintertime, it's hot by the end of the day, Leonhardt says.
"This house is perfect for human habitation," he said. "The trees over it shade it in the summers. In the winter, the leaves fall off and the sun comes in. It don't get no better than that."
And the house will always be a work in progress, he says.
"It'll be finished the day I die, and then my daughter can do what she wants with it."
Leonhardt has been hard-hit by the economy. One of the first things people give up is art, he says.
"I'm in galleries all over the country, but most of the stores are closing because of this economy," he said. "It makes it hard to sell anything, but people like my stuff and they're keeping me alive."
But Leonhardt is versatile, and he's moving on to other artwork that he can sell less expensively.
"I can do anything except (push) buttons," he said. "And I don't do computers."
He's now creating earrings and pendants from diachronic glass and figures from sheets of steel. Crabs and palm trees sell well at the farmer's market in Charleston, he says.
During the season, he loads up his trailer and goes each week, displaying his work on cypress wood, he says.
"I used to go down there and make hundreds of dollars. Now I go down there and make maybe $20 or $100," he said.
Leonhardt says hopefully the economy will improve and he'll be able to get back to work at glassmaking next year.
An untrained artist, Leonhardt built the glass studio and equipment nearly 20 years ago because his wife wanted to work with glass. Then when she needed help in the studio, he got involved and learned the business.
When their marriage broke up, Leonhardt continued with the glassblowing. His work has become known all over the United States and as far away as Singapore and Australia. He's held numerous shows, and has been on ETV and on "Army Wives" twice.
Despite the dismal economy, Leonhardt recently sold a piece to a British dentist and his wife, who sailed into the Charleston harbor on a cruise ship and made the trip to Leonhardt's home. The couple selected the piece they wanted and took it away with them, he says.