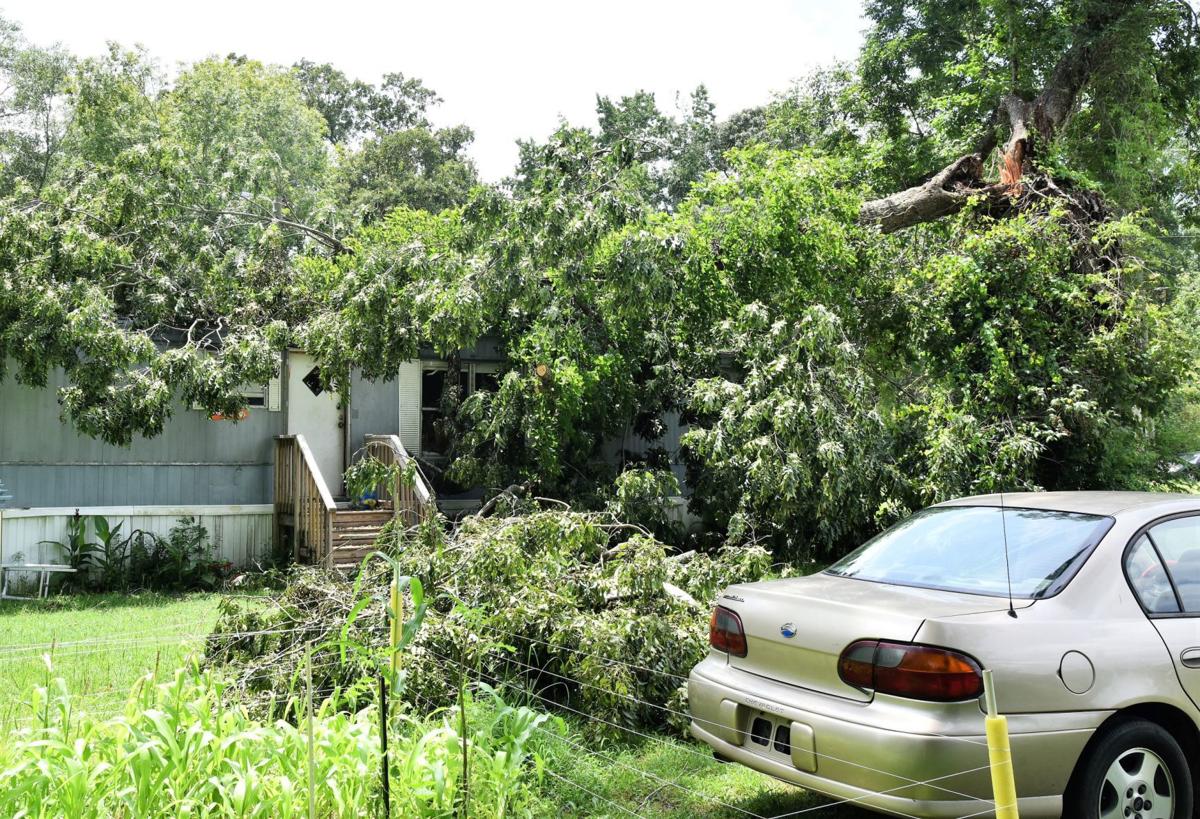 Cordova resident Richard Mizzelle had just taken his clothes off the clothes line and returned to his house when he heard a familiar noise.
"I work with logging so I know what it sounds like when you hear a tree falling," the Squire Drive resident said. "I heard it falling and I tried to make it to the front door but the impact knocked me down to the floor."
He was the only person in his home Saturday when a pecan tree crashed into it.
Mizzelle said he has a plan for the pecan tree's removal that involves logging equipment.
"We are going to grab it," he said. "We have a loader that grabs ahold of trees. We will grab it up there and hold it. It is resting now but if you try to cut anything loose, it is going to come down into the house."
Mizzelle said the tree put a little hole in the roof, but otherwise caused what appears to be minor damage.
"It busted two of the windows out in front of the trailer," Mizzelle said.
He plans to fix the house up and continue to live in it.
Mizzelle is also thankful to be alive.
"God was looking out for me on that one," he said.
Strong storms rolled through the area shortly before 9 p.m. Saturday with wind gusts that reached hurricane-force strength.
The Orangeburg Department of Public Utilities reported a wind gust of 75.4 mph at its in-town substation at the corner of Bull Street and Windsor Street.
The National Weather Service recorded a wind gust of 55 mph at the Orangeburg Municipal Airport.
Orangeburg County Emergency Services Director Billy Staley said the county's fire services received 35 calls related to trees downed across highways from Springfield to Eutawville.
"It had strong winds on the front," Staley said.
According to the NWS, there were reports of storm damage primarily in the Springfield, Norway, Cordova, Cameron, Santee, Branchville and Holly Hill areas.
There were no other reports of structural damage.
Storms also rolled through the area Sunday, although the second round was generally less severe than the first.
There was a single report of a downed tree and power lines on Hampton Street in Elloree from the Sunday storms.
Between the weekend storms, Orangeburg's DPU had over 4,000 customers without power with the average outage being approximately 3-1/2 hours, with some being as long as 16 hours while the utility rebuilt entire spans of power lines.
"These generally were in more remote parts of our service area," DPU spokesman Randy Etters said. "There was no defined area as the outages were spread over our system to some degree."
There were no reports of storm damage in either Calhoun or Bamberg counties.
Get local news delivered to your inbox!
Subscribe to our Daily Headlines newsletter.