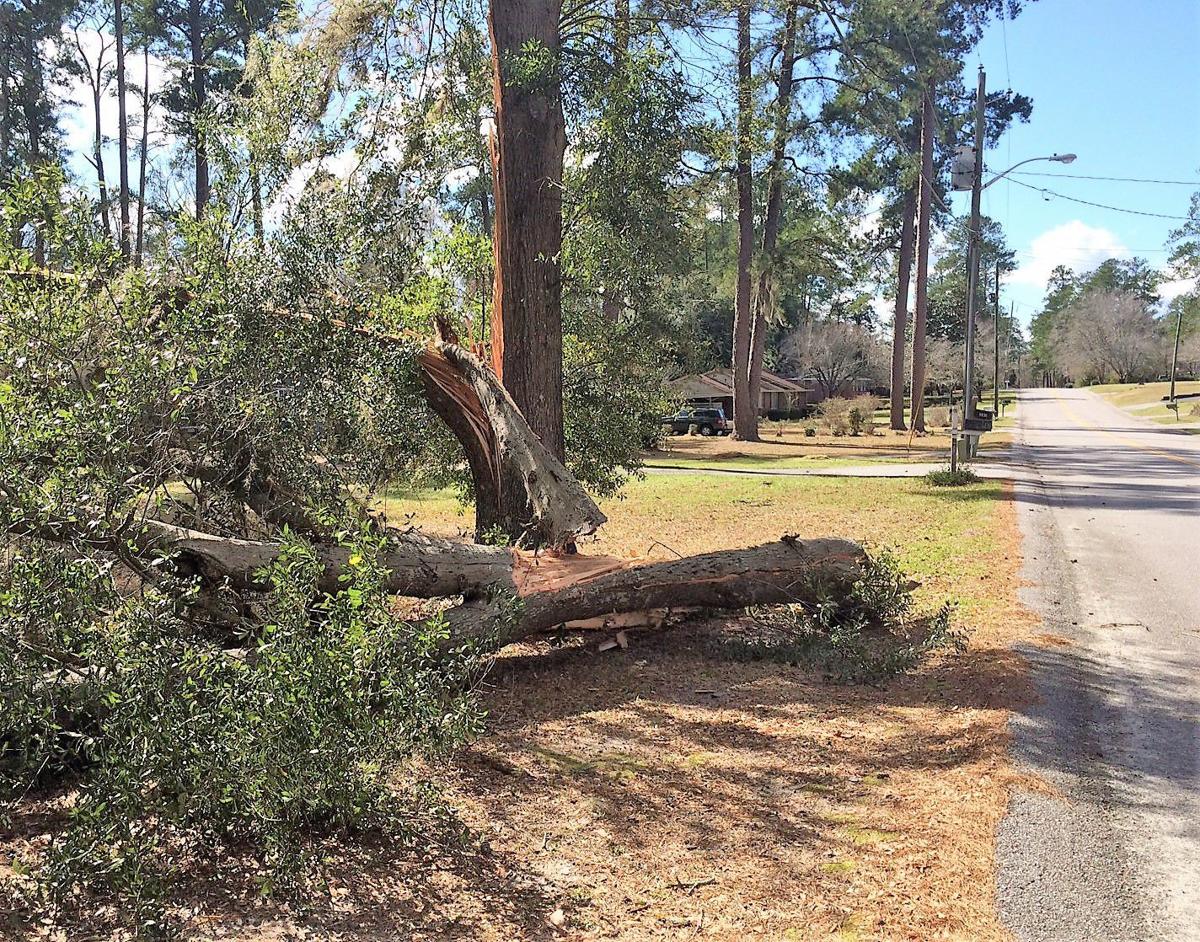 Strong thunderstorms and heavy winds knocked down trees and damaged vehicles, but caused few other problems.
A tree fell on a Fed-Ex vehicle traveling on Interstate 26 Friday morning. Three other vehicles struck downed trees on the interstate.
"We have had a good many trees come down between 3 a.m. and 9 a.m. on I-26," Orangeburg County Emergency Services Assistant Director Chris Murdaugh said Friday.
The accidents all occurred around the 153 mile marker between 5:30 a.m. and 6 a.m.
Murdaugh said vehicle occupants suffered minor injuries.
A line of heavy thunderstorms blew into the state on Thursday, with strong winds continuing throughout Friday.
Other trees were knocked down throughout the county from "one end to the other," but were all cleared by Friday morning.
The Orangeburg County Fire District reported responding to 12 downed tree calls.
No structural damage was reported in the area, Murdaugh said.
In Calhoun County, downed trees were reported in the Sandy Run and Fort Motte areas.
The trees were all cleared by late morning.
"I think we were very, very lucky with the minimal damages that were sustained with the trees down," Calhoun County Emergency Services Director David Chojnacki said.
Bamberg County Emergency Services Director Brittany Barnwell reported several roads washed out due to the storm, including Sipes Road, Hadwin Road, Cactus Road, Church Street, Jager Road, Pepper Road, Turkey Cut Road, Dally Road, Wyndham Woods Court, Bauchman Road and Boll Weevil Road.
According to the S.C. Department of Transportation, Sipes Road was the only road listed which remained closed Friday due to flooding.
In Orangeburg County, Good Farm Road was also closed due to flooding.
The Orangeburg Department of Public Utilities reported "spotty individual outages" during the storm.
"We feel very, very fortunate," DPU Spokesman Randy Etters said.
The utility had fewer than 30 customers without power Friday morning.
Dominion Energy recorded 103 outages in Orangeburg, 22 in Calhoun and five in Bamberg.
In Orangeburg County, Edisto Electric Cooperative reported about 16 customers without power Friday morning. About 21 customers in Bamberg County were without power.
Aiken Electric reported seven Orangeburg County customers without power through late Friday morning.
Wind at the Orangeburg Municipal Airport reached sustained levels of 33 mph with gusts of 47 mph shortly before dawn.
Rainfall totals during the storms ranged from about 2 inches to 4 inches, according to data gathered by Community Collaborative Rain, Hail and Snow Network volunteers.
Rainfall totals of reporting stations include:
• 4.02 inches -- Three miles northwest of Orangeburg
• 3.81 inches -- Seven miles southeast of Neeses
• 3.78 inches -- Three miles west-northwest of Denmark
• 3.57 inches -- Three miles east-northeast of St. Matthews
• 3.15 inches -- Two miles northwest of Orangeburg
• 3 inches -- Four miles northeast of Cope
• 2.98 inches -- Two-tenths of a mile southeast of Ehrhardt
• 2.67 inches -- Five miles northeast of North
• 2.63 inches -- Two miles west-southwest of Elloree
• 2.49 inches -- Seven miles west-southwest of Santee
• 1.99 inches -- Orangeburg Municipal Airport
Flood warnings are in place for the North Fork of the Edisto River and the Congaree River at Carolina Eastman.
The Edisto River is forecast to crest at about 9.1 feet Saturday morning.
At 8 feet, some minor flooding occurs along the boardwalk at Edisto Memorial Gardens. Downstream from the Highway 301 bridge, some roads off Chiquita Street near the river begin to flood.
The Congaree River at Carolina Eastman is forecast to crest at about 126.4 feet, causing major flooding near the river.
If the forecast crest is realized, it will be the fourth highest-crest the river has experienced at the location since record keeping began. Records go back to at least 1971.
During the historic October 2015 flood, the river crested at 126.9 feet. The highest crest ever recorded was 126.95 feet in October 1976.
At 126 feet, extensive farmland and lowland flooding will occur south of Columbia to Lake Marion. Water reaches the top of some dikes at the Carolina Eastman facility.
The South Fork of the Edisto River is not expected to reach flood stage.
The area will get a chance to dry out over the next few days with seasonal to above-normal temperatures. The next chance of rain will come Monday night.
Get local news delivered to your inbox!
Subscribe to our Daily Headlines newsletter.