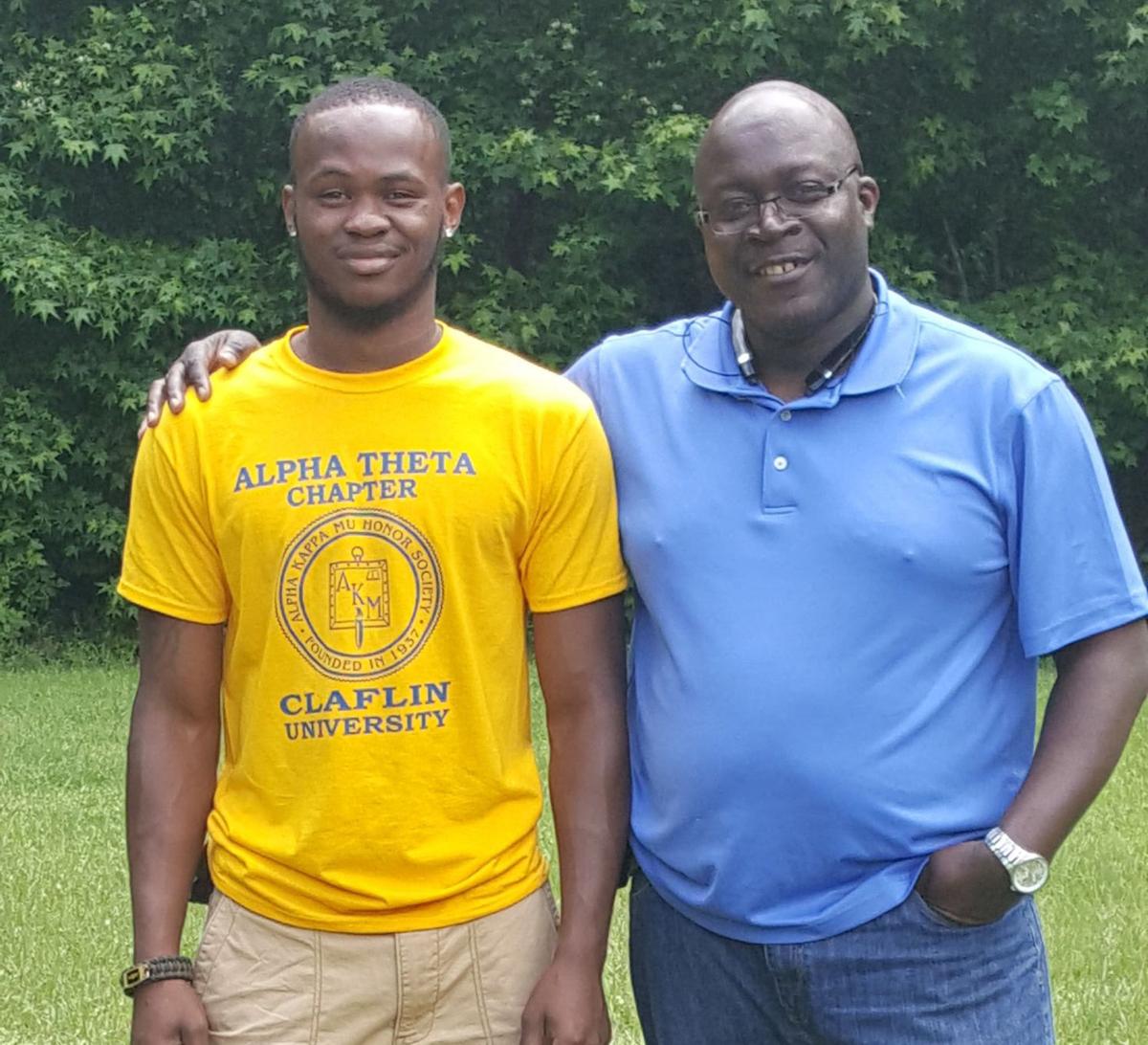 Brandon Johnson arrived at Claflin four years ago, determined to succeed in the university's computer science program.
Part of his goal was met during his sophomore year when he received the UNCF's Riversville Foundation Scholarship that paid for his remaining years at Claflin.
In addition to the support he has received at Claflin, Johnson credits his stepfather, Stanley Timmons, for helping him stay focused to achieve a 3.56 grade-point average.
"My dad was tough on me," said Johnson, who graduated from Orangeburg-Wilkinson High School. "I never really had any struggles because of the virtues and principles he taught me such as time management and staying focused."
Johnson also sees Timmons as a role model. Timmons, 40, entered college for the first time in 2013, enrolling in Claflin's criminal justice program. Johnson and Timmons were among the 422 graduating seniors at Claflin University's 146th Commencement Convocation on Saturday.
Timmons received a bachelor of arts in criminal justice. Johnson received a bachelor of science in computer science.
Timmons, who has a 3.94-grade point average and is a dean's list student, said that when he enrolled in Claflin's Professional and Continuing Studies program, he was able to transfer some college credits from his seven-year military career in the U.S. Army and U.S. Marines. After leaving the military in 2000, Timmons worked several jobs before joining the S.C. Department of Corrections in 2010. Three years later, Timmons decided to "go back to college," returning to a goal that was put on hold while his wife, Joyce Timmons, earned her nursing degree.
Now a deputy sheriff with the Orangeburg County Sheriff's Office, Timmons said, "It feels great" to be the first male in his family to graduate with a four-year degree. It feels even better, he added, to see his stepson, who was a toddler when they met, receive his degree virtually at the same time.
"I believe that education is so important," Timmons said, explaining how his mother returned to college as a young adult, leaving his grandparents to care for him and his sister. "We would visit her on weekends when she was in college, but we didn't stay long because she had to study. I didn't understand it at the time, but now I do."
Timmons, who pragmatically notes, "Pretty soon you will need a degree to get any job out there," also values the mental growth and stimulation that a college education offers. He appreciates Claflin's continuing studies program that enables students who are 22 and older to earn their undergraduate college degrees at an accelerated rate in 18 months.
Cindye Richburg, executive director of Claflin's Professional and Continuing Studies Program, said the program started 20 years ago, and currently enrolls 232 students in Organizational Management and Criminal Justice. The program has a track record for success, with an 88 percent graduation rate and 90 percent retention rate, she said.
"Our continuing education program is designed for working adults and for those with families," Richburg said. "Students attend classes on evenings, weekends and take some classes online. We provide students a lot of support services, including tutors and a success coach."
Meanwhile, Brandon Johnson, who occasionally saw his father arriving on campus for evening classes, can barely contain his excitement about life after May 7. Upon graduation, Johnson will return to Washington, D.C., to work a second summer as an intern at the U.S. Department of Energy. Following his internship, he will enroll in Norfolk State University's graduate program in computer science with an emphasis on information assurance.
Johnson's long-term goal is to work for the U.S. Department of Veterans Affairs in information technology or information security. Although he enjoys Washington, he plans to live in Raleigh or Charlotte, North Carolina where the cost of living is more manageable, he said.
Wherever he settles, Johnson plans to take along his father's love and wisdom.
"I'm going to support him and he's going to support me," Johnson said. "He's always told me not to panic in adversity because 'whatever it is, it's been done many times before. As long as you stay focused, you will achieve your goal.'"