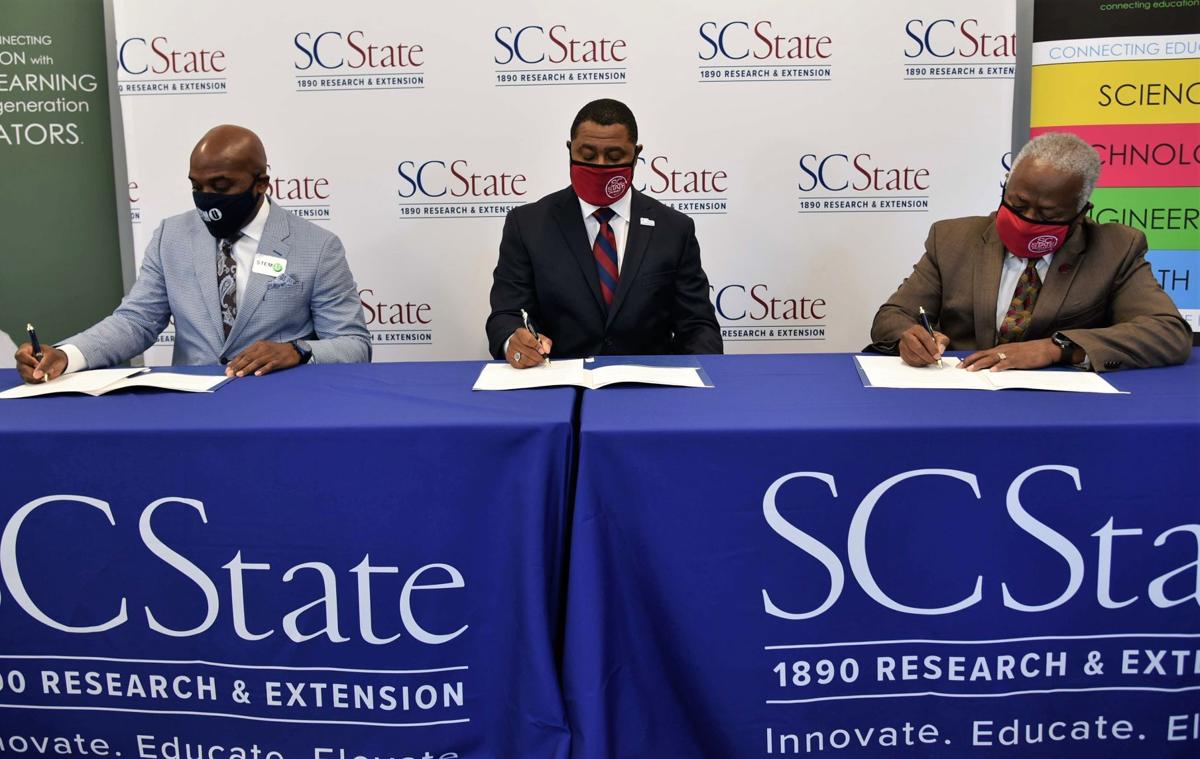 South Carolina State University's 1890 Research and Extension Program is poised to help 4-H students achieve in science, technology, engineering and math-related fields through a partnership with Charlotte-based Stem U.
A memorandum of agreement was signed between the two partners on Thursday morning at the 1890 Research and Extension administration building in Orangeburg.
"There's a lot of kids out there that just need exposure to the things that can spark their fire. We need do that because the future of society is all STEM-intertwined, and we have to make sure that our kids are able to perform at the upper echelons of this industry," said Dr. Louis Whitesides, executive director of the 1890 Research and Extension Program.
The five-year partnership between the two entities involves the launch of Vision 2026, an initiative through which STEM programming mixed with reading, agriculture and the arts will be delivered as STEAM + RA2.
"It's going to be run through our 4-H program. This program can be run in all 46 counties. Right now, we average about 6,000 kids that are in our program, and all our kids will have an opportunity to participate in this program. So it's all across the state of South Carolina. I know we serve over 1,000 kids in Orangeburg," Whitesides said.
The partnership comes with a $200,000 price tag, which Whitesides said is being met with a combination of state and federal funding, including funding from the U.S. Department of Agriculture.
"We think that this is a wise use of resources to expose our kids to this level of STEM activity," Whitesides said, noting that the interconnection of reading, arts and agriculture is key.
STEM U is a K-12 educational firm focused on connecting industry principles with education standards.
Under Vision 2026, students will not just have the opportunity to build their own robots and compete in robotic competitions, but also construct their own drones and have the opportunity to obtain their drone pilot license. Students can also receive training to work toward earning their pilot license.
"Our ultimate goal is to get licensed pilots all across the state from our program. We're going to push our kids. Our kids have the intelligence, our kids have the know-how. They just need the exposure, and that's what we're going to give them," Whitesides said.
The 1890 Research & Extension's 4-H program is a K-12 program, with all grade levels included in Vision 2026.
"We have low-level training starting in kindergarten all the way through the 12th grade. We have some versions of it for kindergarten. We have different versions for each phase. If you think about coding, of course we wouldn't have a first-grader trying to develop video games," Whitesides said.
He continued, "If you think about the robotics, robotics would probably involve LEGOs in elementary school. As you go up to high school, they're bending the wires and actually connecting electricity and all those kinds of things. So it's age-specific to the different levels of what we're actually exposing our kids to."
Drones will be the main focus of the program's first phase.
"We wanted to make sure that our kids had access to the technology. They're going to build them and be able to fly their own drone," Whitesides said.
"The next piece of that is being in a position to get a drone pilot license to become a licensed drone operator," he said. The concepts of robotics, coding and artificial intelligence will be tied together.
"There's going to be some fun in there for them also because they're going to build robots. Our kids will be able to compete in competitions because the robots that they're going to build will be able to compete at the national and international level," he said.
Whitesides continued, "The coding that we're going to push is what kids like to do. We're going to have them design their own video games. So we're going to expose them to coding that has a direct correlation to the things that they like to do and the things that impact their life."
Chris Williams, STEM U's director of partnership development, said the firm is looking forward to the partnership with S.C. State's 1890 Program.
"The whole premise of the partnership is to really get scholars connected to the STEM industry and careers and the opportunities that come from the industry itself," Williams said.
He added, "If we look at any area of industry that is continuing to increase and give employment opportunities, it is very underrepresented in underserved communities and among minorities as well. So we're just trying to level the playing field and, at the same time, expose scholars to STEM areas in terms of robotics, computer science, drone certification, cybersecurity at an early age to start sparking an interest."
Whitesides said the Vision 2026 courses will be taught by 1890 Program staff.
"One thing that STEM U has done and will continue to do is train our staff to deliver these programs in our region.
"It's continuous training, of course, and that's why we're signing an MOA with them. This is a long-term partnership," he said.