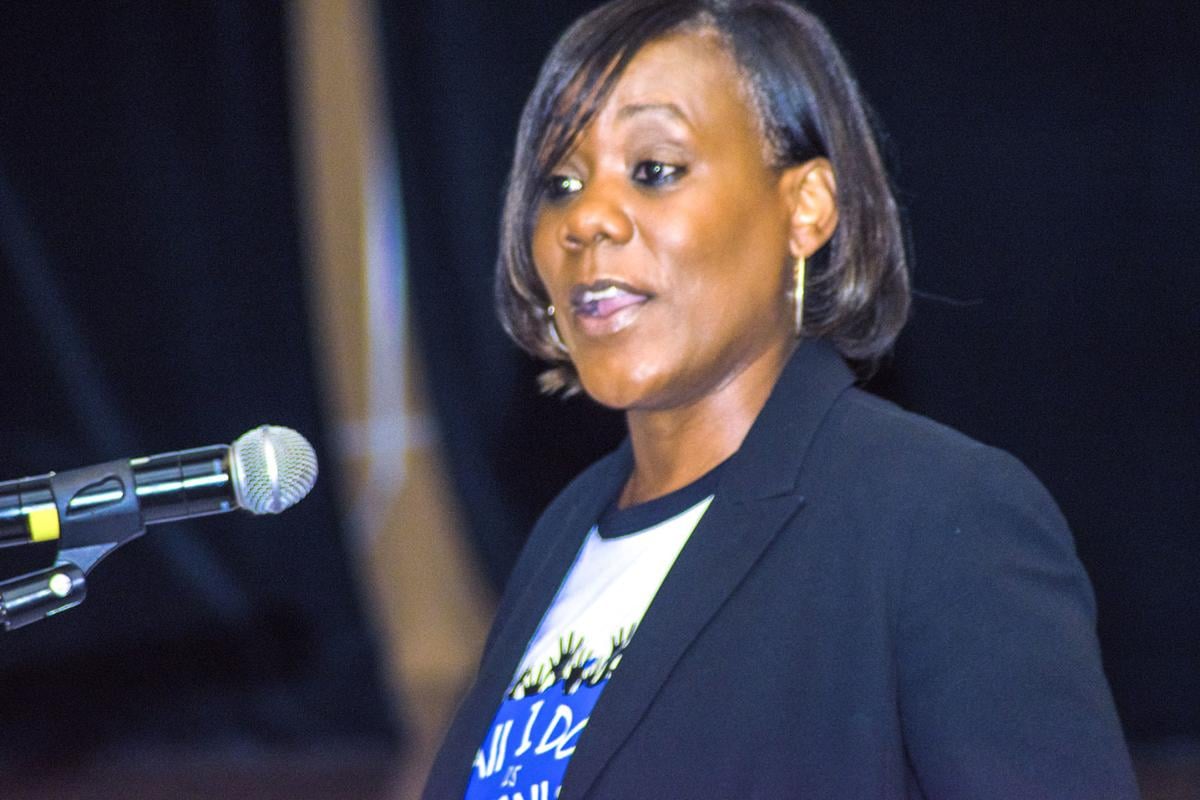 DENMARK -- Dr. Denver Malcom Key, a 1998 graduate of Voorhees College, presented "10 Fingertips to a Winning Attitude for Success" during the all-college assembly recently.
Key said "All I do is win, win, win, win, no matter what" should be the mantra students live by when working toward success. She provided each student with a journal to record 10 fingertips they should refer to during their college journey:
• Review, change and monitor your habits, attitudes, beliefs and expectations (HABE) -- "Our HABEs can either help us or hold us back. We must change our beliefs to be positives ones because they shape our actions," she said.
Key said we respond based on what we believe.
"If your thoughts are positive, then your actions will be positive to achieve success," she said.
• Do not let someone's opinion of you become your reality -- "It is your success and your reality. Go out in the world and create your own story."
• Be led by your spiritual beliefs -- "Spiritual belief is your personal key to win. Lean on what you believe to help guide your direction."
You have free articles remaining.
• Be persistent -- "Feed your persistence with good energy, good thoughts and good attitudes. Study and develop processes during college that will shape your winning attitude."
Key said persistence is important when working toward success because students may have obstacles along the way.
• Invest in you -- "Develop a business plan to be successful and consider yourself as the biggest investment of your life. Be the original you, challenge yourself, and allow yourself to be challenged."
Key said students should never settle for less but instead "go big and go bigger."
• Dream without fear -- "Students, you must step outside of your comfort zones in order to be successful. Goals without actions are simply goals, and steps without progress is simply movement."
• Aspire to make a difference -- "It does not matter how much money you make, but what you do with the money you have. Once you have success, reach back and help someone else."
• Watch the clock -- "Time waits for no one and your time at Voorhees College is timely, so make the most of your time."
• Be more than a student -- "Build an empire that includes someone smarter than you, just as smart, and less smart. You cannot grow with people who have the same mindset as you. Take leadership opportunities, connect with others and be a lifetime learner."
• Fail big to win bigger -- "You will endure failure, but with a winning attitude, you will persevere, break through and overcome. Many successful people would not be where they are today had it not been for some setbacks and failures."