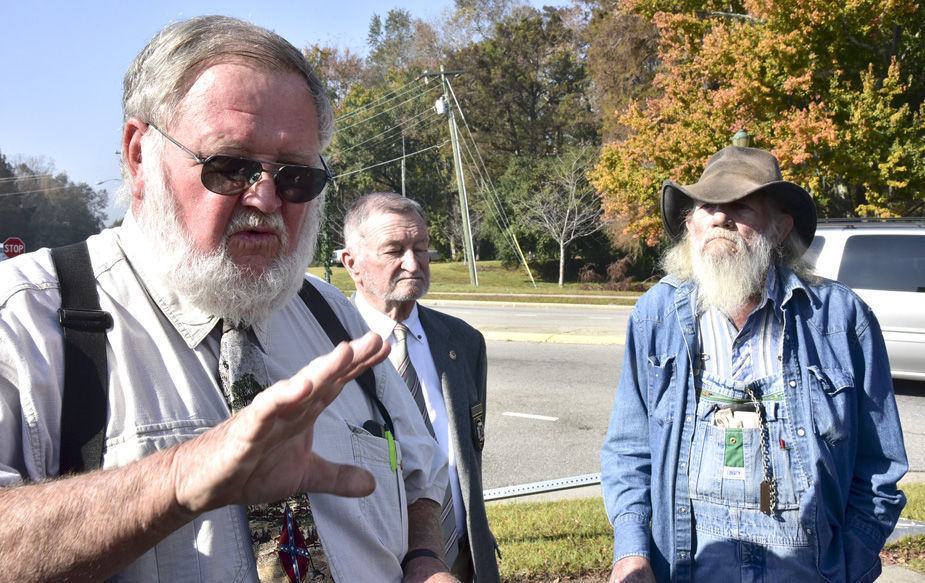 The owner of Edisto River Creamery attempted to take down the Confederate flag and put up a United States flag on the pole in front of his restaurant Wednesday.
But members of the Rivers Bridge Camp #842 Sons of the Confederate Veterans surrounded the flag pole at the shop at the corner of Russell Street and John C. Calhoun Drive and would not allow the flag to be taken down.
After about an hour stand-off, SCV members left the restaurant and the flag remained up.
Restaurant owner Tommy Daras said he would most likely contact his lawyer and find out how to proceed.
"I want to do the civil thing," he said. "I don't want any violence."
Daras said he and his wife have been receiving complaints and threats about the flag since they purchased the restaurant in 2014.
The restaurant is in the former Piggie Park Maurice's BBQ, which had been owned by Maurice Bessinger.
A small plot in front of the restaurant has been used by the Sons of Confederate Veterans for a memorial and the flag. It is visible from Edisto Memorial Gardens.
Daras says after conducting some more research, he realized that he in fact has the title to the deed to the property, not the Sons of Confederate Veterans.
"I am clean on doing something," Daras said.
Buzz Braxton of Rivers Bridge Camp #842 SCV and flag keeper at the site said the site belongs to the SCV. He says tax records prove it. He said the matter will be taken to court.
"This is our property," Braxton said.
About 15 Orangeburg Department of Public Safety officials gathered at the site in the event of any confrontation. There was no physical confrontation.
About 30 members of the community gathered to witness the occasion and to offer their support to Daras.
Bessinger raised Confederate flags at nine restaurants in 2000 to protest when state lawmakers voted to bring the Confederate flag down from the Statehouse dome.
Bessinger was well known for his barbecue sauce, his support for the Confederate flag and once distributing pro-slavery literature at his restaurants.
While Piggie Park restaurants removed the Confederate flag even before his death, it continued flying in Orangeburg because the site was now owned by the Sons of Confederate Veterans.