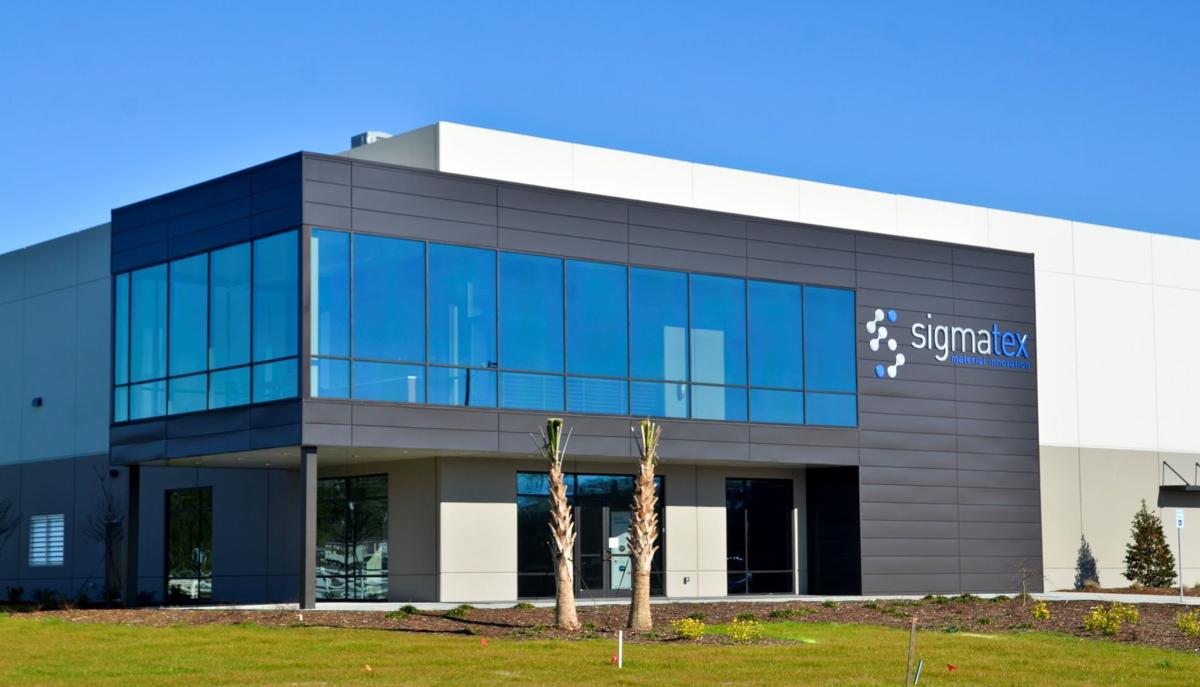 Sigmatex Carbon Textile Solutions announced plans Wednesday to expand operations in Orangeburg County. The more than $4.5 million investment will create 50 new jobs.
Sigmatex's facility at the John W. Matthews Jr. Industrial Park will become the British company's North American headquarters.
"The creation of one large, agile and efficient operational base that embraces true manufacturing excellence practices will strengthen our value proposition and enable us to better meet the needs of our current and future customers," Group CEO Paul McMullan said. "Such decisions are always incredibly difficult to make, but we must adapt and evolve to the changing market situation."
"Our mission to be the market leader in the supply of carbon fibre textiles remains steadfast and with our commitment to innovation, quality and service level, we will continue to be positioned at the forefront of our industry," McMullan said.
Sigmatex's expansion will include immediate investment in machinery and equipment – increasing capacity from 750,000 yards per year to three million yards per year.
Sigmatex's Orangeburg facility employs five but the expansion in the short term will increase employment to 50. Over the next five years, employment is expected to grow to over 100 jobs.
"The majority of jobs will be skilled positions. This will cover both professional and managerial roles as well as technical machine operator-level positions," McMullan said. "We will be supporting all associates with a detailed and comprehensive training program to bring them up to the skill level required."
The consolidation will mean a $4.5 million investment over the next five years, which includes extending the Orangeburg County building and adding additional equipment.
Sigmatex has already invested about $10 million in the building and plant located at the industrial park at the corner of U.S. Highway 301 and U.S. 176.
The majority of the company's work is currently being done in its Benicia, California, facility.
"We have chosen Orangeburg County to be our sole manufacturing base for the North American market due to the many advantages it offers in terms of access to a skilled workforce, a favorable cost base (vs. California) and proximity to many of our customers," McMullan said. "The plant is also advantageous in supporting our growth as it is a large, purpose-built facility and is well positioned for expansion over the next 5-10 years."
Orangeburg County Council Chairman Johnnie Wright Sr. praised the announcement.
"I am really excited about that," Wright said. "It will be a great thing for Orangeburg County."
Wright said he understands the coronavirus has impacted the company, but is thankful the county has proven a good place for the company to continue to expand and call home.
"Orangeburg County is very appreciative of them doing that to keep employment going," he said.
Orangeburg County Development Commission Executive Director Gregg Robinson said Sigmatex's announcement is good news.
"We are excited to continue to partner with Sigmatex," Robinson said. "This is proof that South Carolina and Orangeburg County can answer the call of business. We are excited to have a North American operational headquarters."
"I thank Paul McMullan and the team at Sigmatex for their confidence in our community," Robinson said.
"Orangeburg County enthusiastically welcomes this expansion of Sigmatex!" Orangeburg County Administrator Harold Young said. "We are excited to have this cutting-edge facility grow in our community, especially during this pandemic.
"The additional 50 jobs will give our citizens another great opportunity to enhance our combined workforce," Young continued.
The company's products are used in several industries, including the space, military, automotive, aerospace and renewable energy sectors.
The change was prompted, in part, by the change in demand linked to the coronavirus. McMullan said the coronavirus has impacted its commercial aerospace market.
"COVID has drastically changed the demand for new commercial aircraft, at least in the short term," McMullan said. "However, many other industries are now embracing the many benefits that carbon fibre composites offer, and so whilst demand in aerospace has reduced today (but will recover), those other markets are where we see stronger growth over the next two to three years."
One of these projected growth areas will be in the automotive industry.
"Car builders respond to consumer preferences for improved fuel economy or a switch to electric vehicles. Carbon fibre composites is an enabling technology to reduce vehicle weight," McMullan said. "Similarly, renewable energy is one great hope in our fight to reduce global warming."
"Wind turbines are now economically viable as a source of power. This is driven by the possibility of making turbine blades lighter, stiffer and longer thanks to the use of carbon fibre technology," he said.
The consolidation will take place gradually, prioritizing customer requirements and transitioning manufacturing in a controlled and coordinated way.
To support the consolidation, Sigmatex will introduce regional distribution hubs to ensure short lead-times are available.
Sigmatex broke ground on its 75,000-square-foot Orangeburg plant in 2015.
McMullan praised the support the company has received from the Orangeburg County Development Commission.
Commission Chairman Kenneth Middleton noted the company's Orangeburg County site opened only five years ago.
"That's a good sign for both the company and for 50 families who hope for a brighter future," Middleton said.
Sigmatex, which was established in 1986, also has plants in England and China.
• "It's always exciting when a company expands its footprint in our state. Sigmatex's decision to further invest in Orangeburg County and create 50 new jobs is exciting news for South Carolina and we look forward to their future growth." – Henry McMaster, Governor, State of South Carolina
• "We've worked hard to create a pro-business environment in South Carolina, and Sigmatex's new expansion is further evidence that our strategy is paying off. I congratulate this great company on their incredible commitment to our state, and we look forward to watching them continue to grow for years to come." – S.C. Secretary of Commerce Bobby Hitt
• "The expansion and consolidation of Sigmatex's domestic operations is exciting for Orangeburg and Tri-County. When an existing company is able to increase its presence in the local area it is a win for the community. It means that they have confidence in the community and want to make a long-term investment. Tri-County is proud to have Sigmatex as a member-owner." – Chad Lowder, CEO, Tri-County Electric Cooperative
• "When companies invest and grow because they see the value in the local people and support network, it reinforces that we have something amazing beating in the hearts of our communities. As a newer company with its original location in the county, Sigmatex's announcement today is proof that existing industries can find great success in Orangeburg's Global Logistics Triangle. Thank you Sigmatex for your dedication, and congrats to you and Orangeburg on many more successful years ahead." - W. Keller Kissam, Chairman, Central SC Alliance