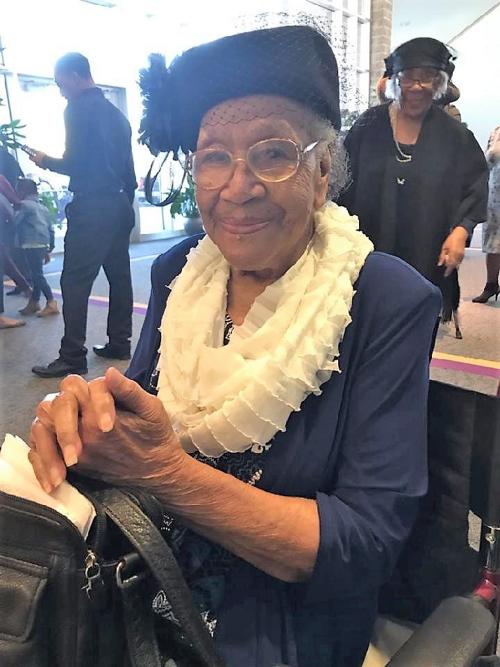 Mrs. Adell Julie Green Thompson is gentle, kindhearted lady who has maintained a sharp mind and memory throughout her 105 years.
Thompson's family gathered to celebrate her milestone on Saturday, Oct. 10 during a drive-through parade held outside the home she shares with her loving daughter and caregiver, Maxine.
Why has God let her live so long?
"I must have done something good in life," Thompson said.
Thompson doesn't like to depend on others too much, but she said she appreciates the love and care that her family provides for her.
"Oh yeah, they sure take good care of me," she said, noting that she also thanks God for his provisions.
"I'm thankful the Lord blessed me to live that long," the 105-year-old said.
Maxine said, "It's a blessing from God because man couldn't do this for her. She trusted God from a little girl. She was always worshiping God and praying. She's just a unique person."
She added that her mom does a lot of things for herself.
"I pray that God gives me her wisdom, her strength and her power. She can do everything for herself. All I do is cook and the housework and stuff. Mama can still dress herself. Maybe some days she might need a little help, but as of now, no. She uses a walker. So she still can get around. She likes reading her Bible," Maxine said.
Thompson also enjoys watching game shows and WIS Channel 10 News and eats "just about everything," her daughter said.
Her favorite food items are shrimp and fish.
"She's got a good appetite. What she really loves but can't have much of is shrimp. It makes her gout flare up, but I occasionally give it to her. She's lived this long. So if she wants a little bit of shrimp, I don't see no harm. I pray over them and give them to her," Maxine said.
Born and raised in Santee, Thompson is the mother of three children, six grandchildren, 12 great-grandchildren and four great-great-grandchildren.
Her grandson, Anthony Thompson, said his grandmother is very special, even once reciting the 4-H Club creed she remembered from her high school days.
"It's quite amazing. It's all God obviously. Nobody but God could keep somebody at 105 and have them be in their right mind. It's amazing how there are times when we can't remember things and we have to ask her," he said.
Anthony added, "Her faith is so inspiring. Even at her age, she's still reading her daily devotional. It's just remarkable how the grace of God and the love of God have just been on her life. She's the rock of our family. She has always been that person."
Maxine said she knows it's God who is watching over her mother.
"I had a bout with the coronavirus. We had to quarantine together. That's why I know it's all God that took care of her all these years. It wasn't me. We quarantined together, but God was good. She never got nothing from me. So I know it's the good Lord still watching over her and taking care of her.
"I just pray for God to give me the strength to hold out to do what I have to do for her as long as she's here. I don't know what's going to be my life story afterwards either. So you have to respect your parents and treat them good to the best of your ability. I try to do the best I can with her," she said.
Get local news delivered to your inbox!
Subscribe to our Daily Headlines newsletter.