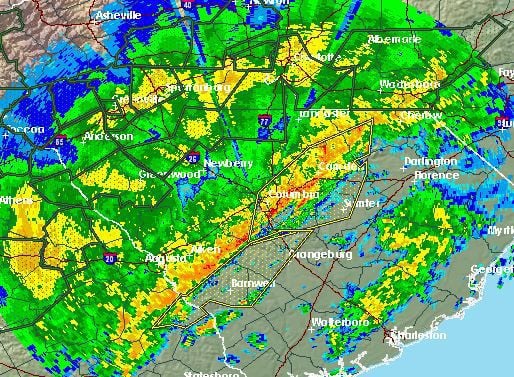 A severe thunderstorm warning has been issued for northwestern Orangeburg County and northwestern Bamberg County.
The warning is in effect until 5:30 p.m.
Orangeburg, Bamberg, Denmark, St. Matthews, North, Springfield, Neeses, Norway and Olar and Hilda are all in the path of the storm.
The storm is bringing with it wind gusts upwards of 60 mph. Individuals can expect damage to roofs, siding and trees.
The storms are moving northeast at 45 mph.
A small stream advisory is also in effect for southwestern Calhoun, northwestern Bamberg and northwestern Orangeburg County until 7:30 p.m. Heavy rain is expected to cause small stream flooding.
Motorists should use caution. Areas impacted include Orangeburg, Orangeburg County Airport, Bamberg, Denmark and St. Matthews.
Get local news delivered to your inbox!
Subscribe to our Daily Headlines newsletter.