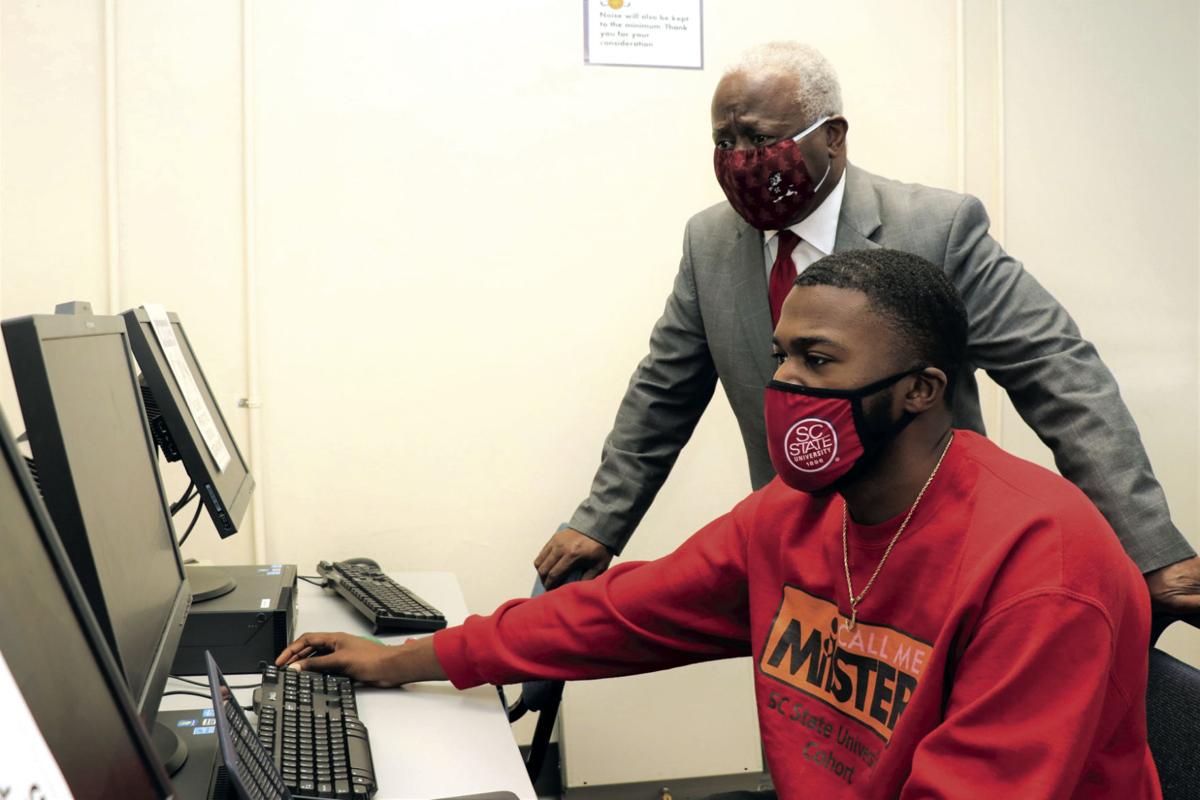 South Carolina State University recently received more than $2.1 million from the estate of retired Chief Warrant Officer Lamar W. Powell, a World War II and Korean War veteran.
The gift will support S.C. State's Student Success and Retention Center, a setting for academic assistance and other support, including a Veterans Support Center.
Including his estate gift, Powell's generosity to S.C. State amounted to more than $2.75 million.
"We at S.C. State are most grateful for the generosity of Mr. Lamar Powell," S.C. State President James E. Clark said. "His commitment to the education of the youth of today goes unquestioned.
"His gift to S.C. State will support our expanded efforts in retaining students once they join S.C. State by aiding us in building out and staffing our Student Success and Retention Center.
"The new center will provide mentoring and tutoring for all students who may need such to continue their academic pursuits. The center will also provide assistance in reaching and supporting veterans who may be attending S.C. State.
"I also extend my heartfelt thanks to Col. Ned Felder, a member of the Class of 1959 – 'Divine '59' – whose friendship and good Samaritan efforts facilitated the relationship with this university," Clark said. "Their association will benefit generations of young people who come to S.C. State to improve their minds and set the courses for their successes."
The gift resulted from Felder's longtime devotion to both his alma mater and Powell. The relationship began literally by accident.
Powell, who died in 2015 at age 97, grew up on a farm outside Liberty, Mississippi.
After the Dec. 7, 1941, attack on Pearl Harbor, he joined the Civilian Conservation Corps and then enlisted in the Army. He served 23 years before joining the U.S. State Department.
Powell received the Korean Service Medal, Good Conduct Medal, United Nations Service Medal and the National Defense Service Medal.
Col. Ned Felder served as senior judge on the U.S. Army Court of Criminal Appeals, which is the highest tribunal in the Army. He is enshrined in the South Carolina State University Army ROTC Hall of Fame.
Mutual friends had casually mentioned Powell to Felder, who earned his bachelor's and law degrees from S.C. State, because both lived in the Washington, D.C., area in retirement.
In 2002, Felder received a bewildering call from George Washington University Hospital. Despite never having met Felder, Powell had listed him as his emergency contact when he was admitted for debilitating injuries sustained in a car accident.
That led to a close friendship during which Felder aided Powell with various aspects of life, including health care, government benefits, grocery shopping and housing.
What Felder did not know at first was that Powell had used the knowledge he gained from correspondence courses in business to grow his wealth, some of which he already donated to other educational institutions.
"While on active duty, he did not socialize very much. While the other officers and enlisted personnel were enjoying themselves on the weekend, he was studying by correspondence," Felder said.
"Why did he choose education? Probably because he grew up during the Depression and yet was able to amass a fortune," Felder said. "I know he felt that everyone who was educated and worked hard could do what he did."
In lieu of payment for his services, Felder suggested that Powell give to Felder's alma mater both for tax purposes and to advance opportunities among Black students.
Powell initially gave the SC State University Foundation $20,000 to support scholarships. Powell later informed Felder he wanted to do more and added $20,000 in a subsequent contribution.
"He always thought that since the '60s with civil rights laws, we should have made more progress as African Americans than we had," Felder said. "He was not very fond of the NAACP and other civil rights organizations, which we debated.
"And he was not very fond of HBCUs (Historically Black Colleges and Universities) until I told him about the need for South Carolina State and its role in advancing opportunities for African Americans. So that resonated with him quite a bit."
In planning his estate, Powell's final act of generosity was to name both the University of Southern Mississippi and S.C. State as beneficiaries of his trust. S.C. State initially received contributions totaling $550,000 from Powell's trust before the most recent allotment of more than $2.1 million.
Over the course of a few years, Felder and Clark worked together to secure the donations. Felder credited Clark for directing the funds toward the Student Success and Retention Center.
The center is housed in historic Moss Hall, former site of the S.C. State School of Law, where Felder studied as a student.
Along with mentoring and tutoring services, the center will provide scholarship acquisition services, an innovation and collaboration laboratory setting, study skills workshops and other resources to aid students on their journeys at S.C. State.
Fittingly, given Powell and Felder's military service, the center will include the Veterans Resource Center. The center will be a one-stop shop for veterans, providing a study area, computer stations, workshops and assistance from volunteers.
Clark hopes to further expand the Student Success and Retention Center's capabilities with state resources.
His 2021-2022 state budget request includes for $11.7 million for enrollment attraction and retention initiatives, much of which would take place at the center.