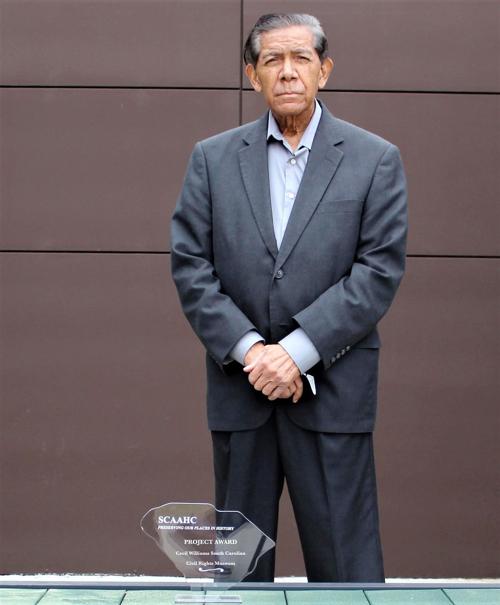 The WeGOJA Foundation and the South Carolina African American Heritage Commission selected the Cecil Williams South Carolina Civil Rights Museum to receive the "2021 Preserving Our Places in History Project Award."
Williams, an award-winning photographer, was selected as one of the award influencers who have made significant contributions in preserving and promoting African American history in the state.
A virtual awards program was held recently and because of COVID-19 restrictions, Williams received the award at the museum.
The Cecil Williams South Carolina Civil Rights Museum is the first and only civil rights museum in the state.
The museum's official opening was offset by COVID-19, but during its brief period of operation, still attracted more than 9,000 visitors.
It has preserved more than 3,000 documents, artifacts and photographs that are exclusive, one-of-a-kind historical treasures relating to the South Carolina civil rights movement.
"Cecil Williams has been photographing African American life for decades," stated Jannie Harriot, executive director of the S.C. African American Heritage Foundation.
"We are honored to present him this award for the development of his museum to showcase the experiences of African Americans in the Palmetto State," Harriot said.
The museum will reopen again soon with COVID-19 restrictions in place.
"We have been closed because of the pandemic since March 2020, so for certain age categories and those who have had vaccinations, we plan to reopen May 17, if conditions permit," Williams said. "May 17 marks the 67th anniversary of the Brown v. Board of Education decision."
In other activities at the museum, on Friday, April 16, 17 officers of the Federal Bureau of Investigation visited the Cecil Williams South Carolina Civil Rights Museum as part of their diversity training activities.
Earlier, in February, as part of Black History Month, Williams conducted a virtual on-line forum presentation for the bureau. Afterwards, a representative of the bureau presented Williams with a commemorative medal and certificate of appreciation.
The museum has also entered into a memorandum of understanding agreement with Clemson University and the Call Me Mister program. Call Me MISTER and the museum will collect and preserve archival material and conduct research related to the civil rights era while developing instructional materials and applying new technology to disseminate lessons learned from decades of history documented in the museum.
Roy Jones, executive director of the Call Me MISTER program, said this partnership has already produced extensive interviews with people or the descendants of those directly involved in the civil rights movement of the 1940s, 1950s and 1960s. He said that in order for future generations of teachers in the Call Me MISTER program — and South Carolinians in general — to understand and learn from history, great effort should be put into preserving it.
"The clock is ticking. None of us are getting any younger," Jones said. "Context and history are important for everyone in this state, but especially for those who are preparing to shape the minds of future generations. We must document and preserve all that we can from this time in order to honor the past and push the lessons learned forward into the future."
The three primary players in this effort are the Call Me MISTER program, the Cecil Williams South Carolina Civil Rights Museum and Clemson University Libraries, which will preserve collections by digitizing content. Clemson Libraries will also develop an online searchable database of the historical resources and host all instructional materials.
According to Jones, Call Me MISTER will help develop instructional materials and offer professional development summer sessions for educators interested in delivering instruction across a variety of focus areas. The museum will share its physical location in Orangeburg with Clemson for presentations, workshops and seminars and participate in any mutually beneficial grant opportunities with MISTER.
The museum is operated and curated by Cecil J. Williams, who is best known for his photography documenting the civil rights movement in South Carolina. He's also the director of historic preservation at Claflin University.
The 3,500-square-foot museum opened in 2019 and is located in a building Williams designed after being denied admission to a then-segregated Clemson University, where he wanted to study architecture.