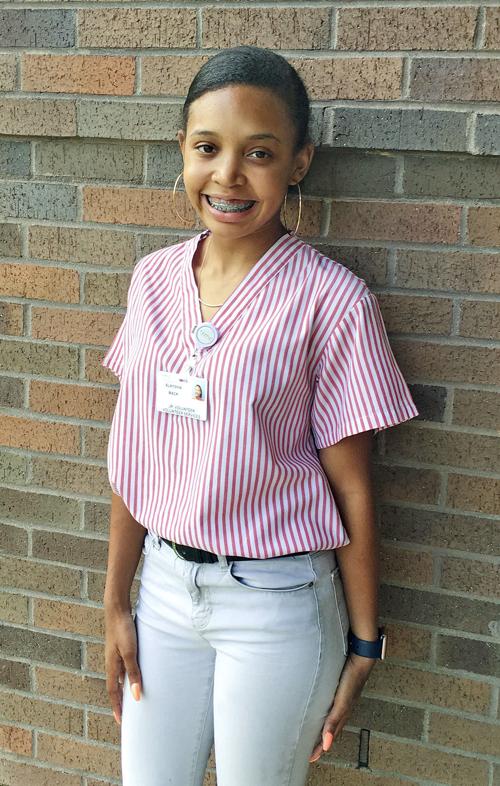 Regional Medical Center's Junior Volunteer Program recently named Alayshia Mack of Orangeburg the 2019 Junior Volunteer of the Year.
"Being selected as this year's Junior Volunteer of the Year was a happy moment for me," Mack said. "I have always known that I wanted to work in a hospital to help patients and families, and this opportunity has allowed me to gain firsthand experience and the tools to be successful when I enter the medical profession."
Mack joined RMC's Auxiliary Junior Volunteer program in 2015 and has served more than 100 hours. She is a rising senior at Orangeburg Consolidated School District 5's High School for Health Professions in Orangeburg, and is a member of the National Honor Society, Future Business Leaders of America (FBLA), Health Occupations Students of America (HOSA) and a 2019 delegate for Palmetto Girls' State.
The award was presented to Mack at the Junior Volunteer Program's annual awards event. In addition to naming the Junior Volunteer of the Year, the event marked the official installation of new officers. The 2019-2020 Junior Volunteer officers are Nyasia Argrow, president; Saniya Mack, vice president; Aishwareya Singh, secretary; and Amber Carr, treasurer.
For more information on the Junior Volunteer Program at Regional Medical Center, call 803-395-2865.
Get local news delivered to your inbox!
Subscribe to our Daily Headlines newsletter.