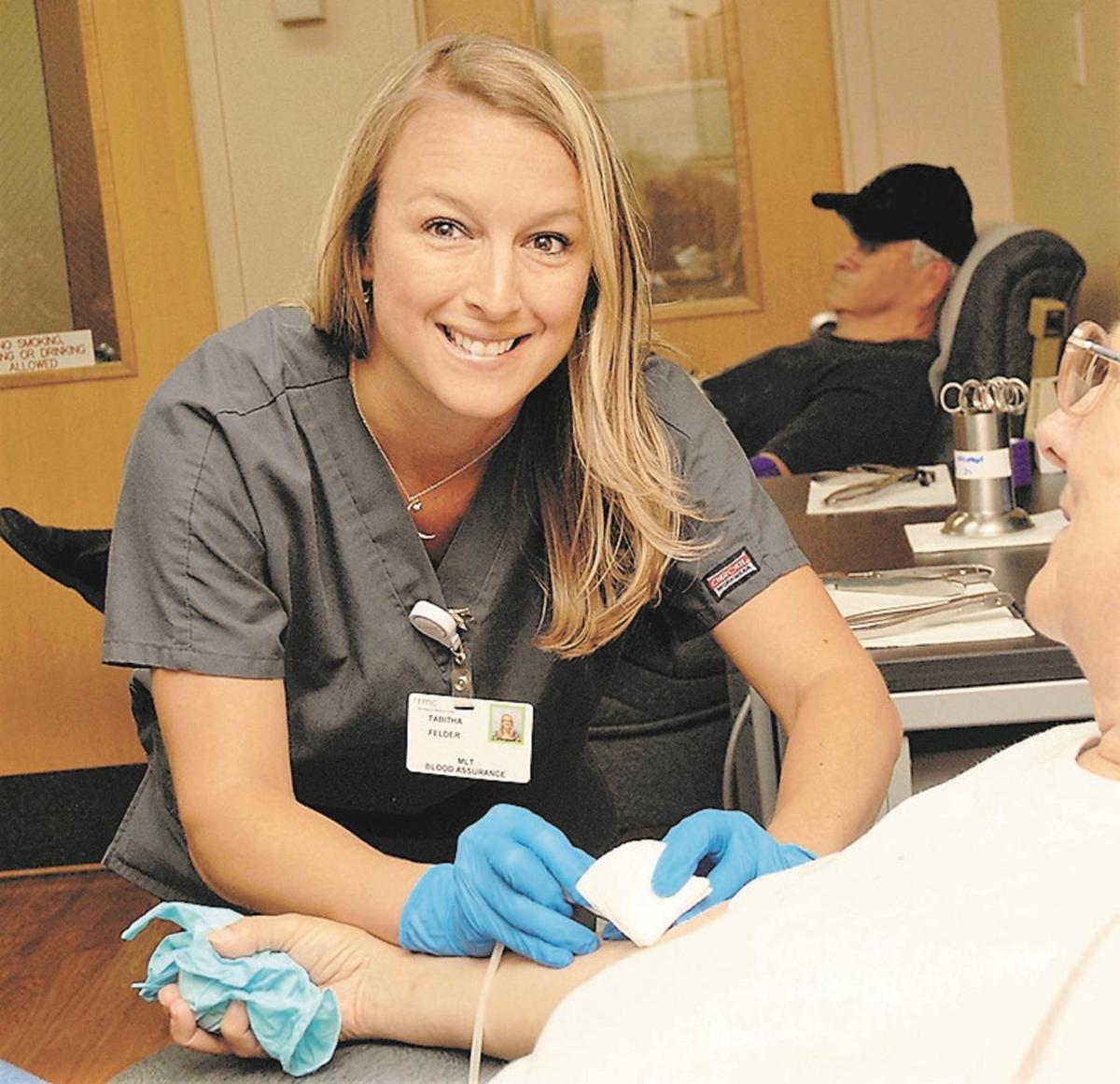 As concerns over the coronavirus grow, the Regional Medical Center's Blood Assurance Program stands ready to reduce the virus' impact on the stability of the blood supply.
Since 1974, the RMC's Blood Assurance Program has supplied the blood needs for those requiring transfusions at the the hospital.
The program includes RMC's Blood Donor Center and the RMC Bloodmobile. It is one of only two independent, community-based donor programs in South Carolina.
"Blood is a precious resource that we are always in need of. Yes, we are in a critical time period on that. With our Blood Assurance Program, people can be scheduled to have their blood collected in house. Then we also have blood drives that are doing on at predetermined sites," RMC Lab Director Charlie Jenkins said.
While the American Red Cross is urging healthy, eligible individuals to give blood to help maintain a sufficient blood supply amid worries that coronavirus concerns could result in low donor turnout, Jenkins said there is not yet a dire need for blood within the community.
"I haven't gotten to a point where I need to start having additional blood drives. While the community helps us every which way they can, we still have needs even above that," Jenkins said.
"We get our units from Red Cross also, and I've already seen communications where Red Cross is already making plans on how to deal with this nationwide stresser. So I'm sure we will be greatly appreciative of everything that we can get," he said.
Donating much-needed blood at his local hospital since 1975 is one of the ways Curt Campbell has chosen to make a difference in his hometown of Orangeburg.
"I just donated probably about two weeks ago. I've still got about three weeks before I can give. I give fairly regularly, and I will be glad whenever my days come up to go by there again," he said.
"It takes less than an hour to give blood and those girls in the blood bank are very friendly and hard-working employees of the Regional Medical Center. They are a bright shining light. That department is a very good, well-run department," Campbell said.
Jenkins said he could not speculate on how much blood would be needed in the event of a coronavirus outbreak.
"I can't necessarily get into what the physicians would need or anything like that. That would be speculation in the course of a treatment of a patient, but the need of blood could be a potential use in the treatment of a patient, depending on what may be going on. That occurs at any time regardless of disaster or not. There's still a need for it," Jenkins said.
He added, "I know RMC here will be seeing patients that have other life things that are happening to them regardless of the COVID-19 virus. So we're still going to be taking care of the community, and there are going to be needs that could be blood product driven. We're here just to try to make sure that the physician has everything in his or her realm that they need to take care of the patient in the best possible way."
Jenkins urged common sense in preparing to ward off the coronavirus, including practicing social distancing and hand washing.
"I truly believe this is something that's going to be able to be managed. Are we going to have people to get sick? Probably. Try to remain calm. Slow down on the hysteria," he said. "The biggest thing to me is just common sense. Wash your hands, and if you're sick or feel sick, stay home."
The hospital normally holds anywhere from 150 to 200 units of blood in-house at any one time.
"I think we have a healthy supply. We haven't had any constraints placed out on us just yet, but I'm anticipating there will be a demand. We also have to sort of regulate how we draw the units," Jenkins said.
"When we draw a unit, it's only good for roughly 30 days. So I know way back when 9-11 occurred, there was great support of everybody running out and donating blood nationwide. That was great for 30 days, but what happened after that? So we have to try to maintain what we can," he said.
He said the virus would affect how potential blood donors are screened.
"This virus is going to affect, and we do screen our patients ahead of time. If they have any of the potential issues of COVID-19, they are deferred. So we would not collect their blood. We want to maintain the safety of the whole system," Jenkins said. "Right now our inventory, it is fine and accessible to handle what the hospital normally needs in addition to what's going on with COVID-19."
He said the hospital needs between 3,000 and 4,000 units of blood annually.
"That's about what our number has been as of year over year for the past, I'd say, three to five years," Jenkins said, noting that the hospital has been able to meet a large percentage of its needs for the blood.
"We make things happen even when we have ebb and flows from either our blood supply, the community's supply, or the Red Cross. We have not had to cancel any surgeries. In other health systems I've worked in, we had to cancel surgeries before when the blood supply's affected. But, again, that's for the safety of the patient," he said.
The American Red Cross is where the RMC gets its backup units of blood from.
"I have not talked to the hospital administration staff yet about it, but if we need to set up some impromptu blood drives or something like that, I'll be working with our public information point of contact to get it out to the community that, 'Hey, this is what we need.' Right now ... everything has been quite fluid on trying to mitigate or manage this virus as it's showing its ugly head," Jenkins said.
The RMC Bloodmobile usually goes out approximately twice a week.
Jenkins expressed appreciation for all blood donors, who are honored during an appreciation banquet each year.
"Every donor is worth their weight in gold, if not more. From a unit of blood, that potentially could reach out and affect three different patient lives ... It's important to have it. We truly love our repeat donors who have come in," he said, noting that blood donation matters.
"And it does help out either somebody in the community, somebody that you may know, or even a family member or yourself. There's always a need and we greatly appreciate the way the community supports this hospital here," Jenkins said.
Campbell said, "It's one small part where you could help your community."
The RMC Blood Donor Center's hours are 8 a.m. to 4 p.m. Monday through Friday. To schedule an appointment to donate blood or to ask about a blood drive, individuals can contact the donor center at 803-395-2419.
Concerned about COVID-19?
Sign up now to get the most recent coronavirus headlines and other important local and national news sent to your email inbox daily.