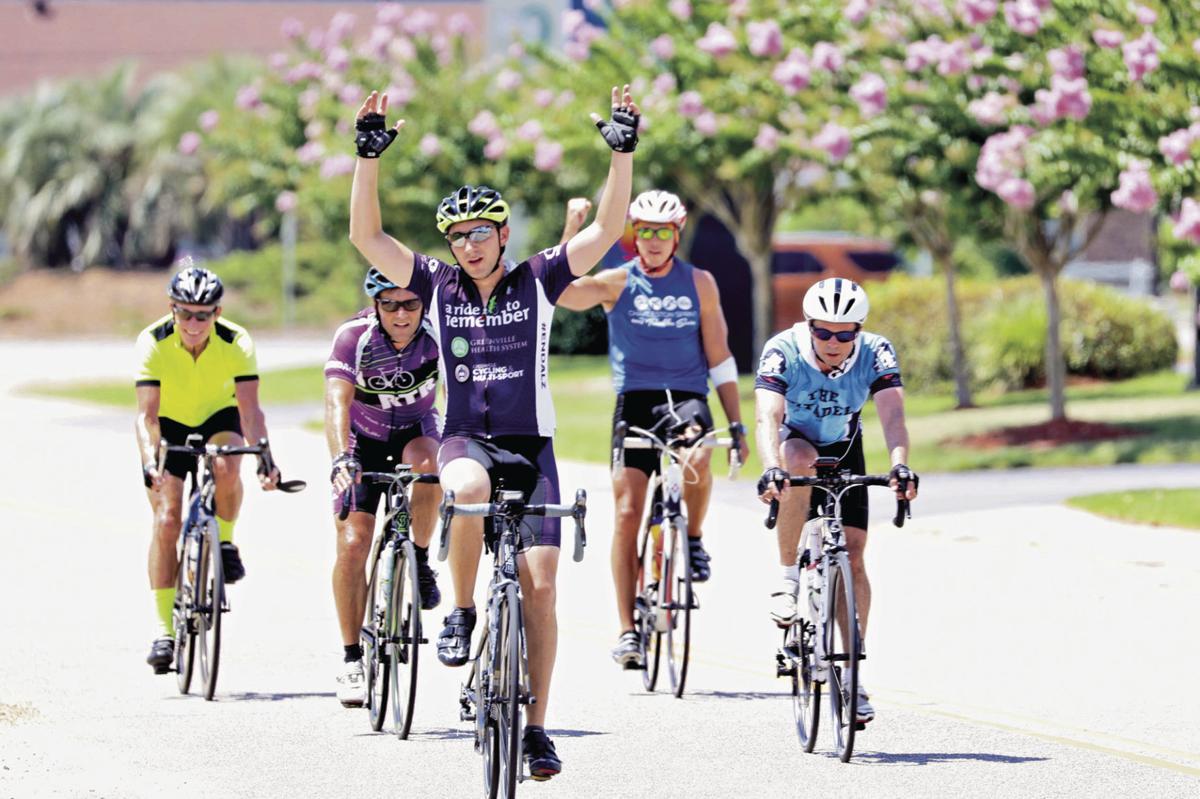 The S.C. Alzheimer's Association's "A Ride to Remember" fundraiser will once again roll through Orangeburg County as participants seek to raise money for the group's care, research and support efforts.
The 11th annual event will take place July 12-14 when more than 300 bicyclists will pedal the 252 miles from Simpsonville to Mount Pleasant, making stops in North, Orangeburg and Newberry along the way.
The ride has already raised more than $300,000 toward a goal of $600,000. The funds will help support Alzheimer's support services, education and research programs through the S.C. Alzheimer's Association.
Alzheimer's affects more than 80,000 people in the state.
Ashton Houghton, vice president of development with the state association, said fundraising will continue through July 31.
"The Ride to Remember is critically important to the work that the Alzheimer's Association does in South Carolina. It helps fuel our mission, which is to provide care and support to people and caregivers who are affected by the disease now. It also helps fund research toward finding a cure for the disease," Houghton said.
Individuals can donate to the cause or sign up for the ride by visiting www.aridetoremember.org. The registration deadline is July 1.
Lunch for riders will be sponsored by Morningside of Orangeburg, Edisto Post Acute Care, Edisto Home Care and Hospice and Amedisys Home Health. The Orangeburg Rotary and Lions clubs will also prepare a dinner for the cyclists and ride volunteers at the First Baptist Church Family Life Center.
This year, Orangeburg Rotary Club member Russell Blanchard will participate in the ride for the fourth time. He said he enjoys his experience, especially the work of the volunteers.
You have free articles remaining.
"Part of it is certainly just enjoying the ride. It's a well-set up, well-manned ride. There are tons of just great volunteers. Part of the fun of this ride is just seeing how much all of the volunteers enjoy it and how helpful they are," said Blanchard, an attorney with the Williams & Williams Law Firm in Orangeburg.
"And it's certainly about raising money for Alzheimer's. The group raises a significant amount of money. The Alzheimer's Association does a lot of good work. Alzheimer's is important to me because my great-grandmother passed away with Alzheimer's.
"Of course, I knew Mrs. Karen Williams at the office and growing up, and there are tons of other people here in the Orangeburg community that I know that dealt with the disease," Blanchard said.
Williams, the retired chief justice of the U.S. 4th Circuit Court of Appeals, died Nov. 2, 2013 after battling early-onset Alzheimer's disease. She was a longtime member of the Orangeburg Rotary Club.
Blanchard said he's seen the event grow.
"It's certainly grown in numbers. ... It's the biggest ride I'm involved in. I do a couple of other organized rides. They're fun, too, but this one's huge. When you add in all the riders and volunteers, it's a lot of people moving through the state. I think the best part is the volunteers and the hard work they put in out in the heat, and they seem to just love it," he said.
Blanchard said he also appreciates the meals and well-stocked water/nutrition stops that are provided for bicyclists along the route.
"It's a big help. The Orangeburg community comes out for that, too. There's a stop in North. ... They actually do lunch and the town hall's open. So you can come in and get some air conditioning and tons of sandwiches.
"And then there's one other stop at a church on Kennerly Road. They always have a good group of folks out with water and snacks. First Baptist is involved. The meal on Saturday night is at First Baptist. And the Rotary Club, which I'm also involved in, helps with cooking the food at the Family Life Center, as well as the Lions Club," Blanchard said.
Tina McCollum, marketing director at Morningside of Orangeburg, said she and her team of volunteers which sponsor the lunch will provide hamburgers for the bicyclists from approximately 11 a.m. to 3 p.m. Saturday, July 13, at Country Inn & Suites at 731 Citadel Road in Orangeburg.
"We've been doing this for maybe seven or eight years. We'll be providing hamburgers and the fixings and some other things. My food service director will be out there grilling them. It's a fun time and good fellowship," McCollum said.
The dinner at the First Baptist Church Family Life Center will follow that evening at 6 p.m.
For more information about Alzheimer's, visit www.alz.org/sc or call the state Alzheimer's Association 24-hour helpline at 1-800-272-3900.