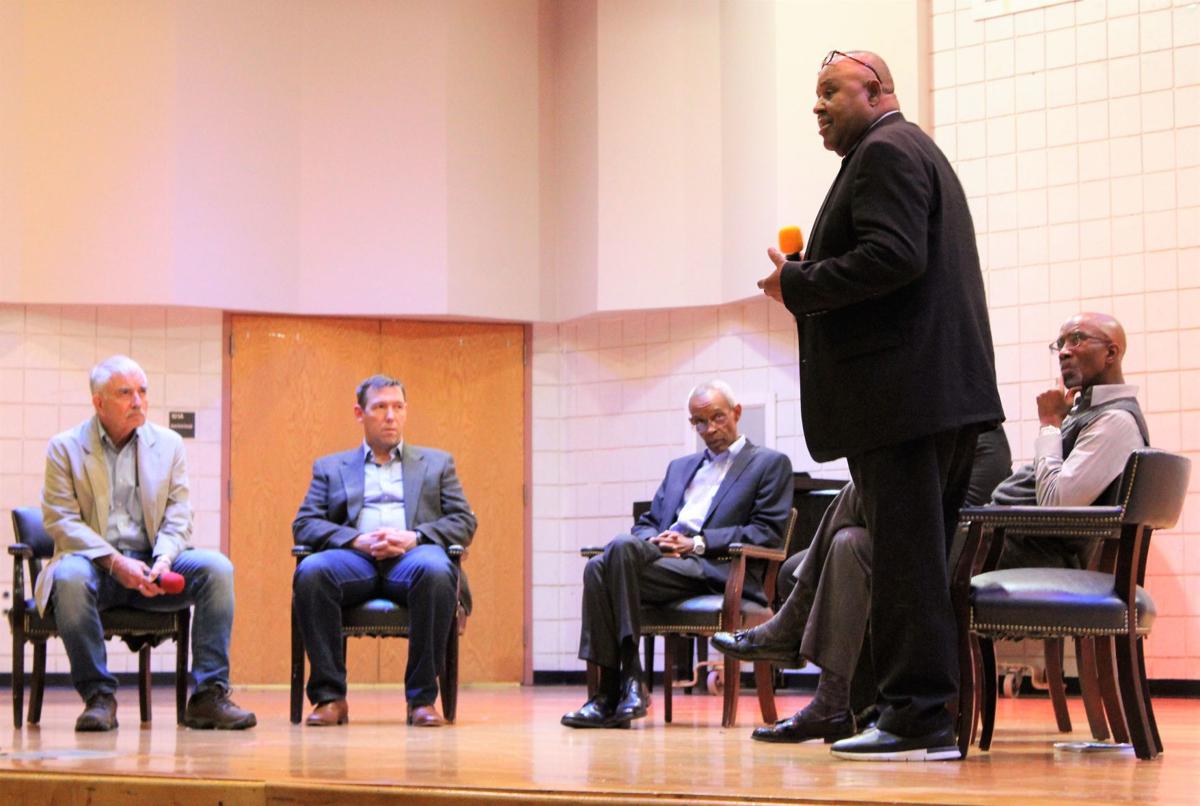 South Carolina State University head football coach Buddy Pough says athletes have special opportunities to express their views.
"It's your job, it's your responsibility to go ahead and say something about that particular situation, whatever it may be," Pough said. "As a football coach, I don't have the right to tell a young man you don't have the right to say something, especially if it's things that we all know are right and true."
Pough and others discussed the topic Friday after viewing the film "Orangeburg: A Town, A Team, An American Tragedy." The film focuses on the events that have come to be known as the Orangeburg Massacre.
Samuel Hammond Jr., Delano Middleton and Henry Smith were shot to death February 8, 1968, by state troopers during a tense encounter after three days of protests over a segregated bowling alley.
South Carolina State alumni, many of them students in 1968, gathered with current students and community members to watch the film in the university's Fine Arts Building on Friday.
Jim Fabio, the film's creator, said he became aware of the Orangeburg Massacre after reading an article in the New York Times seven years ago.
"It was a sports story I read in the sports section," Fabio said. "I thought, 'Well this is an amazing story. If given the opportunity, I would like to tell it in some form.'"
After pitching the film to several networks and executives, Fabio's film was picked up by the NFL Network. It aired in September 2019.
The short film explores the role of student-athletes in the protests, specifically the roles of several football players, including Hammond.
Former S.C. State football coach Oree Banks, who was the head coach at the time, along with former players Bobby Eaddy, Robert Lee Davis, Thomas Kennerly and Walter Mitchell, all spoke on the about the protests and the night officers opened fire on students.
The film also featured Pough, who spoke on the important role football programs play at HBCUs.
Eaddy and audience members recollected their interactions with Hammond.
Eaddy recalled traveling with Hammond, who played linebacker, to his hometown in Ft. Lauderdale, Florida. He said Hammond's personality was magnetic.
During the film, Banks stated that Hammond had a great chance at becoming a professional athlete. Eaddy recalled Hammond being one of the few freshman players to make the team's travel list.
A panel featuring Fabio, Kennerly Eaddy, Pough, and former football player Zachary Middleton discussed the role of athletes in their communities and the nation.
Eaddy said an athlete's influence is a tool that is uncommon among most citizens.
"If you have the power of influence and you don't use it, then realistically you're not doing your job in society," Eaddy said.
"The voices that have moved and changed America have come from every arena, and I feel like athletes have as much to offer as anybody in our society, and we should never try to silence them," Eaddy said.
Kennerly echoed Eaddy's message.
"Athletes have a sounding board. Students will follow athletes," he said.
"Athletes are probably some of your best citizens because of what they give, because of the time they put in, the effort and all those kinds of things to certainly make our community a better place," Kennerly said.
Middleton said, "One of the things that athletes have is there's a passion, there's a love for athletics, economics and influence.
"Those three things, when they collide, it allows there to be a lot of good done and a lot of negative done in the same way."
Middleton referenced the protests of former NFL quarterback Colin Kaepernick, as well as the 2015 protest of the University of Missouri football team in response to a racially-motivated event as examples of athletes using their platform to address community and national issues.
Middleton said that it is important for athletes to be knowledgeable of the issues they speak about and be wise in how they leverage their platform.