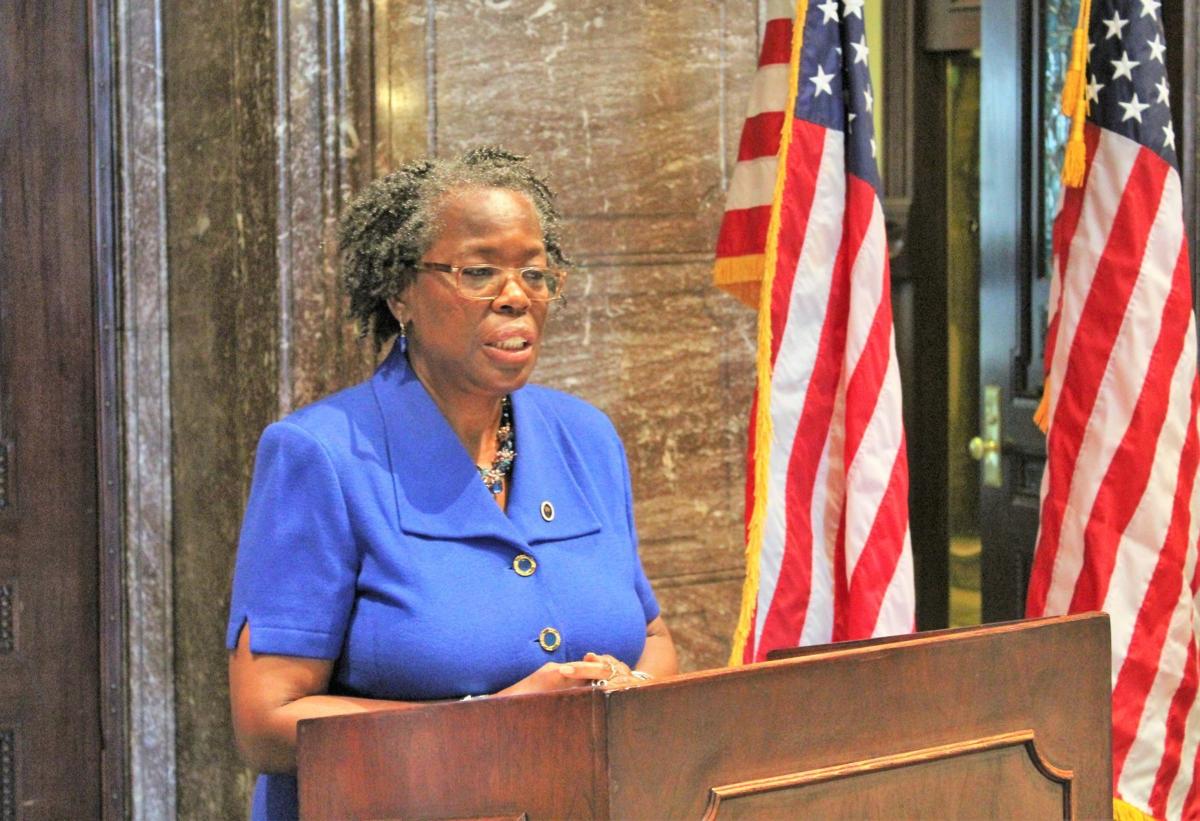 COLUMBIA – Rep. Gilda Cobb-Hunter announced a framework for addressing police misconduct during a Thursday press conference at the South Carolina Statehouse.
Cobb-Hunter, D-Orangeburg, is president of the National Black Caucus of State Legislators.
"We all kind of came together and vented after George Floyd about what could be done, what went wrong, what would we do," Cobb-Hunter said.
"We thought it important to take that list of what we thought had gone wrong and put some policy solutions beside it," Cobb-Hunter said.
Cobb-Hunter said a resolution has been submitted to the NBCSL and she hopes it will be adopted.
She also hopes statehouses across the country will adopt the framework.
The framework for ethical policing was developed with research from NBCSL members, civil rights attorneys, researchers, and current and former law enforcement members, she said.
"We are codifying expectations of high professional standards, transparency and accountability.
"Our effort here was not to place an undue burden on law enforcement, it was simply to say we want to work together to make sure that people being killed by police officers in what is perceived as an unjust manner is not something we can tolerate," Cobb-Hunter said.
One of the recommendations addresses the "duty to intervene."
"What we're saying here with the duty to intervene is this is already a concept known to officers, but what we have is this fear of retaliation if we intervene. What this legislation will do is to make it a part of the process, a part of the codes," Cobb-Hunter said.
"We think this is protection for those good police officers who are witnessing behavior that should not be there, and it protects them from retaliation," Cobb-Hunter said.
The framework also outlines an early warning system to track complaints against individual officers.
Cobb-Hunter said such a system could lead to interventions and prevent bad situations.
The framework will also help identify patterns of misconduct within precincts, law enforcement agencies, or other levels of law enforcement.
"We think where patterns exist, that that requires actions," Cobb-Hunter said.
The framework also includes a standardized complaint form, which Cobb-Hunter said excludes personal information of officers, in order to discourage the practice of not releasing forms to the public.
All agencies will be required to use the same form and they will also be required to update the form with the outcome of the situation, according to Cobb-Hunter.
Citizen review boards are also recommended.
"We think it's important that these citizen review boards be objective and that they reflect the community. There will be language in the legislation that talks about who can serve and who can't. For example, police officers, their family members can't serve. People who work for the units of government can't serve," Cobb-Hunter said.
"We think it's important that young people be allowed to serve on these review boards because in a lot of cases, these actions are happening to young people," Cobb-Hunter.
Board members must be a minimum age of 16, she said.
Cobb-Hunter also mentioned that the framework will include protections for law enforcement.
"The intent of this legislation is not a 'gotcha' kind of thing. Our intent here is not to be punitive toward police officers, but it is to create a process, which after investigation, it is clear what did or did not happen," Cobb-Hunter said.
The framework also seeks to ensure law enforcement officers are certified before serving and are ready to engage in ethical policing. It makes clear when an officer should be de-certified or re-instated, Cobb-Hunter said.
Cobb-Hunter said she plans to pre-file the legislation to make the changes in South Carolina in December.
Get local news delivered to your inbox!
Subscribe to our Daily Headlines newsletter.