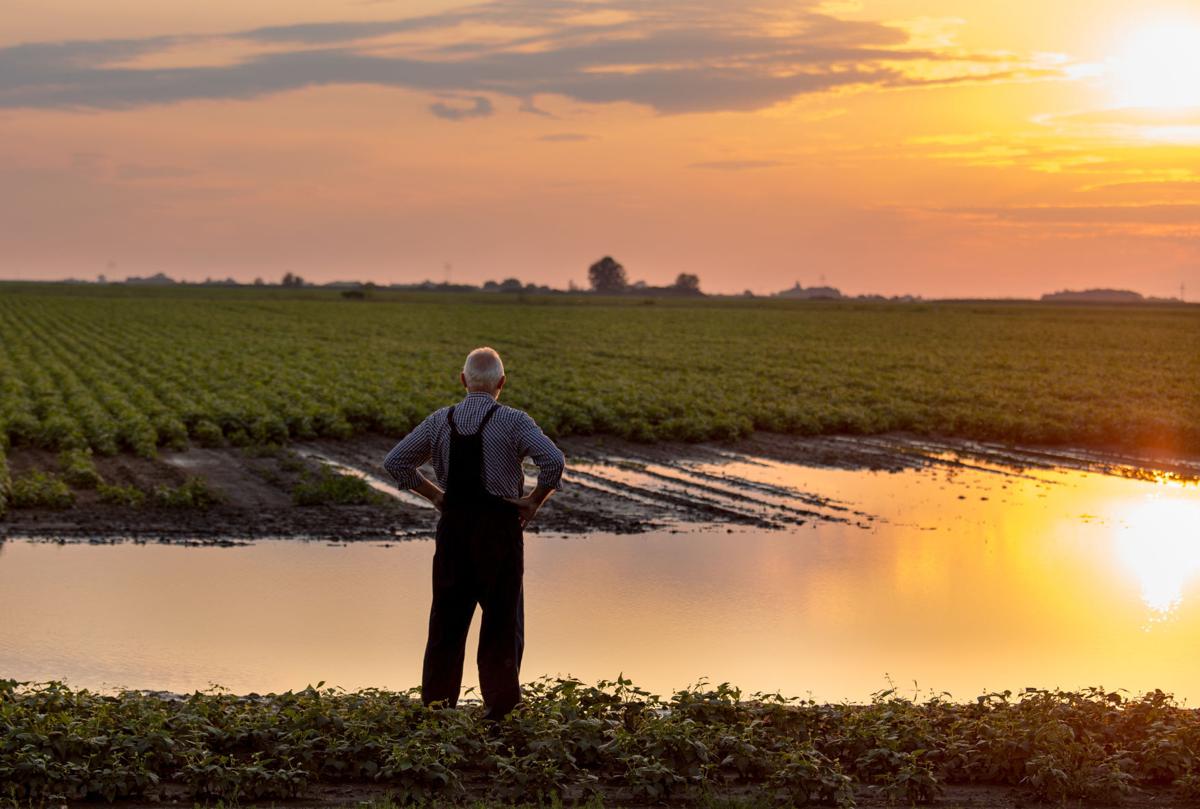 Sixty-eight and a half inches: That's how much rain fell on Baxley Family Farms from Sept. 27 until Dec. 7 in 2015. Before that, the fifth-generation farm in Georgetown had been riding a wave of good commodity prices and strong markets. Their farm was growing, after all, "it takes more to make more."
Then the rain came. Nearly 6 feet of it.
2015 was an absolutely devastating year for South Carolina farmers. Agricultural losses soared to over $388 million with farmers' crops rotting in the field and their fields too wet to replant. Many wondered how they would recover -- and many didn't.
The very next year, almost exactly to the day of the Thousand Year Flood, Hurricane Matthew drowned whole towns and struck many of the same hard-hit areas still trying to dry out. It's no wonder that stress was at an all-time high for Josh Baxley.
"From about 2012 'til 2014, farming was pretty reasonable. The markets were good. And in the good times, you borrow money so you can plant more," Josh said.
After the flood, things started to change.
"After the bills were paid, there wasn't much money left over. We had gotten out of cotton and peanuts because we were too stretched out. And tobacco wasn't good that year – you just kind of get through."
So when Hurricane Matthew blew in, it brought with it a storm of worry.
Josh remembers, "My dad and I went out to check on our cattle -- I was sure they were going to be out everywhere. After we made sure they were okay and headed home, everything started falling in front of us. We had to cut our way back with a chainsaw – it took us three hours to get home."
The family helped their neighbors try to clean up after the storm. "We used our backhoe and a chainsaw to clear our neighbors' roads and driveway so they could get out."
After several long days of work, Josh started to notice that something wasn't right. He woke up in the middle of the night drenched in sweat. "It was like someone had wet me down with a hose."
Then the pressure in his chest started. "I honestly felt like I was getting the flu – the back of my neck hurt, my back, my shoulders. And the pressure started getting heavier as the week went on."
On Wednesday, Josh went to help a friend cut a tree off their well house. He ran the chainsaw for about 15 minutes then became completely exhausted and had to lay down on a log. That night he didn't sleep, and his wife Annie tried to convince him to go to the hospital. The next day around 4 p.m., he was going to take a shower and almost passed out.
"We were at my parents' because I felt so bad, I thought I needed to stay there with them. I came out to the living room and said, 'Daddy, you've got to take me to the hospital; I'm having a heart attack.'"
Josh was just 35 years old.
After accusations of being addicted to drugs -- because "People don't come in here at your age without some kind of drug-induced heart attack" -- and a another scare at physical therapy, Josh was finally diagnosed with cardiac vasospasm, a disease that causes a sudden constriction of blood vessels in the heart. The spasms can be triggered by multiple factors, including stress.
"I work on the farm every day, so I think I'm in wonderful physical shape,"  Josh said. "I never thought about my mental health. But while I was in the hospital, a counselor came to talk to me about stress management. Now that I have a handle on my condition, managing the stress is just something that I've had to learn how to do."
For the last five years, farm income has been slashed in half from weak markets and severely depressed commodity prices and now farmers across America are facing the same struggles and stress as Josh. The mental health problem in rural communities has been highlighted even more recently as farmers are dealing with destroying crops and euthanizing livestock as a result of the COVID-19 pandemic.
In a survey conducted by American Farm Bureau, 91% of farmers cited financial issues as a significant stressor on mental health. And nearly half of all adults surveyed say they are personally experiencing more mental health challenges than they were a year ago, caused by stress, unpredictable weather and financial stress, among other things.
Though the problem seems to be widely recognized, accessing proper care and treatment is still challenging. In the same survey, 46% of farmers said it's difficult to access a therapist or counselor in their local communities.
In 2018, after two more hurricanes ravaged South Carolina farmland, South Carolina Farm Bureau formed the Agricultural Aid Foundation as a way to help farmers recover after natural disasters. The foundation made direct payments to over 200 farmers, but there were funds remaining.
JEB Wilson, Chester County Farm Bureau member and farmer, approached SCFB President Harry Ott about a potential partnership and investment in rural mental health. It was the perfect next step for the Agricultural Aid Foundation.
The Agricultural Aid Foundation worked with Dr. Adam Kantrovich, a member of Clemson Extension's Agribusiness Team, to start bringing mental health programs to South Carolina.
"Flood, hurricanes, frost, trade war, now COVID – all these things have put a significant amount of stress on South Carolina farmers," Kantrovich said. "Each individual reacts differently to how that stress builds up and how that stress impacts them, both physiologically and physically."
Previously, Kantrovich worked for Michigan State Extension, where he helped develop a Farm Stress and Mental Health program along with some of his counterparts after a rise in suicides and suicide attempts. This program trains individuals who work closely with farmers -- like extension agents, USDA personnel, rural lending officers and others -- to raise awareness of potential mental health issues, identify the signs that there may be an issue, and offers insight into working with a farming community under stress.
"When the body is under stress, how a person thinks may change," Kantrovich said. "We need to know how to respond in different situations and be able to provide folks with resources available through Clemson and other organizations."
South Carolina Farm Bureau is a major contributor to the Clemson University Extension Agribusiness team's Farm Stress and Mental Health programming. The initial program included the day long Mental Health First Aid training and a half day program specific to agriculture in November 2019. Kantrovich and the Clemson Extension Agribusiness Team were able to provide materials and resources to 40 individuals who work closely with farmers. Kantrovich says this partnership will help make their efforts more successful.
"Working with SCFB has been very helpful. I appreciate them believing in this effort and providing funding to help us deliver this programming, and more so helping us build the awareness through offering programs and outreach."
In addition to the mental health training, Kantrovich and the agribusiness team will also work with farms to do a full financial analysis to get a clear picture of where their business stands.
Kantrovich says, "This service provides information so that they are able to make informed decisions and recognize what options are available and what path might be best for them and their families."
Access to health care in rural communities is often limited, mental health even more so. South Carolina Farm Bureau recently announced a new program called SC AgriWellness that will bring mental health services into farmers' homes. SC AgriWellness, administered by First Sun EAP, will make counseling services available to South Carolina farmers and their families, free of charge. By providing access to a wealth of professional services, SC AgriWellness is a resource to support farmers as they navigate the many issues contributing to overwhelming stress affecting the well-being of South Carolina farmers and farm families
To ensure that these services meet the specific needs of the agricultural community, the staff of First Sun participated in a training offered by Kantrovich that provided them with what has led to the present crises and the intricacies of South Carolina agriculture, who makes up South Carolina farms, and what South Carolina family farms are experiencing.
Maria Lund, president and COO of First Sun, took part in the training. "I was surprised by how many different challenges the farmers and their families have," she said. "I had a sense about natural challenges but did not know the depth of market and business challenges. We were all surprised by the impacts of passing the farm through generations on the business and the farm family."
The top priority for this service is making sure it meets farmers' specific needs.
"SC AgriWellness has great potential to be helpful, and I hope people will use it," Kantrovich said. "Farmers can access these services on their own time and they can do it from a place where they feel comfortable."
Acknowledging that you might need help is the first step in achieving mental wellness.
"Every time I do this program for farmers, there are always individuals that approach me after the presentation and tell me that this has a huge amount of meaning and that it was beneficial," Kantrovich said. "This helps me know that we're on the right track and that we need to do more of it. But I know that first step is the hardest one to take."
Josh Baxley remembers, "Before any of this happened, I never talked about stress. I thought, 'I'm a 35-year-old man, and I'm responsible enough to take care of my own problems.' It never crossed my mind that I might need to talk to someone about what was going on."
But now he does, and it's just one of the ways that he's managing his stress.
"At the end of the day, when you go home, you have to transition when you walk in your doorstep out of farming mode to 'ok, I'm home with my kids and my wife,'" Josh advises.
"Farmers always carry this with us; we carry it to church on Sunday, carry it to parties with our friends. I have friends that work a 'regular job' who don't carry their job home with them, so I tried to apply that to farming."
Other good habits include having a network of people to understand your situation and communicating with them regularly, developing a plan of succession for the farm and making a plan for your family if something were to happen to you.
That succession is a burden that is very unique to farming. Josh is still farming with his dad and brother, and hopes that his daughter Halle (10) and son Cully (6) will be able to continue on with the farm.
"In farming, your legacy is stronger than in any other occupation. We till the earth, we work the land that God gave us and it is a big deal to be able to work the land that your great-grandfather bought or settled," Josh said.
"Farmers are the root of the earth and that means an awful lot to my family, and to me. That's a part of that subconscious stress that we deal with every day – carrying on traditions and heritages that are part of us. It's one of the biggest aspects of our stress as farmers in America. It's not easy to deal with, but people really need to seek help."
Stephanie Sox is editor of South Carolina Farmer, a publication of the South Carolina Farm Bureau Federation.
Get local news delivered to your inbox!
Subscribe to our Daily Headlines newsletter.