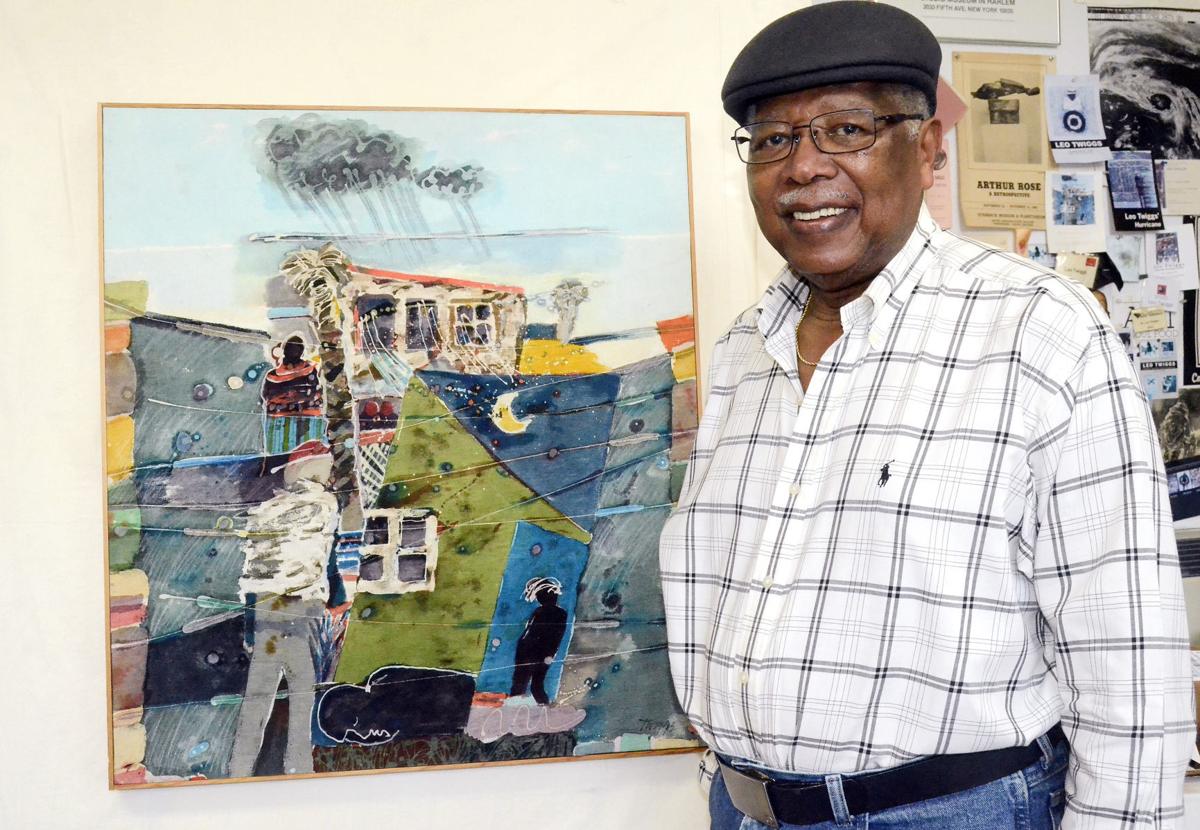 Orangeburg artist Leo Twiggs says winning the Gibbes Museum's prestigious Society 1858 Prize for Contemporary Southern Art may be the summit of his career.
For a man who's been the recipient of accolades and awards including the Order of the Palmetto, that's saying a lot.
And it's a milestone in another way: Twiggs is the first South Carolina resident to win the prize.
"You know, sometimes you win an Academy Award," Twiggs said with a laugh. "It's really the pinnacle of my career."
"So I just think I'm really blessed that at this time in my career, all of these things are coming. I think more than anything else, (the best part) is to hear people that I've known for a long time say things like 'You deserve it. I knew you were going to do it,' as if they had this confidence."
About 250 people from 12 Southern states applied for the prize, Twiggs said.
"And nobody from South Carolina had won this award before."
The Gibbes Museum of Art in Charleston sponsors the award, but the jurors come from across the country and "they're not favorite to any particular museum," he said.
"And to have gone from 250 to five, and then from five to the top – it's really very humbling."
He said it's especially significant for him that the award is associated with the Gibbes – it's only 45 miles from his hometown of St. Stephen. Also, the museum purchased his painting titled "Sarah Remembered" in 1995. The work was inspired by tales of his great-grandmother, who had been a slave, he said.
The museum also has two more of Twiggs' works in its collection: "The Omen" and "Requiem for Mother Emanuel #3."
The 1858 Prize is presented each year by Society 1858, a member auxiliary group of the Gibbes Museum of Art made up of young professionals. The $10,000 cash prize goes to one artist whose work demonstrates the highest level of artistic achievement in any media and also contributes to a new understanding of art in the South, according to a press release from the museum,
"It's meaningful," Twiggs said, "and, of course, the $10,000 prize is meaningful too."
"I'm a member of New Mount Zion Baptist Church, and one of the things we say is that 'when praises go up, blessings come down,'" he said. "Well, I also believe that when blessings come down, praises should go up."
So Twiggs said that he will do what he always does with such monetary blessings -- give 10 percent of it to his church.
Born in St. Stephen in 1934, Twiggs studied art at Claflin College in Orangeburg and later earned a master's degree from New York University and a doctorate in art education from the University of Georgia.
He began a 34-year teaching career at then-South Carolina State College in 1964. A year later, he began experimenting with batik, a wax-resist method of dyeing textiles, which has become a signature of his style.
In recent years, Twiggs is probably most widely known for his series titled "Requiem for Mother Emanuel." The series is a tribute to the nine church members shot and killed at Charleston's Mother Emanuel AME Church in 2015 and has traveled throughout the Southeast.