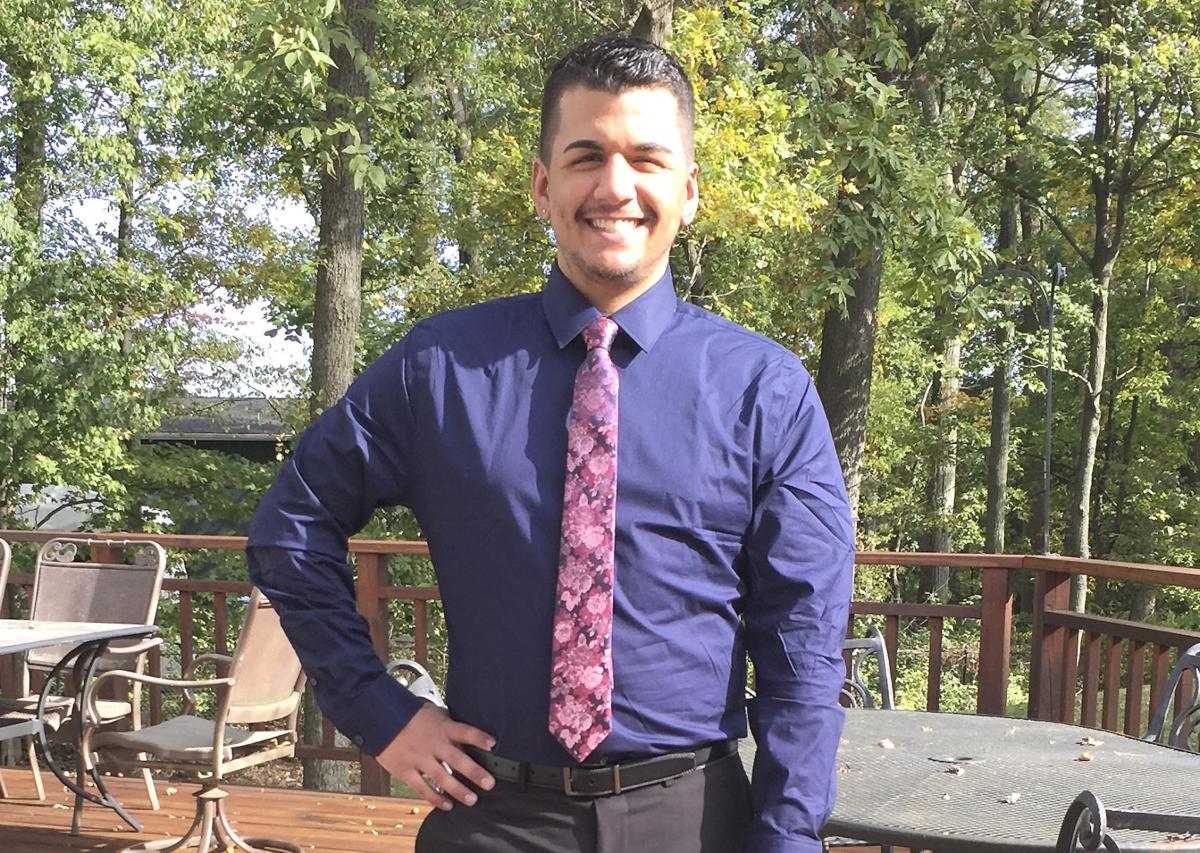 Cindy Tarashuk is still looking for answers almost a year after her 26-year-old son Paul died.
Among those questions is why so many agencies failed her mentally ill son on the night of Sept. 10, 2018.
Orangeburg County dispatchers received at least three calls that night about a naked man running down Interstate 95 near the Santee area.
The man, Paul Tarashuk, later died when a vehicle struck him on the interstate.
Cindy Tarashuk believes his death could have been prevented if only officials had done their jobs.
"Somebody needs to take responsibility for this and change the way things are done," she said. "If they don't have to take accountability for this, it will keep happening.
"People deserve better. Something has to change."
Four departments responded to the scene that night: South Carolina Highway Patrol, Santee Police Department, Orangeburg County Sheriff's Office and Orangeburg County EMS.
Tarashuk, who lives in New Jersey, says she has reached out to the various agencies searching for answers but has not received any.
"They are being very guarded about talking to us about anything," she said.
Columbia attorney Russell Burke, who is representing the Tarashuk family in a lawsuit, says he has been gathering data through Freedom of Information Act requests.
"The various public entities -- police, Highway Patrol, Orangeburg County Sheriff's Office and Santee Police Department -- none of them looked out for the best interest of Mr. Tarashuk on the evening in question," Burke said.
"When EMS came, he should have been taken to the hospital. In between the police effort and O.C. EMS, no one took care of him," Burke said.
Orangeburg County Administrator Harold Young provided a statement on the incident.
"A tragedy occurred in Orangeburg County on Sept. 10, 2018," Young said. "Paul Tarashuk lost his life. He left family and friends who seek consolation, peace that surpasses all understanding.
"The county of Orangeburg does not have that to give, but Orangeburg County can give Paul Tarashuk's family and friends these humble assurances: The county has conducted a thorough review and has taken action in accordance with the review.
"Those county agents who were involved in the review offer truly heartfelt condolences to Paul Tarashuk's family and friends for their loss."
Young said the county has "openly shared what it knows about this situation," including audio and video recordings from that night, to both the media, state law enforcement and government agencies.
"This is a complex matter that is not suited for off-hand or impromptu remarks," Young continued in the statement. "As a result, the county declines further comment on this situation."
Sept. 10, 2018
Video obtained by various media outlets, audio obtained by The T&D and a complaint filed in the lawsuit against the various agencies involved paint a picture of the events.
Several calls came into the Orangeburg County 911 dispatch center about a man running naked on Interstate 95. One caller is heard saying he had to swerve to avoid hitting the man.
Video captures Highway Patrol troopers, Orangeburg County deputies and Santee officers walking around an 18-wheeler pulled over on the side of I-95.
Tarashuk is seated, naked, above the cab of the truck.
The lawsuit claims the Santee officers thought he was on drugs. It was later determined through toxicology reports that he was not and that he was suffering from a schizophrenic episode.
At first, it seems that Tarashuk speaks to an officer but without being coherent. A few minutes later, the video shows Tarashuk not speaking when questioned by officials.
Orangeburg County Emergency Medical Services arrives on the scene.
According to video, Tarashuk enters the ambulance where the EMT crew asks him to provide his name and to respond to questions, but he does not answer over a 10-minute period.
The crew as well as Orangeburg County Deputy Clifford Doroski, who is identified in the lawsuit, frequently tell Tarashuk they are trying to help him.
A paramedic identified in the lawsuit as Alison Harmon asks Tarashuk to talk to her.
"Stop acting stupid," she allegedly says. "You are a grown man. Don't shrug your shoulders and do your hand. Tell me. Open your mouth and talk to me. What is going on? Why are we out here on the interstate with you?"
When Tarashuk does not respond after several attempts to acquire his identification, Doroski allegedly says, "If it is an act, it is a pretty good act, 'cause I see the same thing when I see a variety of drugs being used."
Addressing Tarashuk, Doroski allegedly says, "If you are taking something, we are not here to judge you. If you are taking anything, we are going to get treatment for it. We just want to make sure you are OK. That is all we want."
"I just want to go ahead to the substation and go to sleep," Harmon allegedly tells Tarashuk. "So if you tell me your name, boy, I can go back to bed."
The lawsuit also claims she says, "I am being f - - - - - - serious. I am sleepy. Give me your d - - - name so I can go home for real. I'm tired."
A smile comes across Tarashuk's face.
"I know you know what the hell we are talking about. You are sitting there laughing," Harmon allegedly says. "Tell us your d - - - name, please."
The deputy allegedly tells Tarashuk the crew has spent a lot time with him and cannot be out on the scene all night.
"You are tying up a lot of resources," the deputy allegedly says. "We are trying to help you."
"If you don't want to go to the hospital, you can go with me. Those are your choices. I have been very patient with you. We want to get you some help. That is all we want. I am a patient man, but I have been out here a long time," he allegedly says.
At one point, Tarashuk looks at an officer off-camera and the camera captures the officer saying, "What are you looking at me for? You are full of s - - -, brother."
Tarashuk exits the back of the ambulance.
As he leaves, an officer tells him he will give him a ride "to a safe environment," according to the video.
"You are not going to jail, you are not under arrest," the officer allegedly says. "I will figure out where you live. I will give you a ride to a safe environment. That is all I want. I want make sure you are all right. That is why I got EMS out here -- to check your vitals to make sure you are OK."
EMS later told troopers that they thought a deputy was taking him to a hospital.
The lawsuit alleges Doroski dropped Tarashuk off at a closed gas station at 1:56 a.m. in red shorts obtained from the truck driver but with no shirt or shoes on. A gas station video showed Tarashuk still alive.
Four hours later, Tarashuk was killed on the interstate when he was struck by a vehicle.
The same EMS crew was called to the scene where Tarashuk was struck.
When asked why the deputy left Tarashuk at the closed gas station and did not take him to the hospital, and about the deputy's employment status, the sheriff's office said it wouldn't be appropriate to comment.
"At this point with several investigations ongoing, we feel it would not be appropriate to comment," OCSO Media Director Richard Walker said. "We welcome those investigations and yet we do not wish to be perceived as interfering by either word or deed. At the appropriate time, we may be able to address questions. However, this is not that time."
Disciplinary matters
According to Orangeburg County records, Harmon was initially suspended for a week for being in violation of local and state protocols in the Tarashuk incident.
"Alison, you have been provided the tools and have the potential to be an outstanding pre-hospital care provider," the disciplinary action states. "Disregarding the rules of conduct toward a patient takes away from this. Conduct such as this does not paint a pretty picture for you, EMS or Orangeburg County and will not be tolerated."
Three months after the incident, the S.C. Department of Health and Environmental Control, the licensing agency for EMS, issued a consent order finding that Harmon and EMT Jamie Givens failed to care for Tarashuk and abandoned him when they should have taken steps to protect him.
DHEC found the two violated the EMS Act of South Carolina and engaged in misconduct.
Misconduct, according to the DHEC consent order, means both EMS workers:
• Disregarded an appropriate order by a physician concerning emergency treatment or transportation.
• Discontinued care of abandoned the patient without the patient's consent.
Harmon was also cited for creating a "substantial possibility that death and serious physical harm could result" to the patient by the abandonment of care.
Givens was also cited for:
• Observing the administration of substandard care by another EMT or other medical provider without documenting the event and notifying a supervisor.
• Falsification of documentation.
The consent order notes the sheriff's office called EMS around 12:32 a.m. to evaluate Tarashuk. The EMS crew arrived around 1:17 a.m. when the sheriff's office informed the crew that the patient was found naked and nonverbal.
Vital signs, level of patient consciousness and glucose levels were taken, but the appropriate questions were not answered such as:
• What time, day, month or year is it?
The notification on the EMS patient care report said the patient was "conscious and alert X4 (times four)."
"The document on the PCR was clearly inaccurate based on the observation of the video," the DHEC consent report states. "The patient was non-verbal and unable to communicate, which indicated that he may have an altered mental status. The patient was thereafter released to the OCSO without being transported to the hospital for medical evaluation."
The consent order, issued in January 2019, required Harmon to immediately surrender her paramedic certificate and stated that an EMT-basic certification would be issued. She was also suspended for 16 months, according to the order.
Harmon also had to successfully complete a National Association of Emergency Medical Technicians Principles of Ethics and Personal Leadership Course and would be reissued a paramedic license after a 16-month period of the consent order's issuance.
It took four months until Harmon was terminated from the county's EMS.
Young said the county was conducting its own investigations but did not receive DHEC's consent order on Harmon until March due to Harmon's failure to "self-report" the document to the county.
The county did not conclude its disciplinary review until the licensing agency notified the county of its findings, Young said. "This was a DHEC situation where DHEC had to decide first."
With the consent order in hand and after conducting its own full investigation of Harmon, Young said the county terminated her in April 22, 2019.
"There were patterns that we saw of conduct we felt the conduct was not becoming of a paramedic that we have in our service on top of what happened to Tarashuk," Young said.
Tarashuk's mother expressed her disappointment that the death of her son did not prompt immediate action.
"She was not fired because of Paul," she said.
Tarashuk's lawsuit alleges that Harmon was fired for talking back to her boss.
It was not the first time Harmon had been cited by DHEC.
In a March 9, 2017, DHEC document, the agency noted it was made aware of alleged misconduct by Harmon on January 2016.
The agency noted it met with Harmon in April 2016 where Harmon informed DHEC she had entered into and completed a drug-treatment program.
According to the document, DHEC monitored her progress, but in September 2016, the agency was informed Harmon was terminated by an ambulance service for misconduct.
In October 2016, DHEC suspended Harmon when its investigation revealed that she was "observed on several occasions appearing under the influence of narcotics."
The document also notes Harmon "suffers from a drug addiction which renders her a danger to patients under her care."
At that time, DHEC suspended Harmon but allowed for her reinstatement upon successful completion of an outpatient treatment program.
Givens' EMT certificate was suspended for six months by DHEC, but the suspension was "held in abeyance for a period of 12 months following the execution of this consent order," according to the DHEC order.
The six-month suspension of the order was contingent upon Givens complying with the order for the next year, which means she needed to successfully complete a NAEMT-PEPL course within 12 months of the order.
The county also gave Givens a written reprimand for violating the county's employee handbook and a one-day suspension served on April 28.
The Santee officers did not face any disciplinary measures related to the incident, according to Santee Police Chief Joseph Serrano.
Cindy Tarashuk says more needs to be done.
She claims DHEC has never addressed the use of an ammonia stick while officials were working with her son. She said initially the agency said there was no evidence this had occurred, but since then, evidence has arisen.
"They are not going to revisit it," she said.
Burke says use of the ammonia stick was uncalled for since Tarashuk was conscious.
"The guy was not physically unconscious," Burke said. "You use those on people who are unconscious and not people who are sitting and looking at you and following commands."
DHEC, however, says its investigation did take into consideration the ammonia inhaler.
"DHEC's investigation into this matter is complete and resulted in enforcement actions against the two EMTs who responded to the calls," DHEC said in a statement provided to The T&D on July 25. "In arriving at the enforcement actions, DHEC conducted a review of videotapes, interviews, patient care reports and other records related to the incident and the delivery of patient care, including the use of an ammonia inhaler."
In May, the State Law Enforcement Division opened an investigation into the incident.
"As our work is underway, it would be inappropriate to discuss any specific details of the case," SLED spokesman Thom Berry said. "As of this time, no charges have been brought."
A phone number listed for Harmon with the same address on her Orangeburg County personnel form was disconnected and no longer in service. An attempt to reach Harmon by Facebook was also unsuccessful.
An attempt to reach Harmon and Givens through the OCEMS and Orangeburg County's human resource department was also unsuccessful.
An attempt to reach Doroski through the Sheriff's Office was unsuccessful. Messages left for Santee Police Chief Serrano as well as Santee Mayor Donnie Hilliard were not returned.
Young said the county has 64 individuals in its Emergency Medical Services department and all agree that what was done on that night was uncalled for.
"This does not mean that the other 64 individuals we have are not good men and women," Young said. "They do a lot for this county and they see things that you and I can't imagine. Going to these wrecks and accidents and seeing people fight for their lives ... day after day, that plays on anybody and breakdowns probably will occur without counseling."
Young said since the incident, the county has looked at how to better help first responders deal with their own mental health issues and better understand the mental health conditions of the individuals they respond to.
"The system is there for the people and not to antagonize or hurt anyone," Young said. "We are heading in the right direction. It goes back to the paramedics. They need to be better decision makers. They are tired and overworked. They have to be more understanding of what happens."
'He is not coming home'
The Tarashuk family is not only grieving the loss of their son.
Zeppi, Paul Tarashuk's 7-year-old cocker spaniel who was traveling with him at the time, is still missing. Zeppi was Tarashuk's emotional support dog.
Zeppi, as well as another of Tarashuk's dogs, Harley, were left in Tarashuk's vehicle that night. Harley was later found alive and well.
Zeppi is microchipped, spayed and was wearing a collar with tags.
"I believe she is still out there," Cindy Tarashuk said. "There have been no true sightings."
A Facebook site "Help Find Giuseppe Missing Lost" has been created to help locate Zeppi. The site describes the canine as having a freckle on her tongue and white on her chest.
Cindy Tarashuk said if Zeppi is not alive, she hopes her son and the dog are together.
Her son's death on the interstate came about 18 years after he helped someone in crisis on a highway.
During that incident, Tarashuk helped keep an 88-year-old woman with dementia from driving against the flow of traffic on Route 202-31 in New Jersey.
Tarashuk, who was 17 at the time, blocked the woman's car with his and kept her from a head-on collision.
Cindy Tarashuk continues to miss her son.
"He is not here," a crying Tarashuk said. "He is not coming home. He was a huge part of our family and we are devastated."