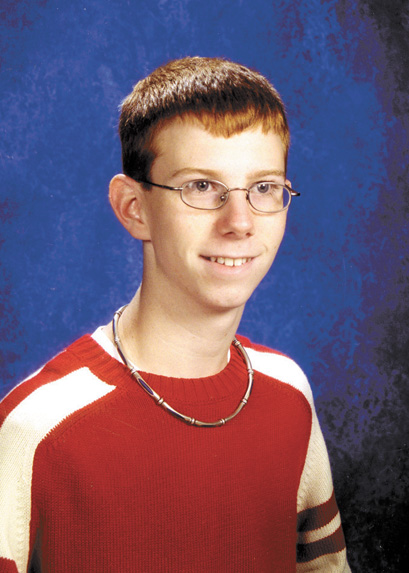 SWANSEA - Steve and Pam Saylor who lost their son in a 2003 all-terrain vehicle accident are continuing their mission to get legislation passed to protect children riding ATVs.
Chandler Saylor, a 16-year-old who loved sports, playing his guitar, hunting and spending time with his family and friends, died from injuries sustained in an ATV accident at a friend's birthday party on May 10, 2003.
Rep. Harry Ott (D-St. Matthews), one of many who sent condolences to the Saylors on their son's death, first came up with the idea of legislation requiring safeguards for children riding ATVs.
"That's what we try to stay focused on. We're just trying to succeed in preventing injuries to children," Mrs. Saylor said in a recent interview.
Ott began in January 2004 to craft the bill called "Chandler's Law." The initial bill called for titling and registering ATVs, a safety class for drivers 16 and younger and safety gear. The bill didn't pass by the end of the two-year legislative session, and the process had to begin anew in January 2005.
Despite having been passed by both the House and the Senate at least twice, the bill has yet to become law after being vetoed both times by former Gov. Mark Sanford. The bill has been amended numerous times over the years, with debates arising over such issues as whether the law should include ATVs being driven on private as well as public land.
Ott is among the sponsors who reintroduced Chandler's Law in the House this month. The House Committee on Agriculture, Natural Resources and Environmental Affairs currently has the bill.
"This is the first step along the way. It's basically the same bill that's passed the House and the Senate several times in the past. It's a very scaled-down version that just basically says that we would like for our children to wear helmets and eye protection. You can't go on private property to enforce it," Ott said.
The bill makes it unlawful for a parent or guardian of a child age 15 and younger to allow them to operate an ATV. And anyone age 15 and younger without a driver's license would also not be allowed to carry a passenger while operating an ATV.
The Saylors say they are optimistic newly-elected Gov. Nikki Haley will support the bill, citing her approval of it as a state representative.
"We do feel a little more optimistic. We're hopeful that we have her support," Mrs. Saylor said, noting she and her husband plan to meet with Haley.
Mr. Saylor said, "She supported it every time it's come up for a vote, but some things change when you move up the ladder."
Asked for a comment from Haley on Chandler's Law, Rob Godfrey, the governor's press secretary, said, "Having been a legislator herself, Gov. Haley knows what we see now is probably not what will end up in the bill that arrives on her desk after going through the House and the Senate. So, when we see what the final bill is, we'll be happy to comment."
Mrs. Saylor expressed her frustration with the previous attempts to get the law passed, particularly with Sanford vetoing it twice.
"All he had to do was sign it into law. We wouldn't be eight years down the road and still trying to do this," she said. "How many children have to be lost ... ?"
"We've had it pass the House and Senate on multiple occasions, always to be vetoed by the governor," Ott said. "We are hoping for a different outcome this time. I believe records will indicate that Gov. Haley has voted for the ATV bill on two occasions."
The proposed legislation also states that effective July 1, 2011, every person age 15 and younger who operates an all-terrain vehicle must successfully complete a hands-on ATV safety course approved by the All-Terrain Vehicle Safety Institute. A person age 15 and younger would also not be able to "operate, ride or otherwise be propelled on" an ATV without a safety helmet and eye protection.
Mrs. Saylor said proposed law was not about taking parental rights away.
"We're not fighting parents' choices and what they do with their own children. But what we like to think about is that sometimes your children are not with you. You want to know that they're safe then, too, and that a law is followed across the state when a child is left in someone else's care. When Chandler's accident happened, he wasn't with us," she said.
"It was a fatal ride for him. Accidents are going to happen ... . We know that this is not going to save every child's life, but if it saves one child ... and that was your child, that would be an important thing. That would make a big difference. That's what we try to think about."
While the bill pertains to all public land, it excludes private property, stating that officers enforcing the law in regard to private land must have probable cause "based on plain-view observation or incident to an investigation resulting from an ATV accident" before they can enter the property.
Also excluded under the law are owners, operators, lessors or renters of a farm or ranch, including that person's employees, immediate family or household members, when operating an ATV while engaged in farming or ranching operations.
The bill also provides for the titling of ATVs through the state Department of Motor Vehicles. When a person who is not a licensed ATV dealer receives by purchase, gift, trade or other means a vehicle that was titled in the state, the person who receives the vehicle must apply for a title through the DMV.
"The bill provides voluntary registration if you want to, but it's not mandatory for the ATV. It's pretty much the same thing that we've had in the past," Ott said.