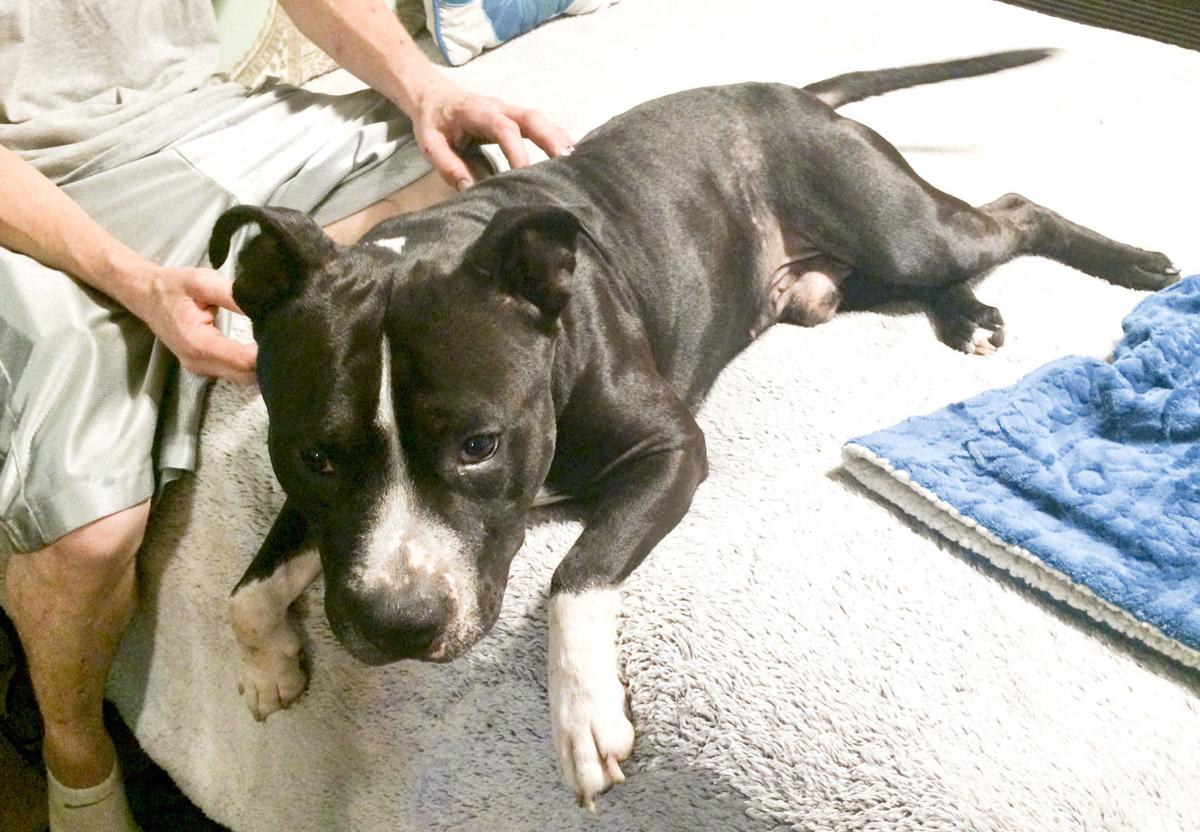 Bamberg residents Heather Smoak and Howard Fanning are disputing their neighbor's claims about their pit bull.
They say there is another side to the story which appeared on the front page of The T&D's May 20 edition.
In the news article, Norris "Jeff" Steedley claimed the couple's pit bull, Sledge, lunged at him causing multiple injuries to his left upper arm as well as bites on his right arm and right lower leg.
The bites required Steedley to be airlifted to a Columbia hospital. He'll need a number of surgeries going forward.
Smoak says Sledge, who weighs about 70 pounds, is not aggressive to people and the article has caused her pain.
"People want to kill my dog," she said.
She says she's a responsible dog owner and would put the dog down if it was aggressive.
Smoak, who has raised pit bulls for about 20 years, says Sledge is being unfairly characterized on social media and elsewhere.
"When you own a dog, you have to be able to control your dog," she said. "If you have one, you have to know what to be able to do with it. You have to be able to speak and it listen."
Smoak demonstrated Sledge's obedience by telling the dog to sit.
She showed his friendliness several times by putting cheese in her mouth and feeding him from her own mouth.
Fanning said Sledge typically stays inside the house or inside the fenced-in yard to keep him away from Steedley's dogs.
He was there during the April 11 incident on Lemon Creek Road.
"He did not attack that man," Fanning said.
Fanning said he asked Steedley to take his boxer-mix, Timber, and American bulldog inside. That way Sledge could go outside.
"His dogs are always roaming around," Fanning said. "They have attacked my dog a few times. I never let my dog out."
Before hearing from Steedley, he noticed Timber coming around the corner.
"They lunged at each other," Fanning said.
Fanning said Steedley ended up getting in the middle of this dog fight. That's when Steedley was attacked.
"My dog probably did not know what was going on," Fanning said. "When Heather came out she said, 'Sledge' and he let go. His dog still tried to come back and attack."
Fanning said once the story came out in the paper, he felt the need to clear Sledge's reputation and name.
"He does not attack nobody," Fanning said. "He listens."
Fanning also points to both the Bamberg County Sheriff's Office incident report where the county's dispatch was informed that Steedley got into the middle of the dogs when they were fighting.
Steedley and his sister, Ethel O'Neal, denied this version of the events.
Steedley said Sledge attacked his dog previously three times.
Concerned about Timber, Steedley said he proceeded to bring his dog to safety when Sledge appeared.
Steedley says Sledge attacked him and that he did not try to break up a dog fight.
Sledge has since been cleared by the South Carolina Department of Health and Environmental Control. DHEC reported the dog does not have rabies.
There have been no charges filed in the case.
When asked if Sledge is harm to anybody, Fanning simply repeated, "Nobody."
"I would leave him with any child," he said.
Steedley could not be reached for comment about the version of the story told by Smoak and Fanning.
Get local news delivered to your inbox!
Subscribe to our Daily Headlines newsletter.