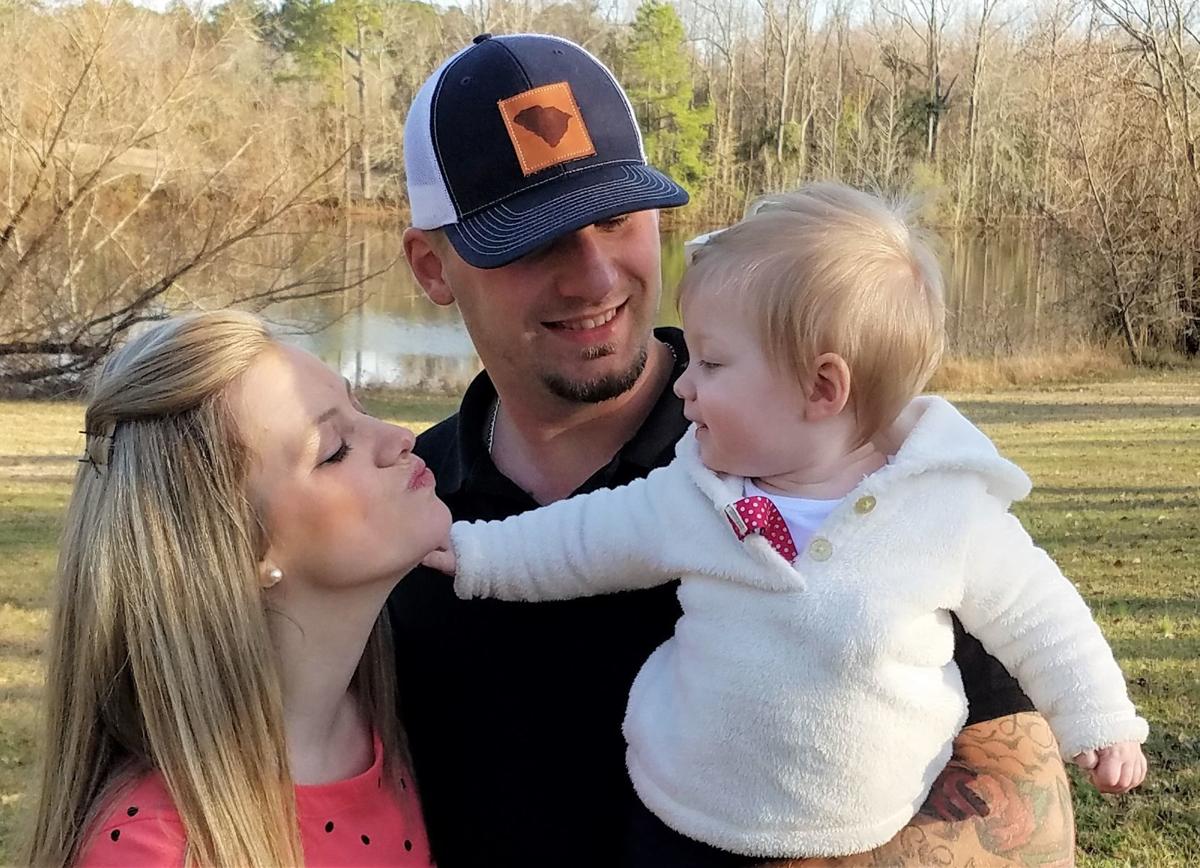 Lauren Snipes didn't know what to think when her normally happy 13-month-old began to get fussy and burn with fever.
She has since learned that her child may have coronavirus, but is hoping for the best with the support of her faith, family and friends.
Snipes, a first-grade teacher at Sandy Run School, first noticed a difference in Lena on the morning of March 27.
"Even after giving her initial medication to help the fever and trying to give her a bottle, we could just tell she wasn't shaking that fever. That's when I felt like I needed to go ahead and probably call her pediatrician," Snipes said.
She and Lena's father, Ricky, assumed that their baby, who was born prematurely, may have just been dealing with a case of the flu.
On top of that, she also had a history of ear infections, but Snipes said she had not seen it result in a fever as high as it climbed Friday morning.
"I called her pediatrician mid-Friday morning and just went over the symptoms and stuff that we had noticed because we were also noticing the runny nose and the congestion. They gave us a heads-up on the phone that she did kind of sound like she may have some of the COVID-19 symptoms, but to bring her in and they would do an assessment and that they may be sending her to go get screened," Snipes said.
She and Ricky, who works at the Orangeburg Department of Utilities, had already kind of self-quarantined for two weeks prior to Lena's health issues.
"With her being a premature baby, she and I had not left the house. But with her daddy working for DPU and being an essential employee, he was having to kind of come back and forth into the house, and we were still taking extreme measures," Snipes said.
"That's why I wasn't really thinking COVID-19 was going to be a possibility because we had taken such extreme measures to keep her well. With her being a preemie, we knew that this could be detrimental to her if she were to catch it," she said.
Lena was taken to her pediatrician's office. Tests for the flu and respiratory syncytial virus, or RSV, came back negative. A strep test was not run because Lena's throat looked fine, but her pediatrician was still not satisfied.
"Her pediatrician wasn't comfortable with all the symptoms and with that fever still not coming down. She said she was going to send us to the drive-thru testing site at Prisma Hospital. That was the moment that that fear started to set in," Snipes said.
Medical personnel in gowns and hazmat suits approached the family in the parking garage, where they waited for their baby to receive the coronavirus test.
"They had to tell us all this information that obviously makes you kind of panic as a parent. They did the test, which is like the swab, and they went super far back in her nose. I could tell it was very uncomfortable," Snipes said.
The family was told on Friday they needed to quarantine for two weeks.
"We were told that more than likely it would be like eight to 10 days, potentially longer, before we heard any results from the test. ... When we got home, we could feel she still had a fever," Snipes said. They "gave her another dose of Tylenol, put her in a cool bath, tried to give her popsicles and that sort of stuff."
"She wasn't really interested in eating or drinking anything, of course. The fever came down a little bit when we checked it about 30 minutes later to maybe about 103. We were like, 'OK, we're just going to ride this out,' " she said.
Less than an hour later, Lena's temperature spiked to slightly above 105.
"At that moment, we got terrified because she had just the medicines in her and it completely spiked back up. So at that point, we were advised to go ahead and call EMS. They had warned us if something happened, we could not physically take her to the emergency room because precautions were going to have to be taken since she had been tested (for COVIC-19) and was showing symptoms," Snipes said.
Snipes said she was in a frenzied state at not knowing what would happen to her baby, who had already spent three months in a neonatal intensive care unit as a preemie.
"They did allow me to ride in the ambulance up there with her after taking my temperature and stuff. So we got to the pediatric ER up there (in Columbia), and they allowed me to go back in the room with her. Her daddy was not allowed to go back, but we were all gowned and masked and everything. He and I were also not allowed to switch out," she said.
Everything was done to get Lena's soaring temperature down, and finally she was given Motrin.
"By the time she got to the hospital, her temperature was 105.7. At this point, I had posted on social media that we were tested. I had a lot of people pouring in support. Of course, our big concern is that it's going to start affecting her brain, there's going to be seizures, all that sort of thing," Snipes said.
Lena, however, was fortunately not having any significant breathing issues.
"They did the chest X-ray, and there was the pneumonia in her chest, but it wasn't anything so detrimental that it was affecting her breathing. We did not see any breathing issues from any of this from the start," Snipes said.
Hospital officials said while Lena could be monitored for 24 hours, her breathing was fine, her fever was being brought down and they did not want to unnecessarily expose her to others at the hospital with confirmed cases of the coronavirus.
"I made the decision to just go ahead and bring her home, and that's where we've been since Saturday morning at about 2 a.m. So we have been dealing with all of this since being at home.
"I wouldn't wish it on anybody because it's been just constant panic and fear but then, at the same time, I've come to the realization that this isn't a death sentence. This is something that we're able to monitor at home," Snipes said.
The baby has continued to have fever and a minimal appetite and has started to experience gastrointestinal issues such as diarrhea.
"That started Saturday, and that has been another symptom that they have seen in children with COVID-19. Her pediatrician's office has called and checked in on us every day, sometimes twice a day. They are keeping records of everything," Snipes said.
Pediatric officials told the family Sunday that they would likely have to face the news that Lena could have the coronavirus.
"They basically said, 'We'll just go ahead and treat this as that's probably what this is.' Thankfully, in a sense for us it is a milder case. I say milder because she's not on a ventilator. We haven't seen major breathing issues," Snipes said, but Lena is given fluids to ward off dehydration.
"The pediatrician's office checks in with us at least once a day and gets a full report and everything because if something were to throw a red flag, they cannot legally have us in the doctor's office. We would have to go to the emergency room since we're under quarantine," she said.
The quarantine will last for two weeks unless the test comes back negative.
"I don't think at this point that's what anybody's expecting. I'm learning along with everybody else, but the test is really just going to confirm what we think. It's nothing we can do for it. It's a virus and it has to run its course just like any other virus.
"She definitely has been a sick little girl, but I think that so much panic is in our society because all we hear on the news are these kids that are on ventilators in the hospital, or these older people dying and that sort of thing," Snipes said.
While Lena is still pushing toward recovery, her parents have had tremendous support from the community, family and friends.
They believe their baby will be OK.
"We're very confident. Our faith is huge. There's a bigger power over all of this. She's going to be OK. You wouldn't wish this on your worst enemy, but this isn't the end of the world. She's hopefully kind of starting to come around the bend with all of this," Snipes said.
"Once people found out that we can't leave the house for two weeks, people are dropping groceries off on our front porch, getting stuff that the baby might need, or picking up medicine. We had some neighbors organize a prayer ride, where people parked along our street and sat in their vehicles and led us in a time of prayer and song," she said.
She has learned not to let panic and anxiety overtake her life as she and Ricky care for Lena.
"That'll put you in a really bad spot mentally. Lena's by no means probably even at 60 percent better yet, but just seeing how far she has come since Friday night, when we didn't know what was going to happen. We're seeing little glimpses of her personality. She'll laugh and babble every now and then, and that gives us hope," Snipes said.
She encourages social distancing and wants the public to know that the there is hope in recovery from the coronavirus and other viruses.
"People are recovering from this, but I think people, too, need to understand that it is really bad for a lot of people. I really wish people would start to observe the social distancing a little bit more carefully because when it hits your family and community, I think that brings it home to a lot of people," Snipes said.
"We're really blessed that we have been able to manage this at home for now. I hope and pray that we will be able to continue it that way. We have had so many people praying for us. Our faith is what got us through the NICU days, and I know our faith is going to be what gets us through this," she said.
Concerned about COVID-19?
Sign up now to get the most recent coronavirus headlines and other important local and national news sent to your email inbox daily.