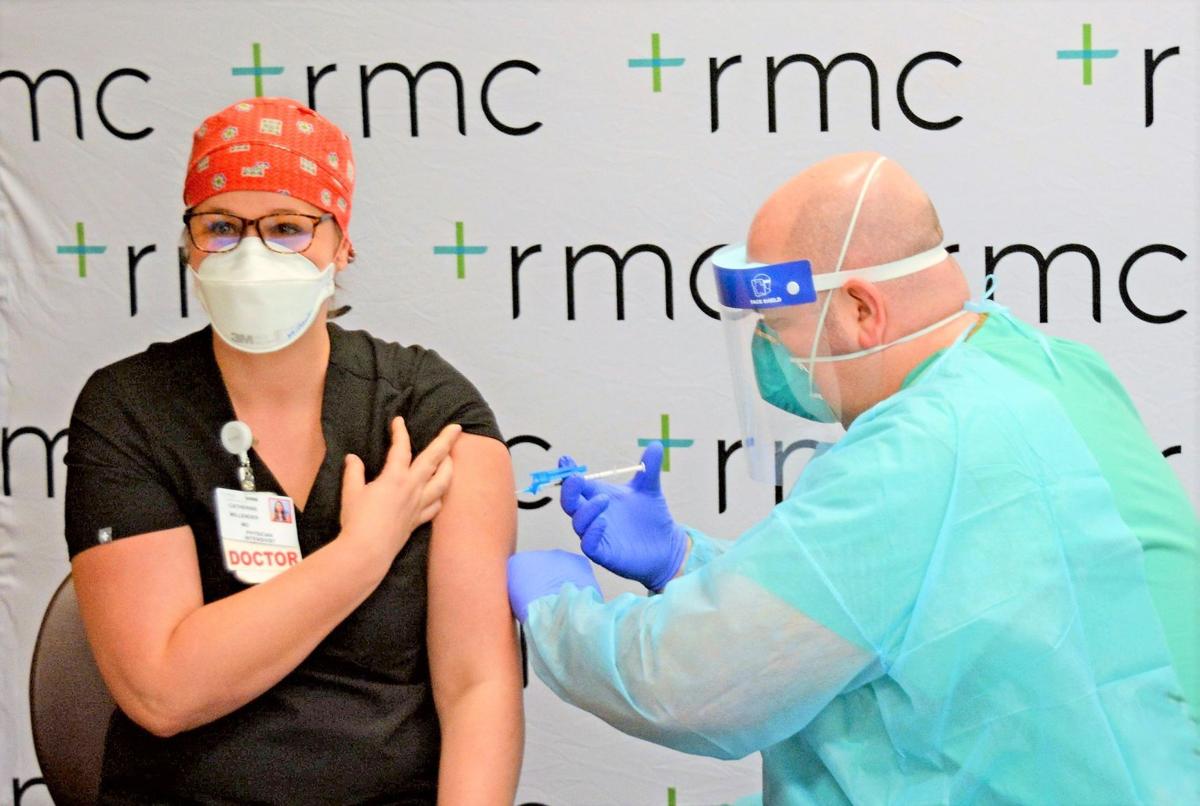 With hospital employees already stretched to their limits caring for coronavirus patients, the Regional Medical Center has no plans to vaccinate the general population right now.
The hospital is instead focusing on inoculating health care workers across Orangeburg and Calhoun counties, interim CEO and President Kirk Wilson says.
"RMC currently is focusing only on vaccinating its employees, those of local doctors, area EMTs and other category 1a health care workers in our two counties," Wilson said.
"We are not planning to accept appointments for vaccination of the general population. … Our staff is absolutely stretched to the limit taking care of very sick COVID patients and administering vaccine to the health care workers in our two counties," he said.
Individuals ages 70 and older can now begin to schedule appointments to receive COVID-19 vaccinations at locations accepting appointments, but RMC won't be among them.
According to the S.C. Department of Health and Environmental Control, RMC has received a total of 875 vaccination doses as of Monday. A total of 545 first doses have been administered, with a total of 199 second doses having been administered since that time at an 85 percent utilization rate.
DHEC's online map showing locations accepting appointments for the COVID-19 vaccine goes live Wednesday at scdhec.gov/vaxlocator. It will provide contact information for scheduling appointments.
Individuals can also call DHEC's Care Line at 1-855-472-3432 for assistance in locating the contact information for scheduling an appointment. Appointments can't be scheduled on the Care Line.
DHEC Public Health Director Dr. Brannon Traxler said, "We're continuing to work to have more and more locations offering the vaccine, especially in those rural and underserved communities who may not have a hospital nearby. A mobile clinic will be a part of our plan to bring the vaccine to the people.
"We understand that some of our elderly population aren't comfortable with navigating websites or using email. So that's why anyone can call our Care Line. Our Care Line staff can assist by providing the correct contact information for scheduling an appointment."
DHEC reports that all time estimates included in the state's vaccination rollout plan are subject to change due to vaccine availability, demand and provider participation.
Individuals in Phase 1a of the rollout plan who want to be vaccinated should contact their local hospitals to request and schedule an appointment no later than Jan. 15. Phase 1a of the state's vaccination rollout includes health care workers; long-term care facility residents and staff; home health and hospice workers; dentists and dental hygienists/assistants and pharmacists.
Phase 1b is supposed to begin in late winter and include frontline essential workers.
Phase 1c is set for early spring and includes additional essential workers, individuals 65 to 74 with or without underlying conditions and others age 16 to 64 with underlying health conditions.
Phase 2 is slated to launch in the late spring and fall and include all people who wish to be vaccinated.
Traxler stressed that mask wearing and social distancing must be among the preventive measures taken against the coronavirus.
"Vaccines are here and they are a light at the end of the tunnel, but until enough of us are vaccinated fully, we must continue to wear masks, stay physically distant from others, limit contact with people outside of our household and stay home and get tested if we're sick with any symptoms," Traxler said.