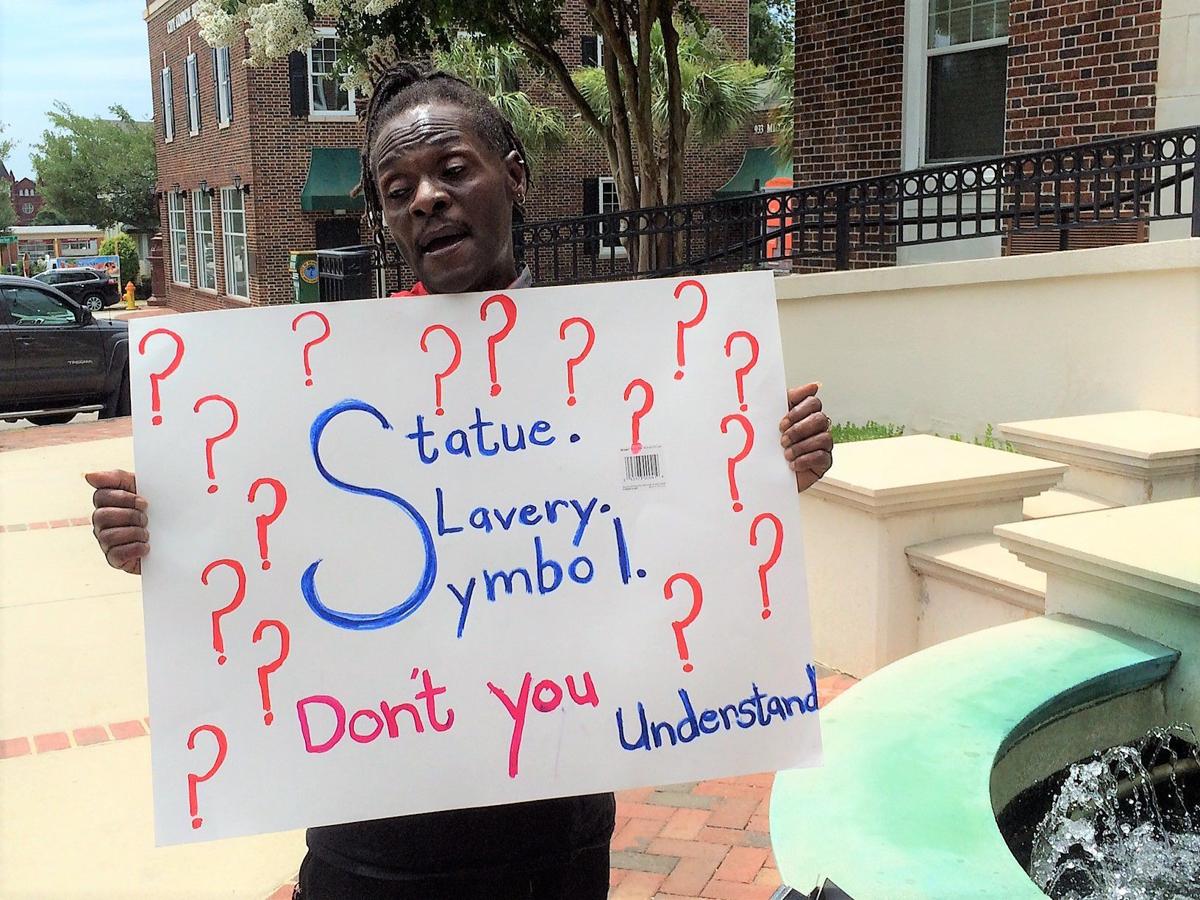 A newly created group is hoping the City of Orangeburg can remove the Confederate monument from downtown's Memorial Plaza without waiting for state lawmakers.
Orangeburg Revitalization Coalition members are considering legal action to show that the city's monument is not covered by South Carolina's Heritage Act.
"We still feel like it can happen and it can be done," coalition Executive Director Natalie Able said Tuesday.
Orangeburg City Council agreed Tuesday to remove the monument once it receives approval and authorization by the South Carolina General Assembly. The coalition gathered outside city hall before council's meeting.
The state's Heritage Act of 2000 requires a two-thirds vote by the General Assembly to change or remove any local or state monument, marker, school or street erected or named in honor of the Confederacy or the Civil Rights Movement.
But Orangeburg attorney Skyler Hutto, a consultant for the coalition, says the monument may not be protected by the Heritage Act.
"It is not a standard monument as it might be understood that would have been erected by a government to commemorate something or other," Hutto said.
"We think it was a piece of art commissioned and given to the city that does not really fall within the standard lines of the act," Hutto said.
The paperwork has not yet been filed requesting a declaratory judgment on the matter.
State legislators previously told The T&D that the General Assembly will discuss repealing the Heritage Act in January 2021.
In addition to the removal of the Confederate monument, the coalition is also advocating for the change of road names such as John C. Calhoun Drive and Stonewall Jackson Boulevard, to name a few.
The coalition was formed about two weeks ago based on conversations around the social unrest currently going on throughout the country.
Able said the organization formed June 14 with about eight members and now has grown to over 2,500 members.
"Our vision it to invigorate the city of Orangeburg and to bring people together," she said. "Our first goal is to remove the racial restraints. That is why we are suggesting the statue be removed as well as the street name."
Able says the Confederate monument can be located out of public view.
"I feel it is time for changes here," Able continued. "People don't want to look at it. It is a symbol of oppression."
Able says while the removal of the monument will not eradicate racism, it is a step in the right direction.
"I feel like when the statue was placed there, we did not have a voice. Now we do and we need to stand up and say, 'We don't want to look at it every day,'" she said.
Eventually, Able said the group would like to see the Confederate flag removed from the corner of Russell Street and John C. Calhoun Drive. The flag is owned by the Sons of the Confederate Veterans and sits on private property.
"Once I moved out of state, you don't see it. But when I moved back here and somebody pulls up behind me and it is on the front bumper of their car, it is that feeling you get," she said. "I don't think people realize that it is a feeling of almost terror. I feel that is what it is a symbol is of: hate and terror."
Coalition President James Glover said the removal of the monument "would be a step forward for the black community in Orangeburg."
As an African American male raised in Orangeburg, Glover said he has personally experienced racial profiling and different experiences with law enforcement or casual citizens.
But he says the monument is a constant reminder to him of oppression.
"Having a statue such as that on the square that symbolizes a man that fought to keep slavery, that is a reminder every day," he said.
Glover said the statue is not about heritage.
"Their heritage, their ancestors represented evil," Glover said. "Their ancestors fought to keep my ancestors slaves. Why would you want a statue like that?"
Voices to keep monument
Some of the people who gathered outside city hall on Tuesday are against removing the monument.
Orangeburg resident Jeannette Jeffrey said, "If you are going to take that statue, you need to take every statue of this county and take them down. What is good for one, should be fair for another."
She said that would include the Martin Luther King Jr. statue near the county courthouse.
"I love Martin Luther King and that man did a lot of good," she said. "I pay homage to that man.
"I pay homage to the Confederate statue. Leave the statues alone."
Jeffrey said the Confederate statue is not a symbol of racism.
"That is a symbol of gentlemen and ladies that fought and gave their life for their beliefs," she said.
Jeffrey is also concerned if the statue does come down there will not be peace, saying the government cannot try to appease one group but should serve all.
"This is not just one group's home, this is everybody's home," Jeffrey said. "I feel like they should put it on a November ballot. Bring it before the voters."
Orangeburg resident Sandra Wiles says she is also for leaving the statue where it is, saying that taking it down will not change hearts.
"Taking down anything is not going to change anything," she said. "Two wrongs don't make a right."
"If you offend me, it is not up to me to try to get back at you because you offended me," she said. "It is up to me to try to find a way we can compromise and you can understand where I am coming from."
Get local news delivered to your inbox!
Subscribe to our Daily Headlines newsletter.