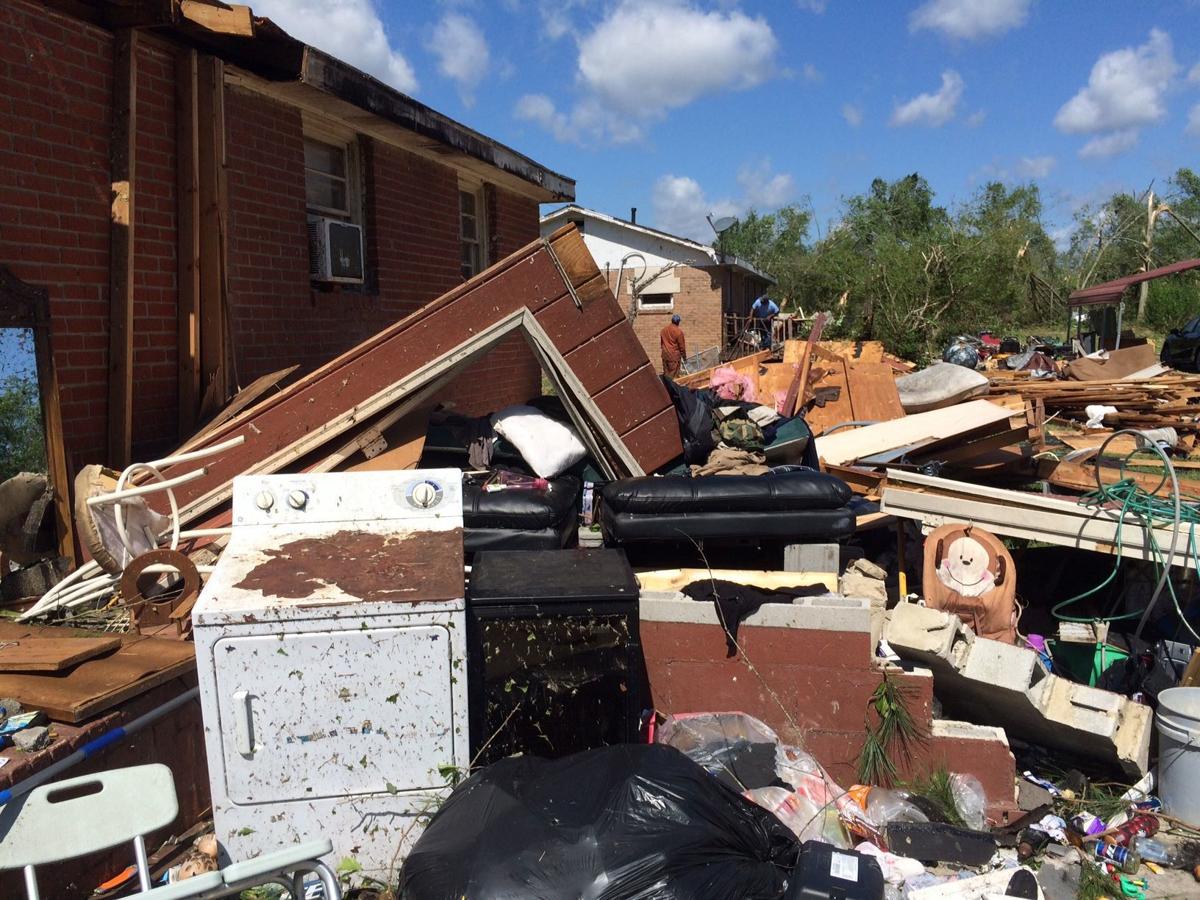 Orangeburg County officials continue to tally the damage from Monday's deadly tornadoes, with the damage estimated at $2.1 million so far.
"It is devastating to the community and it will take a long time for the community to recover from this," Orangeburg County Emergency Services Director Billy Staley said. "The Red Cross is providing assistance to some families who need it."
"We are requesting assistance from the state and the federal government," Staley said.
The county is also preparing a clean-up plan.
Three tornadoes hit Orangeburg County early Monday. One, with winds up to 140 mph, killed two people in the Neeses area.
The preliminary damage estimates are:
• Site-built homes damaged: 31
• Mobile homes damaged: 19
• Site-built houses destroyed: 6
• Mobile homes destroyed: 10
• Site-built houses with major damage: 8
• Mobile homes with major damage: 4
• Site-built homes with minor damage, including windows blown out: 16
• Mobile homes with minor damage: 5
• Businesses with minor damage: 5
"As tragic as it is, a lot of it was over rural areas, but where it hit houses, it caused catastrophic damage," Staley said. "We thank our volunteers and our emergency responders for everything they did on Monday. We could not have done it what we did without the volunteers and the emergency response from law enforcement, EMS and emergency services and from the fire side."
"Everybody has a role to play," he said.
There were no reports of structural damage in Calhoun or Bamberg counties, according to emergency services officials.
The National Weather Service previously released information on the EF3 tornado that hit the Neeses area, killing two and injuring at least seven.
Tornadoes are classified on an intensity scale from EF0, the lowest, to EF5, the strongest.
On Wednesday, the NWS issued more details about the two other Orangeburg County tornadoes:
Springfield tornado
An EF3 tornado with winds of 140 mph formed in Aiken County between the Savannah River Site and Williston in Barnwell County. There were no serious injuries and no fatalities with this storm, according to the NWS.
The tornado started at about 5:24 a.m. Monday and caused the most damage in the SRS and Williston areas, including roof damage, the partial wall collapse of a brick house and the destruction of a cinder block workshop.
The storm moved in a general northeast direction in Aiken County near the Barnwell County border before crossing into Barnwell County northwest of Williston.
Along its path, it destroyed a vacant store building and removed the walls of a metal auto shop building. A mobile home was also shifted off its foundation and a manufactured home was completely destroyed.
The tornado continued to snap and uproot trees as it crossed Davis Bridge Road and New Forest Road in northern Barnwell County.
The tornado entered into Orangeburg County as an EF1 with winds of about 110 mph.
The tornado uprooted trees, with some falling on homes in the Springfield area. Trees were also snapped.
The tornado also damaged the roof of a church building in the Springfield area.
The tornado finally dissipated northeast of Springfield.
The tornado reached a maximum width of 800 yards, or just under a half-mile, and traveled 30.19 miles.
Rowesville to Cameron tornado
An EF2 tornado producing winds near 120 mph struck near Big Buck Boulevard at Firefighter Lane, close to Interstate 26. There were no injuries or fatalities with this storm, according to the NWS.
The tornado started about four miles northeast of Rowesville at about 6:25 a.m.
EF0 damage (winds of 65 mph to 85 mph) occurred from the intersection of Garland and Bethel Forest roads, where the tornado started, almost to I-26.
The tornado strengthened, producing EF1 (86 mph to 110 mph) damage across agricultural fields and in the Orangeburg County/City Industrial Park.
As the tornado crossed I-26, it further strengthened to EF-2 (111 mph-135 mph) and then crossed U.S. Highway 301.
The tornado rapidly weakened to EF-1 just north of U.S. Highway 301 and further to EF-0 as it moved into the Middle Pen Swamp.
Through the remainder of the tornado path, it cycled between EF-1 and EF-0, then finally lifted just north of the intersection of Houcks Gin Road and Old State Road.
The tornado caused numerous hardwood and softwood trees to snap along the path and overturned multiple pivot irrigation systems.
The tornado came close to the Orangeburg County Fire District headquarters building where it did some damage to the district's maintenance shed.
Allied Air at the Orangeburg County/City Industrial Park sustained some damage to its roof but the company remains operational.
Damage was also done to a tractor dealership, with the front windows being shattered and the overhead doors being blown in by the wind.
Several of the snapped and uprooted trees were blown onto structures, causing roof damage to residential and industrial structures.
Damage to grain silos and outbuildings on the north side of U.S. Highway 301 was estimated by the owner at $1 million.
At its maximum, the tornado reached just under a half-mile wide and traveled about 10.3 miles before dissipating in southern Calhoun County about four miles southeast of Cameron.
Bamberg County
Radar indicated tornadoes near Ehrhardt and the Denmark area. After surveying the damage, survey teams determined that storm damage in Bamberg County was not related to tornadoes.
Gov. Henry McMaster on Wednesday issued an executive order declaring a state of emergency in response to the devastation caused by Monday's storms.
The declaration directs that the state's emergency operations plan be placed into effect to continue the state's response to the severe weather event.
Once all county assessments are completed and relayed to the S.C. Emergency Management Division, the governor will request a federal disaster declaration.
Get local news delivered to your inbox!
Subscribe to our Daily Headlines newsletter.