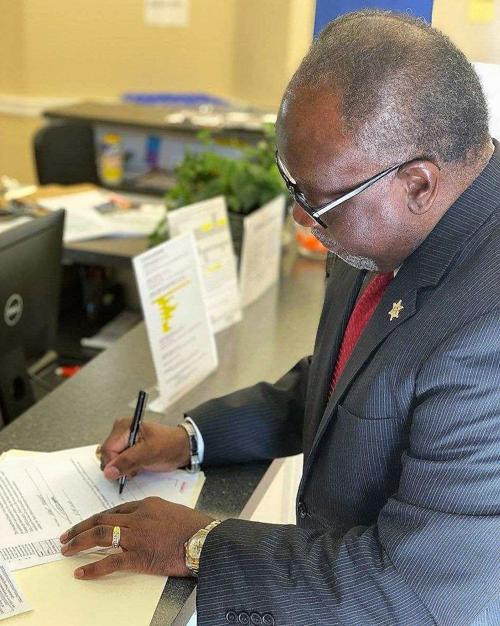 Orangeburg County Sheriff Leroy Ravenell has announced his intent to seek re-election.
In a release, Ravenell's campaign said he is "asking for your continued support as he once again offers himself as a servant and respected leader to continue his fight in making our community safer.
"Sheriff Ravenell has remained firm, fair and consistent in his leadership and services rendered to Orangeburg County. We ask that the community will allow him to continue to serve with excellence and more than 30 years of experience by casting your vote on June 9 to re-elect Sheriff Leroy Ravenell. Thank you for your support, love and prayers."
Ravenell is being challenged in the Democratic primary by Darnell Johnson. Filing for the office ended last month.
Ravenell won his first run for political office when he was elected the 52nd sheriff of Orangeburg County on Jan. 25, 2011.
A native and lifelong resident of the Santee community of Orangeburg County, Ravenell began his law enforcement career more than 30 years ago.
He says that through his service in numerous roles, he quickly learned the significance of his duty to not only enforce laws but to fulfill his life's philosophy to "Be Firm, Be Fair and Be Consistent."
He graduated magna cum laude from Claflin University with a bachelor's degree in sociology/criminal justice. He continued his studies at Troy University in Troy, Alabama, and obtained his master's degree in criminal justice.
He has served as an adjunct professor in Claflin's Department of Sociology/Criminal Justice for the past seven years.
In 2013, Ravenell was honored by the S.C. Sheriffs' Association as the Sheriff of the Year during their centennial observance of the association.
In 2011, he was named Warrior of the Year by the Healing Species, December 2011 Character Employee of the Month (Leadership) and the S.C. Association of School Resource Officers Law Enforcement Administrator of the Year.
Ravenell is a member of the National Sheriff's Association; National Sheriff's Association Victim's Board; the S.C. Sheriffs' Association Board of Directors, District Four Representative; the National Organization of Black Law Enforcement Executives; S.C. Law Enforcement Officers Association; Palmetto State Law Enforcement Officers Association; Fraternal Order of Police; Association for Public-Safety Communications Officials; Edisto Lodge #39; the Robert S. Wilkinson Consistory #220 and the Criminal Justice Degree Program Advisory Board at Orangeburg-Calhoun Technical College. He is a lifetime member of NAACP.
He serves on the National Sheriffs' Association Crime Victims Services committee, the S.C. Sheriff's Association Legislative Committee, the Board of Directors of the Orangeburg County Chamber of Commerce, the Law and Public Safety Advisory Board at the Technology Center, Board of Directors of Orangeburg Preparatory School and is a board member of A Servant's Touch Outreach and Support Ministries.
He is a member of the Unity Community Fellowship Church.
He is married to the former Angela Bodrick. They are the parents of three: a daughter, LeQuinta, and two sons, Xavier Justin and Avery Chandlier.
Get local news delivered to your inbox!
Subscribe to our Daily Headlines newsletter.