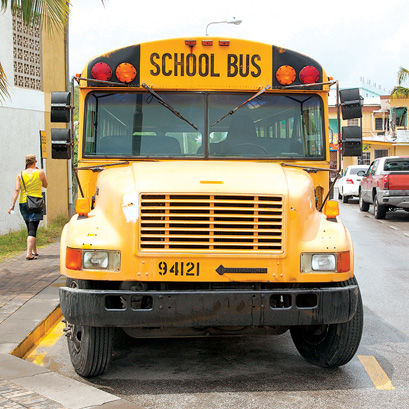 Orangeburg County School Board members asked district staff to find ways to increase pay rates for substitutes, citing concerns that the proposed pay scales are not competitive.
"We need to make it more attractive, if we can," trustee Mary Ulmer said.
The proposed rate for the district's substitute food service, custodial and bus monitors is $7.75 per hour.
Trustee Ruby Edwards expressed concerns that the rates will cause the district to lose people and have difficulty in recruitment.
"Let's try to find some money," she said.
Interim Superintendent Dr. Zona Jefferson said "the nature of the profession" is that those with greater educational attainment and certificates will make more money.
But trustee Vernell Goodwin said, "Everybody is important."
She suggested perhaps some of the pay at the higher end of the scale could be reduced and used to bump up those on the lower end of the scale.
In addition to these three positions, the substitute pay proposals include:
• Substitute nurses with a registered nurse certificate or higher receive $20 per hour and be paid a daily rate according to the nurse's salary schedule after 11 days.
• Secretary/receptionist pay at $62 per day.
• Instructional aids ranging from $62 a day to $68 a day based on educational degree attainment. An additional $25 a day would be tacked on starting on the 11th day of work a year.
• Certified and non-certified teachers with pay ranging from $75 per day to $86 per day. An additional $25 a day would be added to non-certified teachers after the 11th work day a year.
Certified teachers would be paid according to the regular daily rate according to the salary schedule after day 11.
• Administrators' pay would be negotiable.
Board Chair Peggy James-Tyler said the matter will be delayed so district Chief of Finance Michael Thom can "get a little bit more out of the turnip."
Work days schedule
Trustees voted 5-4 to approve the 2019-2020 work days schedule. Some concerns were raised about the number of days allocated for various positions and whether or not the number of days are needed.
Trustee Betty Pelzer wondered if having a JAG instructor work 225 days a year is "normal."
"It is normal," Jefferson said. "JAG instructors are part of the weekend programs. They are expecting for them to work during the summer."
Trustee Dr. William O'Quinn questioned the 210 days allocated for high school media specialists, noting that in Orangeburg Consolidated School District 4, the media specialists worked for about 195 days.
"Is there that much more work that needs to be done?" he said.
You have free articles remaining.
Edwards and Goodwin suggested the work schedule could be modified to see if a reduction in days could result in monetary savings elsewhere.
Voting to approve the schedule were James-Tyler, Idella Carson, Ulmer, R.L. Brown and Debora Brunson
Voting against were Pelzer, Goodwin, O'Quinn and Edwards.
Support and administrative staff
Trustees unanimously approved the support staff salary schedule for the district but delayed approval of the administrative staff salary schedule.
Trustees Edwards, Brunson and Goodwin requested more documentation on the rationale and basis for the administrative salary schedule.
"I am concerned whether the administration is being paid on years of experience, education level or a combination of both," Brunson said. "I would like to see that prior to taking a vote on a range of salaries. Are we setting the scale based on education experience, administrative experience or both?"
"The heavier weight rests on experience," Jefferson said.
Carson said typically what happens with a salary schedule is that individuals will see a raise in pay based on degree earned.
Ulmer asked if any employees will see a decrease in pay under consolidation.
"No one should see a decrease," Jefferson said. "We moved everyone up to the district that was paying the most. Everybody's salary is going up to the highest of the three districts."
Jefferson said all employees in the same position will have the same tools needed to do their jobs and will be paid at the same level.
In related matters, trustees voted to hire:
• Coordinator of Maintenance and Facilities Cedric Walker. Walker currently serves as the OCSD5 custodial manager.
• Coordinator of Maintenance and Facilities Randy Redmond. Redmond currently serves as OCSD5 facility manager.
• Coordinator of Security Personnel and Emergency Preparedness Bobby Rivers. Rivers currently serves as OCSD5 head of security.
• Coordinator of Transportation Kevin Addison. Addison currently serves as OCSD3 transportation supervisor.
• Coordinator of Food Service Angela Robinson. Robinson currently serves as OCSD4 director of school nutrition.
A teacher and classified staff were also hired.
In other matters, Valerie Lawrence, a retiree of Orangeburg Consolidated School District 3, asked trustees to remember the school district retirees when they make any decisions.
"The past two years, the retirees of Orangeburg 3, along with 4 and 5, have had the burden of wondering what was going to happen to them," she said. "We hear lots of rumors. We don't know if they are true or not."
Lawrence said a lot of retirees see Orangeburg County as their home.
"I don't want to leave Orangeburg County because I love this county," she said. "I want to stay here."
The comments received applause from a few in attendance.
James-Tyler said the board will take Lawrence's comments under advisement.
The next meeting of the School Board will be held Tuesday, May 28, at 6:30 p.m. at Nix Elementary School cafeteria. The school is located at 770 Stilton Road.