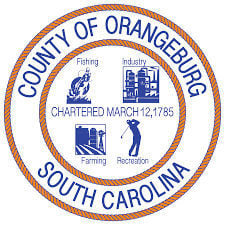 People will have to wear masks throughout most of Orangeburg County when they're shopping or visiting food service establishments.
Orangeburg County Council on Thursday unanimously approved an emergency ordinance requiring people to wear face masks in certain situations.
County officials said the new mandate had been requested by local health officials as the number of coronavirus cases have climbed in the state and locally.
"I'd much rather wear a mask than a ventilator," Councilwoman Janie Cooper-Smith said.
The requirement begins at 6 a.m. Friday, July 3. That's when a similar requirement goes into effect for the City of Orangeburg. Both will expire in 61 days.
County Administrator Harold Young said the county wanted to pass an ordinance similar to Orangeburg's so that residents won't be confused.
The county's ordinance only applies to the unincorporated areas of the county. Young said he spoke with 11 of Orangeburg's 17 mayors on Thursday. All seemed interested in passing their own rules or passing an ordinance that would place their towns under the county's rules.
Under the county's new rules:
• All customers are required to wear face coverings in any retail establishment or food service establishment.
• Retail employees must wear face coverings while working in areas open to the general public and in areas with other employees when social distancing of six feet cannot be followed.
• Restaurant, retail, salon, grocery store and pharmacy employees must wear face coverings in face-to-face interactions with the public.
• All persons entering any building open to the public must wear a face covering inside the building. The rules don't apply to religious establishments, but masks are recommended.
• Public transportation users and providers have to wear masks.
• Masks have to be worn when interacting with people in outdoor spaces such as at curbside pickup, delivery and service calls.
There are a number of exemptions, including in outdoor or unenclosed spaces where people can be distanced six feet apart, for children between the ages of 2 and 9 when adults are trying to keep their faces covered, for people with medical or behavioral issues, for people with religious concerns, and while swimming, dining and having dental work.
People who violate the ordinance can be fined up to $25. Employers who fail to have their employees follow the ordinance can be fined up to $100.
Councilwoman Deloris Frazier expressed concerns about the fines, saying "When times are hard and they don't have a job, how are they going to pay?" Frazier says she doesn't want people going to jail for failing to pay a mask fine.
Council discussed mandating a warning for the first offense, but County Attorney D'Anne Haydel said county magistrates have not been willing enforce such ordinances. She said deputies can be informed that the county wants to work with people, though.
After the meeting, Young said the situation has reached levels where action is needed taken to keep residents safe.
"It's an uncomfortable situation. We understand everyone may not be in favor of the mask ordinance, but to protect the hospital capacity and save lives in the community, we feel like this is needed and serves the greater good of the county," he said.
Read the full ordinance and the county's supporting documents at TheTandD.com.
Concerned about COVID-19?
Sign up now to get the most recent coronavirus headlines and other important local and national news sent to your email inbox daily.