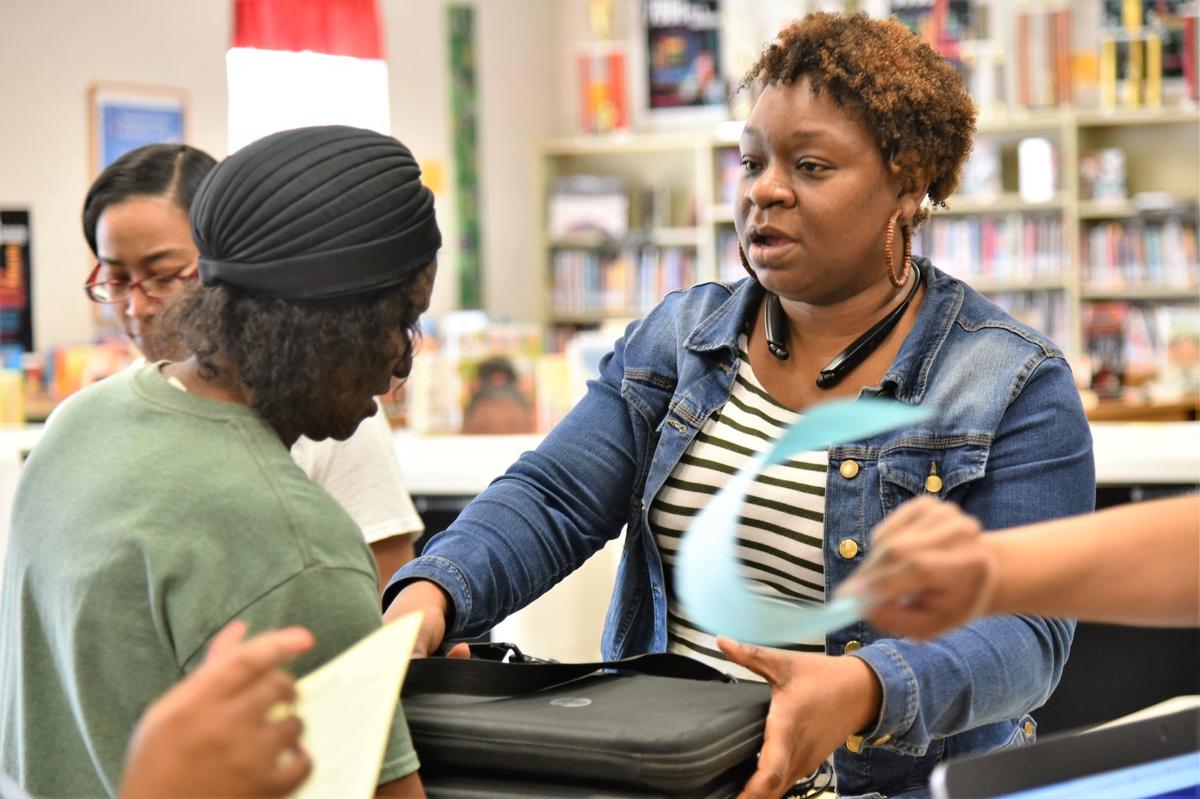 Orangeburg County government offices will be closed to the public beginning Friday.
All offices will be available for business by phone and email, according to a press release issued by Orangeburg County Administrator Harold Young on Thursday.
"Citizens and businesses are encouraged to use online services," Young said. "All departments with essential life-safety functions will continue to operate with their offices closed to public."
Young said the closure of the offices is necessary to protect all county employees from the coronavirus.
The restrictions will also mean limiting access or reducing the size of any government meetings as well as cancelling meetings.
Video conferencing was used for Orangeburg County Council's March 16 and March 19 meetings.
The county is also looking at using Facebook Live to live stream meetings and allow the public to participate. It is also looking for other ways to broadcast the meetings out to the public.
During Thursday's meeting, council approved an emergency ordinance allowing the county government to continue to operate during the pandemic.
"The ordinance allows the county to forego some of the notice requirements if we need to make decisions on the fly," Young said.
State law says the council cannot use its emergency powers to levy taxes, grant, renew or extend a franchise or impose or change a service rate.
Young said the public will still be informed about meetings in as timely as fashion as possible.
Here is a list of the closures, cancellations and restrictions implemented due to the coronavirus in the county.
Libraries
All county library branches are closed as of March 17.
Anyone who has library materials should keep them until the library resumes operation. Overdue fines are suspended during this time.
Orangeburg County Transit
The Transit system is in full operation at this time.
Treasurer's Office
The Treasurer's Office will be available by phone and email. The mainline number is 803-533-6153. Payments can be made online or via U.S. Mail.
County of Orangeburg courts
The courthouse will remain open to public only for:
• Acceptance of filings (Clerk of Court)
All General Sessions and Common Pleas Circuit Court jury trials and hearings are postponed through the end of April.
Family Court hearings for the weeks of March 16 and March 23 are postponed. Family Court will only hear emergency hearings during this period.
Jurors who are summoned for this period are excused and should not report.
Probate Court
Probate Court hearings are postponed until after April 17, 2020. Filings will be accepted by U.S. mail.
Magistrate Court
Traffic hearings, criminal hearings, landlord/tenant and jury trials are suspended until further notice.
Bond hearings, probable cause hearings and emergency hearings (harassment and stalking) will still be conducted.
Filings will still be accepted.
Magistrate court will be conducting screenings for public defenders at this time.
Individuals should call 803-533-5879 for further assistance.
Orangeburg County Detention Center
The detention center is following the state recommendations and suspending inmate visitation and interaction with all non-detention center employees.
The detention center staff will make every effort for those incarcerated to have access to calls with their family and loved ones during this time.
Inmate funds must be deposited online. If you need assistance or guidance in depositing online funds into an inmate account, create an account and login with vendor, McDaniel Supply Company, at jailpackstore.com or call 912-427-9022.
Orangeburg County Sheriff's Office
The OCSO will implement the following measures at noon Friday:
• Access to the front lobby of the Orangeburg County Law Enforcement Complex at 1520 Ellis Avenue and the Victim's Services Building on Chestnut Square at 1032 Chestnut Street will be restricted to one customer at a time. A deputy will be stationed at the entrance to direct customers.
• A switchboard operator, a desk sergeant and a records clerk will operate through glassed windows when possible, and with appropriate personal protective equipment and sanitation equipment.
• All sex-offender registrations will be conducted by investigators at the offender's home.
• A suspension of non-ferrous metal permits is in effect for now, but with the possibility of shifting this service to the main office.
• The Victim's Advocates will continue to offer around-the-clock services, but will operate on a staggered schedule when possible to minimize the frequency of face-to-face contact.
The OCSO has additional deputies on patrol around the clock to deal with the higher-than-average call frequencies caused by school closures.
School Resource Officers will continue to provide all services to their respective schools to assist teachers and administrators with their improvised duties.
Judicial services employees will continue to operate under courthouse guidelines set forth by the Orangeburg County Clerk of Court.
Register of Deeds and Master-in-Equity
All master-in-equity sales have been cancelled until further notice in the master-in-equity office.
The phone number of the master in equity is 803-533-6286.
Animal control
Offices will be closed to the general public. For animals that need to be dropped off, staff will coordinate the handover process to limit interaction. Calls to 803-534-0045 will evaluated on case-by-case basis. If an animal control officer is dispatched to respond to a call, the officer will be limiting interactions with the public.
Assessor's Office
The Assessor's Office is closed. The office will open April 6 with limited operations.
Auditor's Office
Auditor's Office will be available via phone and email. The mainline number is 803-533-6200.
Business License Department
Applications and payments will still be taken by mail as usual. Applications and questions can be submitted via email and via fax to 803-268-2924.
New business license applications requiring a site inspection will be handled on a case-by-case basis to protect county employees.
Business license payments can be made via phone at 803-268-2923.
Landfill and convenience sites
All county convenience sites and the landfill will remain open at this time.
Parks and boat landings
County parks have recommended social distancing and groups of no more than ten. Individuals should gather at their own risk.
Orangeburg County Chamber of Commerce
The Chamber's lobby is closed to the public but information is being received by phone, email and Facebook.
The Chamber has also postponed a number of events, including the Administrative Professionals Day Luncheon, the 2020 Business Seminar "How to Supervise People & Lead a Team" and discussions about the Rose Festival.
The search for a new president for the chamber continues. The chamber is currently in the final stages of the interview process.
The YMCA
The YMCA in Santee is closed for the season.
Members have limited access to the wellness center at YMCA-Orangeburg.
Members are encouraged to stay home and participate in free online workout videos. Sanitation protocols are in place.
Special events
All permits for special events are suspended at this time. No new applications will be accepted until further notice.
Delinquent Tax
The Delinquent Tax Office will be available via phone and email. The mainline number is 803-533-6142. Payments can be made online or via U.S. mail.
GIS
For information please contact 803-533-6175.
Litter Control
Litter control complaints may be made by phone to 803-533-6162.
Officers will perform inspections related to complaints while taking precautions to limit interactions. Responses to dump sites and other trash pickups may be impacted during this time.
Orangeburg Area Development Center
Mosquito Control
County mosquito control operations run from mid-April until the first frost. Once those operations begin, the county does not anticipate an impact related to Covid-19.
Permits and inspections
Permits and inspections will be handled by mail, email and phone.
Permit payments may now be made over the phone.
Inspections will be performed while maintaining the safety of inspectors.
Senior centers and services
All senior group activities have been suspended. Meals on wheels is still in operation but no group dining.
Veterans' Affairs
Staff available via phone and email. The mainline number is 803-533-6156.
Voter's Registration
Voter's Registration will remain open to accept filings only. All other services can be completed online.
Other operations
The physical offices of these departments are closed to the public while field operations will continue as normal:
• Coroner's Office: 803-533-5842
• Office of Emergency Services: 803-533-6265
• Emergency Medical Services: 803-533-6268
• Fire Services: 803-533-6218
• Public Services: 803-533-6164
• Sheriff's Office: 803-534-3550
Concerned about COVID-19?
Sign up now to get the most recent coronavirus headlines and other important local and national news sent to your email inbox daily.