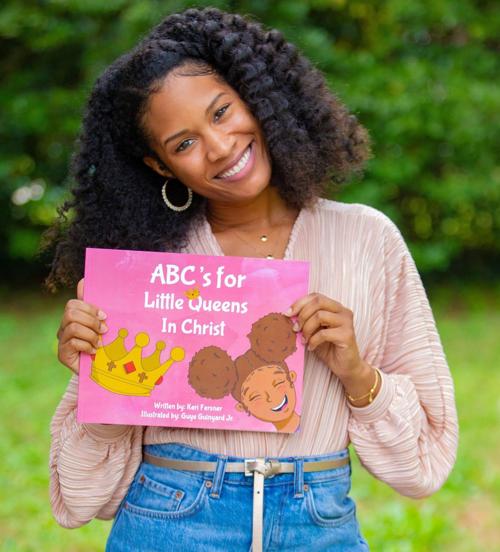 Keri Fersner loves God and has an equally passionate adoration for children and their growth and development. Her first book is full of affirming truths from the Bible that she particularly wants little girls to absorb.
The 28-year-old wrote a book titled "ABC's for Little Queens in Christ."
"This book is basically a book that takes a little queen through all of the promises of God and all of who they are in Christ. So starting from A, the first letter of the alphabet, would be, you're the apple of God's eye. With B, you are blessed to be a blessing to others. With each page, I wanted to make it directly tied to a scripture because I think it's so important to have content that is biblically sound," Fersner said.
Fersner, a motivational speaker, also taught science and math at Elloree Elementary/Middle School for approximately five years in the former Orangeburg Consolidated School District 3, where she was also Teacher of the Year.
She drew on her educational and spiritual backgrounds to write the book.
"Aside from my career, I also was very active in my church ever since I was young. I'm a member of Granger Baptist Church in Elloree, South Carolina. That has always been a part of my life growing up.
"I feel like God has always just presented opportunities for me to just grow and be able to encourage others in different forms, whether it be through mentoring other young girls who are in my church or whether it be just speaking engagements and things like that," Fersner said.
She added, "I feel like the opportunities that God has given me have really helped to shape who I've become now. In my spare time, I enjoy reading and just spending time with family and friends. Now I'm on this new author journey. So I'm enjoying that as well."
She hopes her book is not just an inspiring read for little girls, but the adults in their lives.
The Orangeburg native is a graduate of Orangeburg-Wilkinson High School and Winthrop University, majoring in middle-level education. She said she actually wrote the content for her children's book in 2018, but did not publish it in part because she could not find an illustrator.
That's until she found St. Matthews native and artist Guye Guinyard Jr.
"My parents, who were also educators, recommended one of their former students to me in 2019. He had just graduated high school and was preparing to go to Winthrop to major in illustration. So I reached out to him and once we connected, my project just kind of really began to take life in a form of its own," Fersner said.
She added, "By the time we were finished with the illustrations at the start of this year, of course, that's when the pandemic hit. So my current job became kind of like a work-from-home situation.
"With a lot more time on my hands, I was able to just kick into high gear and really set a goal that by the end of this year, I was going to complete the book and get it ready to be put out there to the world. So things just kind of sped up from February to now. Now the book is finally officially about to be released. I'm super excited about that."
She wants the book to inspire people to love one another.
"If you look at our relationship with Jesus Christ, he loves us unconditionally. The more that we are able to focus in on his love for us, then it can in turn help us to love ourselves and others, too.
"So the biggest takeaway that I hope people get from this book is that they can feel and experience the love of Christ and know that his love for them is unconditional. They don't have to earn his love. It's a free gift," Fersner said.
She said her affirmations of faith are created with purpose, particularly for little girls of color.
"The reason why I wrote this book and featured characters of color was because ... I obviously think that there has been a deficit of content for children of color. So it was important to me to make these characters people of color so that our young African American girls, or young girls of color, can see themselves in books.
"Also in terms of Christian books, there's sometimes a lack of diversity in our faith-based books. So I wanted to write a faith-based book that highlighted these children so that children who are of color can see themselves, can aspire to be these characters and know that a relationship with God is for them as well. I thought that was very important in terms of my illustrations," Fersner said.
What about the little kings and their walk with Christ?
"I know I've also gotten a lot of questions like, 'Well, what about the little kings in Christ?' So that book is forthcoming next year. I will get to work on that. I know our kings need it as well!" she said, laughing.
Fersner's self-published book is now available for pre-order at her website www.kerispeaks.org. The book will be officially released on Saturday, Nov. 21, and celebrated through a Facebook Live release party from 11 a.m. to noon on the same date on Facebook at www.facebook.com/kerispeaks.
"I also have on the website a printable five-day kids' devotional coloring book that parents can download as well. It basically has five days with images taken from the book. Each page would have a picture that the child can color, a fill-in-the-blank scripture and then a daily prayer for that day based on the concept of the page," Fersner said.
For more information on the book, related resources, or to contact the author, visit www.kerispeaks.org.