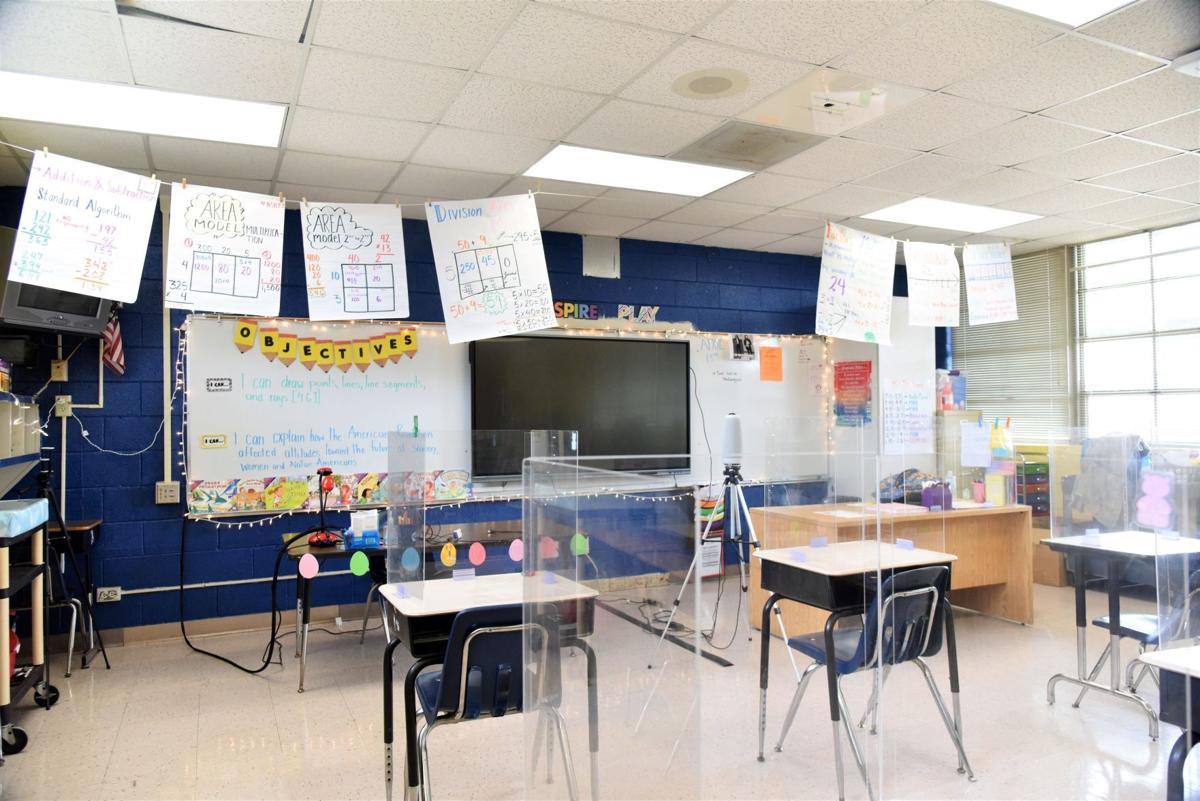 The Orangeburg County School District plans to develop four magnet school programs in the upcoming school year.
The face-to-face magnet programs will initially be available for students in grades three to five before being rolled out to the rest of the district's schools over the next five years, District Coordinator of Gifted and Talented Education Priscilla Hollington said.
"We have already begun Pathways for students to take part in advanced courses," Hollington said. "We want to expose them to depth and complexity to help them be successful in middle and high school advanced and honors courses."
The four schools that will offer the specialized programs will be Edisto Elementary, Holly Hill Elementary, Mellichamp Elementary and Marshall Elementary.
While admission will eventually be open to all students in the county, the program will begin serving about 75 students in grades three through five, or 25 students per grade level.
The application process will begin later in April and May and will be finalized in May and June.
Applications will be scored based on teacher recommendations, discipline, a personal statement from the student, attendance, test scores and grades.
A lottery system will be used when applicants exceed available spots. Individuals will be put on a waiting based on the date of the application, Hollington said.
The magnet programs will include:
• Communications and arts – Offerings will include multimedia skills such as visual arts, journalism and broadcasting; telecommunications and print technology.
• Science, technology, engineering, arts and technology – Offerings will include engineering design, architectural design, agriculture, coding classes, robotics, hands-on experience and summer camp. Offerings will also include chorus and drumline, horticulture and field studies.
• Visual and performing arts – Offerings will include painting, sculpture, ceramics, music, band, oratory and drama.
"This is what is best for children," Superintendent Dr. Shawn Foster said. "In our mission statement we say we are going to be a school of innovation."
The pilot schools were chosen due to the availability of staffing and location. Each host school will provide training for teachers and teachers will be required to be gifted and talented certified.
"I am very excited about what I am hearing," trustee Dr. Debora Brunson said. "We are reaching out to that population of students who are under-represented."
She noted that many of the district's students may not be able to qualify for the state's gifted and talented criteria.
"This is a way for us to reach out," Brunson said.
Foster said, "I call it mining for your genius. You have to find the genius in every child."
Trustees unanimously approved the program.
Beyond the first year, the program in year two will be extended to other elementary schools and into middle schools.
The second year will include the addition of talent development academies (early childhood) at Edisto Primary and Rivelon Elementary.
The third phase, which will cover years 3-5, will include advanced placement academies for high school students.
At the end of five years, the goal is to have a gifted/talented class and magnet academy at all schools in the district, Hollington said.
Officials say the magnet academies will be funded by grants and will not cost home schools. Students will be able to still participate in their home school's activities.
Youth apprenticeships
The district will begin a youth apprenticeship program this summer enabling students to become employees of the district.
The apprenticeship program will begin with five students with each filling areas in the district including information technology, automotive technician, building maintenance, communication specialist and accounting technician.
The students will start at a minimum wage and then will receive a wage increase of $1 each year for the two years of the program.
Students will receive a work certificate and credentials from the U.S. Department of Labor showing they are skilled in the trade.
"Orangeburg has a lot to offer," Director of Secondary Schools Dr. Kelvin Lemon said. "This is a bold statement that we are invested in our students."
The district can now offer the program as it received notification that it is an official U.S. Department of Labor site.
The program is a message to the community.
"We have to lead by example," Foster said. "We can say we are leading first. We trust our students just as much. We are doing it here, join us."
Foster said the program will aim to help distinguish OCSD students.
"Our concept is that we believe only in hire education in Orangeburg County," Foster said. "People look at me and say, 'What about the kids that don't go to school?' I said hire education whether you spell that higher or hire, that is still hire education."
"Our vision is that every single child has a work experience that they can validate," Foster said.
The district partnered with Apprentice Carolina as a consultant.
Standardized testing
The U.S. Department of Education has waived the requirement that 95% of students participate in end-of-the year testing due to the coronavirus.
"There will be no penalty to a student, to a teacher, to a school, or to the district because of not meeting that requirement of 95%," Assistant Superintendent for Curriculum and Instruction Andress Carter-Sims said.
This means that parents or students who are concerned about taking the test due to COVID will not be required to do so, Carter-Sims said.
Families are asked to complete an online survey that will allow their student to opt out by April 20. The survey is located on the school district's website and each school's website.
The school district will plan to administer:
• SCREADY (South Carolina College- and Career-Ready Assessments) in English, language arts and math for grades 3-8.
• SCPASS (South Carolina Palmetto Assessment of State Standards) in science for the fourth and seventh grades
• ACCESS (Assessing Comprehension and Communication in English State-to-State for English Language Learners) for grades K-12
• SC-ALT (South Carolina Alternate Assessment) for the third grade to high school
• EOCEP (End-of-Course Examination Program) for grade eight and for high school students. These assessments include algebra I, intermediate algebra, biology 1, English 1 and 2, U.S. history and the Constitution.
• Trustees unanimously approved a $50 hourly rate for teachers who teach summer school and $25 an hour for classified and support staff. The payment will be over a 16-day period.
The pay is competitive with surrounding districts. The pay is for this summer only. Applications are on the district's website for teachers to apply.
• Trustees approved the hire of two teachers (one in math and the other in world language) at Robert E. Howard Middle School; a science teacher at Branchville High School; an English teacher at Hunter-Kinard-Tyler High School; an early childhood education teacher at Whittaker Elementary School; and a speech language pathologist at Whittaker and Rivelon elementary schools.
• Trustees entered into a contract with ABM Building to conduct an energy performance assessment of the district's electric, light and water systems.
The firm will look at the district's energy costs and provide guidance on what the district can do to increase energy savings.
• The school district has received about $28.7 million in two rounds of Elementary and Secondary School Emergency Relief Funding as part of the Education Stabilization Fund in the CARES Act.
The money has gone to a number of things including: teacher training for offering a hybrid education model; purchase of sanitation materials and supplies; technology for virtual learning; mental health support; summer school curriculum; maintaining employees; addressing learning loss; school repairs and improvements to improve air quality in schools.
A third round of funding is expected as well. Details of how much the district will receive are unknown.
• The school district will begin work on its strategic plan next week. The district plans to consult with all stakeholders, including community members, teachers, support staff, administration and board members.
• Trustees recognized English to Speakers of Other Languages teacher Samajema Davis who was the March 2021 featured teacher by the South Carolina K-12 ESOL Teacher Network.
Davis teaches in Elloree Elementary, Holly Hill Elementary, St. James Elementary, Vance Providence Elementary, Holly Hill Roberts Middle and Lake Marion High Schools.
• The next board meeting is scheduled for Tuesday, April 27 at 6:30 p.m. The meeting will be streamed online at the district's website at www.ocsdsc.org