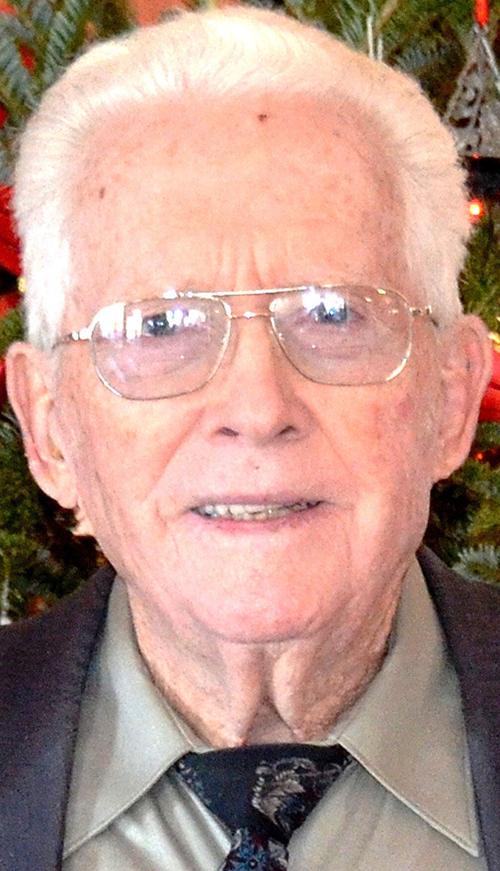 LYNCHBURG, Va. -- Rev. C.E. "Bud" Hunter, residing at Westminster Canterbury, Lynchburg, Va., died Monday, Sept. 2, 2019. He was 89 years old.
The funeral will be held at 10 a.m. Friday, Sept. 13, at Orangeburg Baptist Tabernacle, 3440 North Road, Orangeburg, S.C., with Pastor Tom Brookshire and Pastor Blake Hunter officiating. A graveside service and interment will be held at 2 p.m. at Fort Jackson National Cemetery in Columbia.
Pallbearers will be his grandsons, Andrew, Stephen, Josh, Shane, Brett and Blake Hunter, and Daniel and John Mark Bratton.
Rev. Hunter was born on April 6, 1930, in Hastings, Neb., the son of the late Ellsworth and Marian Hunter. He was preceded in death by his loving wife of nearly 60 years, Esther Lee Hunter.
Survivors include his sister, Lois Hageman of Denver; his four children, Dianna Carol Hensley of Gray, Tenn., Karen Lee Wilson of Fort Lauderdale, Fla., Stephen Mark Hunter of Madison Heights, Va., and Timothy James Hunter of Malibu, Calif.; 16 grandchildren, Daniel Bratton and John Mark Bratton of Gray, Jeff Wilson and Kenneth Wilson of Coral Springs, Fla., Shane Hunter and his wife, Jelena, of Madison Heights, Brett Hunter and his wife, Carol Ann, of Kansas City, Mo., Blake Hunter and his wife, Megan, of Cape Town, South Africa, Lindsey Hunter Stober and her husband, Ryan, of Springfield, Mo., Andrew Hunter and his wife, Tiffany, of Margate, Fla., Stephen Hunter and his wife, Jessica, of Fort Lauderdale, Joshua Hunter and David Hunter of Charleston, S.C., Ryan Hunter of Las Vegas, Michael Hunter and Karalynne Hunter of Jacksonville, Fla., and Krystalynne Hunter of Charlottesville, Va.; and great-grandchildren, Eric and Bethany Bratton of Gray, Zander, Kloey and and Lila Hunter of Madison Heights, Easton and Reese Hunter of Kansas City, Kynlee and Desmond Hunter of Cape Town, and Kaylee Hunter of Margate; and several nieces and nephews in Colorado and Texas.
Rev. Hunter married Esther Lee Fridley of Kaufman, Texas, in 1951 while stationed in Corpus Christi, Texas, during his four years service in the U.S. Navy. He was converted from atheism to Christ shortly thereafter and within a year began his ministerial education at Oklahoma Baptist University in Shawnee, Okla. While in college, he served as pastor in local churches. He started Immanuel Baptist Church in Norman, Okla., in the late 1950s. Subsequently, he served as senior pastor at Collinsville Baptist Church in Collinsville, Okla., Miller Road Baptist Church in Garland, Texas, Hialeah Baptist Temple in Hialeah, Fla., and Orangeburg Baptist Tabernacle, Orangeburg.
In addition to his pastorates, he was a traveling evangelist during his 65-plus years in ministry, holding over 400 revival meetings and Bible conferences nationwide. He conducted four teaching trips to Israel and served on the faculty at Pillsbury Baptist Bible College in Owatonna, Minn. He was the president of Peace for Israel, a gospel outreach ministry in Hollywood, Fla., for several years. He was awarded an honorary doctorate from Tabernacle Baptist College in Greenville, S.C. His preaching and prophecy conferences were attended by many thousands of people over 50 years.
In addition to his calling, Rev. Hunter had many hobbies, the most obvious was his love for fishing. He mounted more than one "trophy" catch and won a citation by the state of South Carolina for a 12-lb. largemouth bass as well. He was a "camera bug" and astronomy buff. He was also particularly proud of the fact that he served simultaneously on the highly-decorated war ship, U.S.S. Essex, during the Korean War as future astronaut Neil Armstrong did while a pilot in the Navy. Bud repaired the radar on the fighter planes and felt a strong kinship with the Apollo astronaut because of this "brother-in-arms" bond. He had an avid thirst for knowledge, which permeated every facet of his life. He was loved by many pastors and friends in the ministry from California to New York and Florida and many states in between.
The family will receive friends and guests from 6 to 8 p.m. Thursday, Sept. 12, at Orangeburg Baptist Tabernacle, 3440 North Road, Orangeburg.
Memorials may be made to Orangeburg Baptist Tabernacle Missions Program, 3440 North Road, Orangeburg, SC 29115.
To plant a tree in memory of Va. Rev. C.E. Bud Hunter -- Lynchburg as a living tribute, please visit Tribute Store.
Obituaries Newsletter
Sign up to get the most recent local obituaries delivered to your inbox.