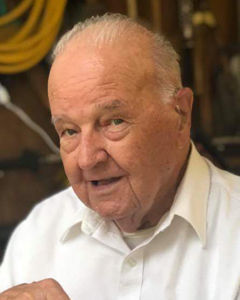 ORANGEBURG -- Ray Fred Steffen, 95, of Orangeburg passed away on Tuesday, Sept. 3, 2019.
Funeral services will be held at noon Friday, Sept. 6, at Trinity Presbyterian Church, 975 Willington Drive, Orangeburg, SC 29118. Pastor John Mark Patrick will be officiating. Burial will follow in Crestlawn Memorial Gardens in Orangeburg.
The family will receive friends from 11 a.m. to noon Friday, Sept. 6, prior to the funeral service.
Pallbearers will be John Dukes, Dr. Sam Lambrecht, Dr. Michael Salley, Wayne Walling, Dr. Brush Babb and Johnny McLellan.
You have free articles remaining.
Mr. Ray was born on Oct. 9, 1923, in Wilkesville, Ohio. He was the son of the late Emil Steffen the late Marie Strausbaugh Steffen. He attended and graduated from Wilkesville High School. After graduation, he entered the United States Army Signal Corps on July 6, 1942, where he served overseas in C.B.I. for three years. Mr. Ray was then honorably discharged from the Army in November of 1945. He married Mrs. Betty Spires on Jan. 1, 1945. He was preceded in death by Mrs. Betty in September of 1987.
Survivors include his sons, Dan Steffen (Gresha), Mike Steffen, Doug Steffen; six grandchildren; 10 great-grandchildren; and a sister, Eleanor Steffen Benedict.
Friends may call the residence of Dan Steffen.
Memorials may be made to Trinity Presbyterian Church Mission Fund, 975 Willington Drive, Orangeburg, SC 29118.
To plant a tree in memory of Ray Orangeburg as a living tribute, please visit Tribute Store.