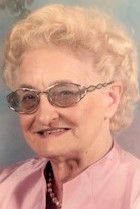 NEESES -- Jewel Miller Chavis, 87, of Neeses, passed away on Thursday, July 29, 2021.
Funeral services will be held at 4 p.m. Sunday, Aug. 1, at Mount Beulah Pentecostal Holiness Church, with the Rev. Samuel Leonard and the Rev. Henry Chavis officiating. Burial will follow in the church cemetery.
Mrs. Chavis was born in Orangeburg County, a daughter of the late Freddie Miller Sr. and the late Annie Bryan Miller. Mrs. Chavis was a member of Mount Beulah Holiness Church for 53 years, where she served as treasurer. She was employed by Bell South for 36 years and served the Silver Springs Water district for several years. Mrs. Chavis was predeceased by her husband, Homer L. Chavis.
Survivors include daughters, Lynne (Mark) Damon, Marian (Steve) Boulware; daughter-in-law, Denise Chavis; grandchildren, Homer (Tabitha) Chavis, Jason (Renee) Chavis, Jeri (Davey) Hulan, Casey (Lance) Clevenger, Annie Chavis (Antonino Singleton), Dallas (Austin) Hawley, Valerie Boulware (Nicholas Wilson), Rusti Boulware, Shannon (Kevin) Steele and George S. Boulware II; great-grandchildren, Austin, Jason (Cassidy) Chavis Jr., Jacob (Ashley) Chavis, Luke Chavis, Holton Chavis, Oliver Hulan, Thomas Hulan, Jackson Clevenger, Jacob Clevenger, Kyzer Chavis, Lamar Singleton, Anton Singleton, Liam Wilson, Tatum Hawley, Ava Steele and Brynlee Steele; great-great-grandchildren, Walker Chavis, Isabella Chavis; and a special family friend, Mickey Nettles. Mrs. Chavis was predeceased by a son, Russell Chavis; brothers, Freddie Miller Jr. and James Miller; sisters, Deloris Peele and Jocelia Williams.
The family will receive friends from 5 to 7 p.m. Saturday, July 31, at Culler-McAlhany Funeral Home.
The family would like to extend a special thank you to MSA for their compassionate care.
In lieu of flowers, a memorial can be made to Medical Services of America, 171 Monroe Lane, Lexington, SC 29072, or Mount Beulah Pentecostal Holiness Church Building Fund, 2610 Ninety Six Road, Neeses, SC 29107.
Culler-McAlhany Funeral Home is assisting the family.