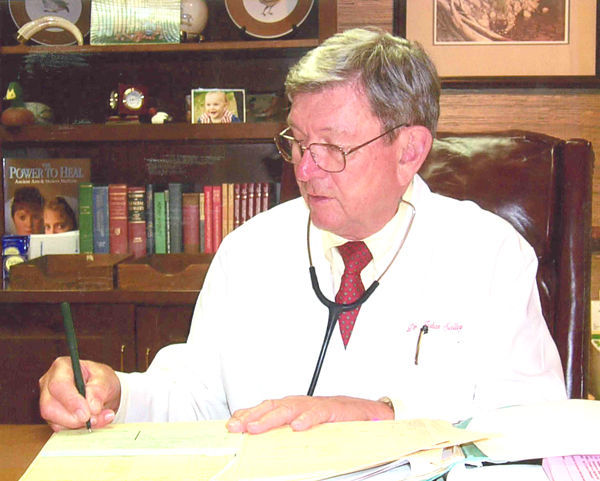 Dr. Julian Alexander Salley "Nat" died Jan. 2, 2016, at home after a long and courageous fight with multiple myeloma. All of his family rallied around, tending to his needs and making certain he knew of their love and admiration.
This well-known physician was born in Orangeburg on Aug. 24, 1927, to Newell Hodges Salley and Austin Bull Salley. He was predeceased by his parents and brother, Austin Bull Salley Jr. At age 17, he volunteered for the U.S. Navy and was stationed in Providence, Rhode Island as a Hospital Corpsman, First Class. He graduated from the University of South Carolina in 1945, second in his class from the Medical College of South Carolina in 1953, interned at Greenville General Hospital, 1953-1954, and received a teaching fellowship after his residency at the Medical University of South Carolina, Obstetrics and Gynecology, 1954-1957. His board certification from the American Board of Obstetrics and Gynecology was secured in 1962.
His professional memberships included the American College of Obstetrics and Gynecology, The South Atlantic Association of Obstetrics and Gynecology, The Columbia Medical Society, The Thegos Society, for which he served a term as president, as he did for the South Carolina OB-GYN Society. His writings were quoted in The American Journal of Obstetrics and Gynecology and The Journal of the S.C. Medical Association.
Dr. Salley took great pleasure in attending the births of thousands of babies born in Columbia and its environs, until his retirement in 2007, at the age of 80. He took great pride and enjoyment in sharing his practice with his son, "Dr. Mark," for 20 years. In 1997, Dr. Julian Salley was honored by being named the first Wellspring Physician of the Year.
Whether delivering a newborn, driving a golf ball, hunting in a dove field, duck blind or deer stand, cavorting on the beach with grandchildren, deep sea fishing or skiing down the slopes of the Rockies, Dr. Salley delighted in living life fully with family and friends – on Lake Katherine, on the South Carolina coast, and in Calhoun County at the family farm, which he named "High Creek." Throughout his life, Nat was affectionately referred to as "Super Wallet" for his unending generosity and "Program Director" for his thoughtful planning of family events.
He is survived by his wife, Kathryn Wallace Salley; and his three sons, Julian Alexander Salley Jr., and his wife, Anne Richie, Charles Wallace Salley, and his wife, Susan Juk, and Mark Hedrick Salley, M.D., and his wife, Jane Willcox. Eight grandchildren, Josh, Trey, Charles, Ella, Alex, Dylan, Jackson and Eliza will carry on the traditions of the Salley/Wallace clan. He is also survived by two sisters-in-law, Shirley Arant Salley and Jean Wallace Blount; and six nieces and nephews.
A celebration of Dr. Salley's life will be held at the family farm, High Creek, in Calhoun County, 657 Hedrick Lane, St. Matthews, on Wednesday, January 6th at 1 p.m., with a memorial service conducted by Ken Wingate. A reception will follow the service.
The family wishes to thank Palmetto Hospice for their kind and efficient help to Nat and Kat as they coped with his final days.
In lieu of flowers, memorials may be made to Congaree Land Trust, 2231 Devine St. #100, Columbia, SC 29205, Gills Creek Watershed Association, 901 Sumter St., Byrnes Building, 702 G, Columbia, SC 29208 or a charity of your choice.
Funeral arrangements will be made by Dunbar Funeral Home, Devine Street Chapel.