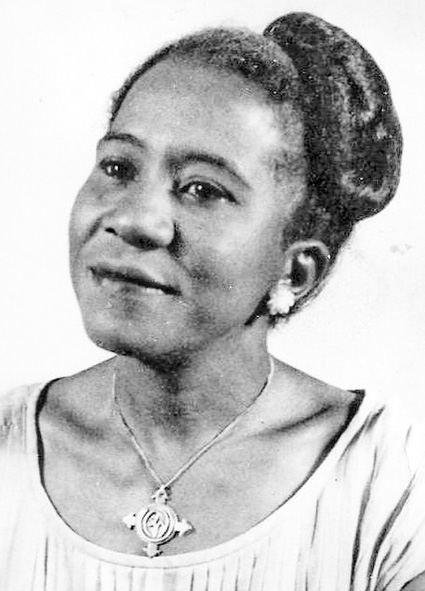 On Saturday night, Oct. 6, 2012, shortly after 11 p.m., God's angels called home one of his most virtuous women, Dr. Agnes Juliet Hildebrand Wilson Burgess of 1284 North Main Street Extension, Sumter. Born in Chapin, she was the daughter of the late Rev. Benjamin Franklin Hildebrand Sr. and Mrs. Agnes Brogdon Hildebrand.
As a young teacher, Agnes met and married the love of her life, the Rev. Thomas English "T.E." Wilson, the first African American in Lee County to receive a college degree. Even though Agnes and T.E. spent 22 years of marital bliss, their union was interrupted by his sudden death. Consequently, Agnes spent many years as a widow after his death. After more than 50 years of living happy, separate lives, through divine intervention, in the early 1990s, Agnes' and her childhood sweetheart, the Rev. Christopher Columbus "C.C." Burgess, began a new "courtship." In the 1930s, she was 16 while he was 19 when they had their "first date." Now she was 75 years old and he was 78 when they united in marriage. This union lasted 10 beautiful years until the death of the Rev. Burgess.
After graduating from Allen University in 1935, she taught French and journalism at public schools in Manning, Spartanburg and Sumter. During her tenure at Lincoln High School in Sumter, she served as advisor to the school's newspaper, which won 13 consecutive first-place Association competitions.
Dr. Burgess lived by the motto, "First, I want my students to have a love for learning." Educational leadership was a role that came easily to Dr. Burgess. She was the first African American to be named Teacher of the Year in South Carolina and was a National Honor Roll Teacher in 1969. That same year, she also became the first person of color elected president of the South Carolina Education Association, during which time she served as the first salaried and full-time leader of the state's 30,000 teachers, supervisors and administrators. Dr. Burgess' success is exhibited through the success of her students. One such instance is Dr. Burgess' students were on "The Today Show" twice, and James Felder, one of the high school newspaper's editors, was the first black elected to the South Carolina legislature.
Dr. Burgess was selected as a Fulbright Scholar to study in France when she was a graduate student at Temple University in Pennsylvania. She spent a year in Paris and earned a diploma in French language and civilization from the Sorbonne. In 1973, she was a delegate to the World Confederation of Organizations of the Teaching Profession in Nairobi, Kenya. In 1975, she accepted an invitation to teach at the University of South Carolina's College of Education and served as director of the Center for Community Education until her official retirement in 1979.
You have free articles remaining.
Among numerous other affiliations, Dr. Burgess served as state president of Church Women United and as a member of the South Carolina Social Service Commission. Even after retirement, she continued her intense involvement in church, school, community and civic activities.
Surviving are a daughter, Betty G. (Louie) Dicks of Columbia; brother, Eugene Hildebrand Sr. of Orangeburg; Dr. Eli W. (Dorothy) Baker of Sumter (who was "like a son"); a sister-in-law, Zelgloria Hildebrand of Fernandina Beach, Fla.; grandchildren Louie Augustus (Robyn) Dicks Jr., Dr. Angela Jeanine (Brian) Godfrey and Leroy Henry (who was "like a grandson"); great-grandchildren Kaleb Dicks, Nia Dicks, Ava Dicks, Augustus Jayden Godfrey; special great-grandchildren Asia Henry and Kejuan Henry; special godchildren Barbara Gamble, Thomas "Tommy" Wilson and Lucille Muldrow; a special friend, who was "like a sister," Lillian Nelson; four loving and devoted caregivers, Ruby Fullwood, Johnnie Mae White, Martha Glover and Carolyn Carter; a kind hospice nurse, RoseMarie; and beautiful nieces and nephews, cousins, and other relatives and friends.
She was preceded in death by her parents, the Rev. Benjamin Franklin Hildebrand Sr. and Mrs. Agnes Brogdon Hildebrand, and siblings Mr. Benjamin F. Hildebrand Jr., Mrs. Allean Hildebrand Keitt, Mrs. Beatrice Hanton, Bishop Richard Allen Hildebrand, the Rev. Walter Hildebrand, Mrs. Juanita Wylie, Mr. James Hildebrand and the Rev. Henry Allen Hildebrand.
The family will receive friends at the home, 1284 North Main Street Extension, Sumter, on Thursday, Oct. 11. Public viewing is scheduled for 2 to 5 p.m. Thursday at Palmer Memorial Chapel, 304 South Main St, Sumter. The wake will be held at Mount Pisgah African American Church, 217 West Bartlette St., Sumter, from 6 to 8 p.m. Thursday.
Final services (a celebration of life) are scheduled for noon Friday, Oct. 12, at Williams Chapel African Methodist Episcopal Church, 1198 Glover St., Orangeburg.
Memorials may be made to the Agnes B. Hildebrand Women's Missionary Society, 1198 Glover St., Orangeburg, SC 29115. www.palmermemorialchapel.com.
To plant a tree in memory of Agnes Burgess Sumter as a living tribute, please visit Tribute Store.
Obituaries Newsletter
Sign up to get the most recent local obituaries delievered to your inbox.